We hope 2016 is a great year for you both personally & professionally....
In a recent post, Trulia examined whether homeownership was again being seen by adults in the US as a "part of their personal American Dream." Over the last five years:
Now that the market has showed signs of recovery, some sellers may be tempted to try and sell their home on their own (FSBO) without using the services of a real estate professional.
There are many benefits to homeownership. One of the top ones is being able to protect yourself from rising rents and lock in your housing cost for the life of your mortgage.
...
Yesterday, the National Association of Realtors (NAR) released their latest Existing Home Sales Report which covered sales in November. The report revealed that sales: "…fell 10.5 percent to a seasonally adjusted annual rate of 4.76 million in November (lowest since April 2014 at 4.75 million)…"
As the economy continues to improve, more and more Americans are seeing their personal financial situations also improving. Instead of just getting by, many are now beginning to save and find other ways to build their net worth. One way to dramatically increase their family wealth is through the acquisition of real estate.
Today, many real estate conversations center on housing prices and where they may be headed. That is why we like the Home Price Expectation Survey. Every quarter, Pulsenomics surveys a nationwide panel of over one hundred economists, real estate experts and investment & market strategists about where they believe prices are headed over the next five years. They then average the projections of all 100+ experts into a single number.
The results of their latest survey: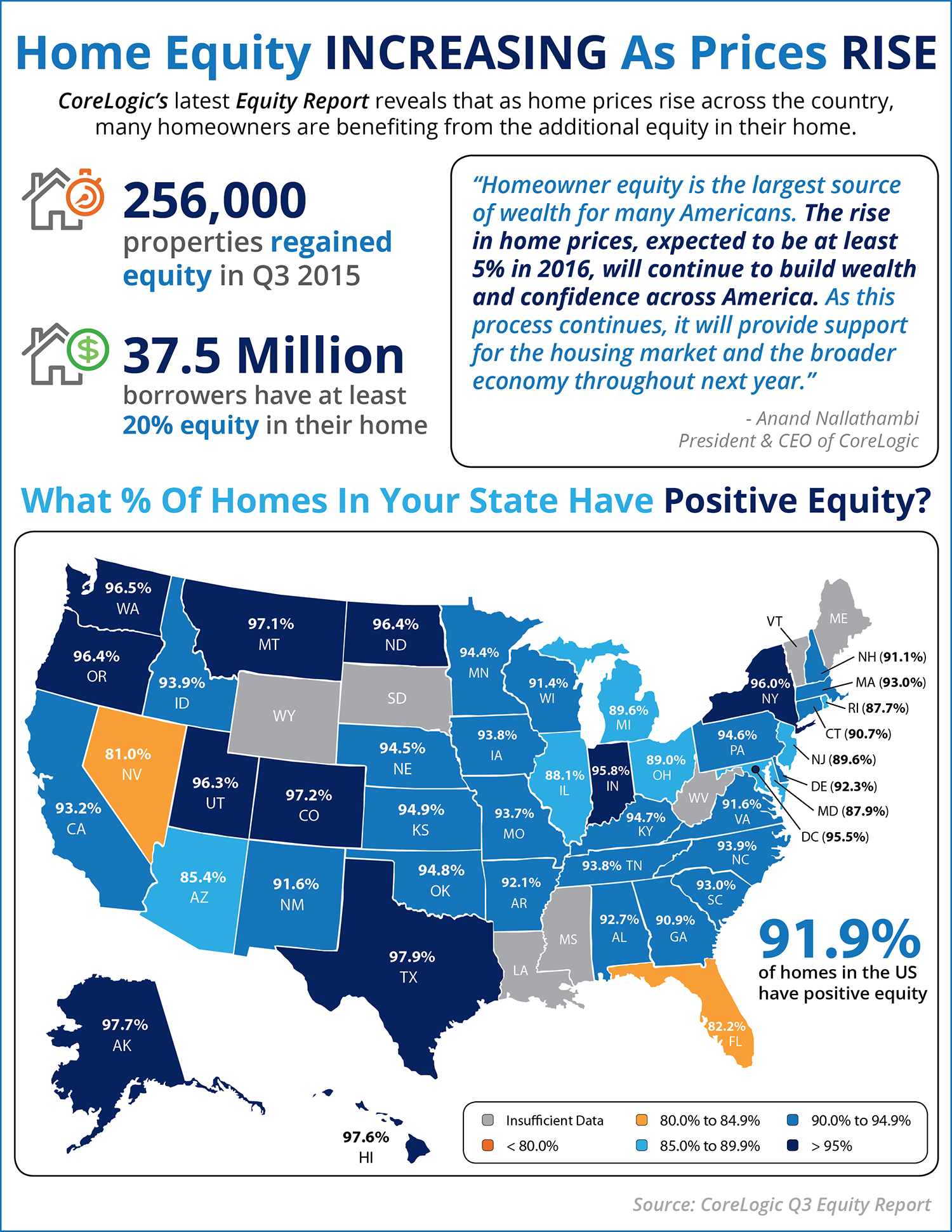 Some Highlights:
91.9% of homes in the US have positive equity
256,000 homes regained equity in the third quarter of 2015
37.5 million homes have significant equity (defined as more than 20%)
At the end of December, in every region of the country, hundreds of homeowners have a tough decision to make. The 'listing for sale agreement' on their house is about to expire and they now must decide to either take their house off the market (OTM), For Sale by Owner (FSBO) or list it again with the same agent or a different agent. Let's assume you or someone you know is in this situation and take a closer look at each possibility:
In a recent study conducted by Builder.com, researchers determined that nationwide it would take "nearly eight years" for a first-time buyer to save enough for a down payment on their dream home.
In today's market, with homes selling quickly and prices rising, some homeowners might consider trying to sell their home on their own, known in the industry as a For Sale by Owner (FSBO). There are several reasons this might not be a good idea for the vast majority of sellers. Here are five of those reasons:
As a seller, you will be most concerned about 'short term price' – where home values are headed over the next six months. As a buyer, you must be concerned not about price but instead about the 'long term cost' of the home.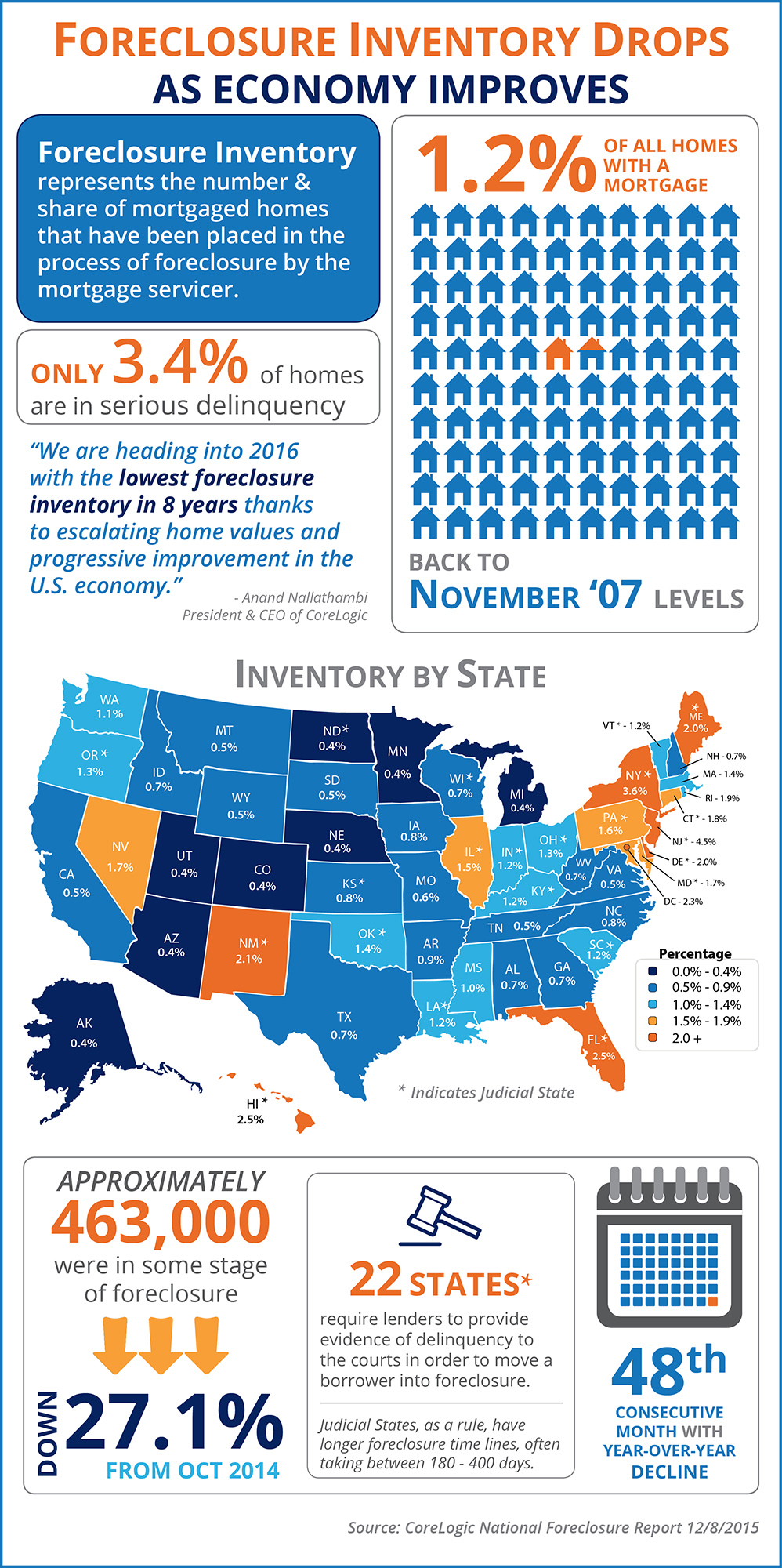 Some Highlights:
Foreclosure Inventory has dropped year-over-year for the last 4 years (48 months).
Only 3.4% of US homes are in serious delinquency.
29 states have a foreclosure inventory rate lower than the national average.
For more information you can download the full report here
A recent post on "The Home Story", a site published by Fannie Mae, explained the difference between the price a seller may get for their home and the value an appraiser might assign the property.
CoreLogic released their most current Home Price Index last week. In the report, they revealed home appreciation in three categories: percentage appreciation over the last year, over the last month and projected over the next twelve months.
A recent survey by Ipsos found that the American public is still somewhat confused about what is actually necessary to qualify for a home mortgage loan in today's housing market. The study pointed out two major misconceptions that we want to address today.
We all realize that the best time to sell anything is when demand is high and the supply of that item is limited. The last two major reports issued by the National Association of Realtors (NAR) revealed information that suggests that now is a great time to sell your house. Let's look at the data covered by the latest Pending Home Sales Report and Existing Home Sales Report.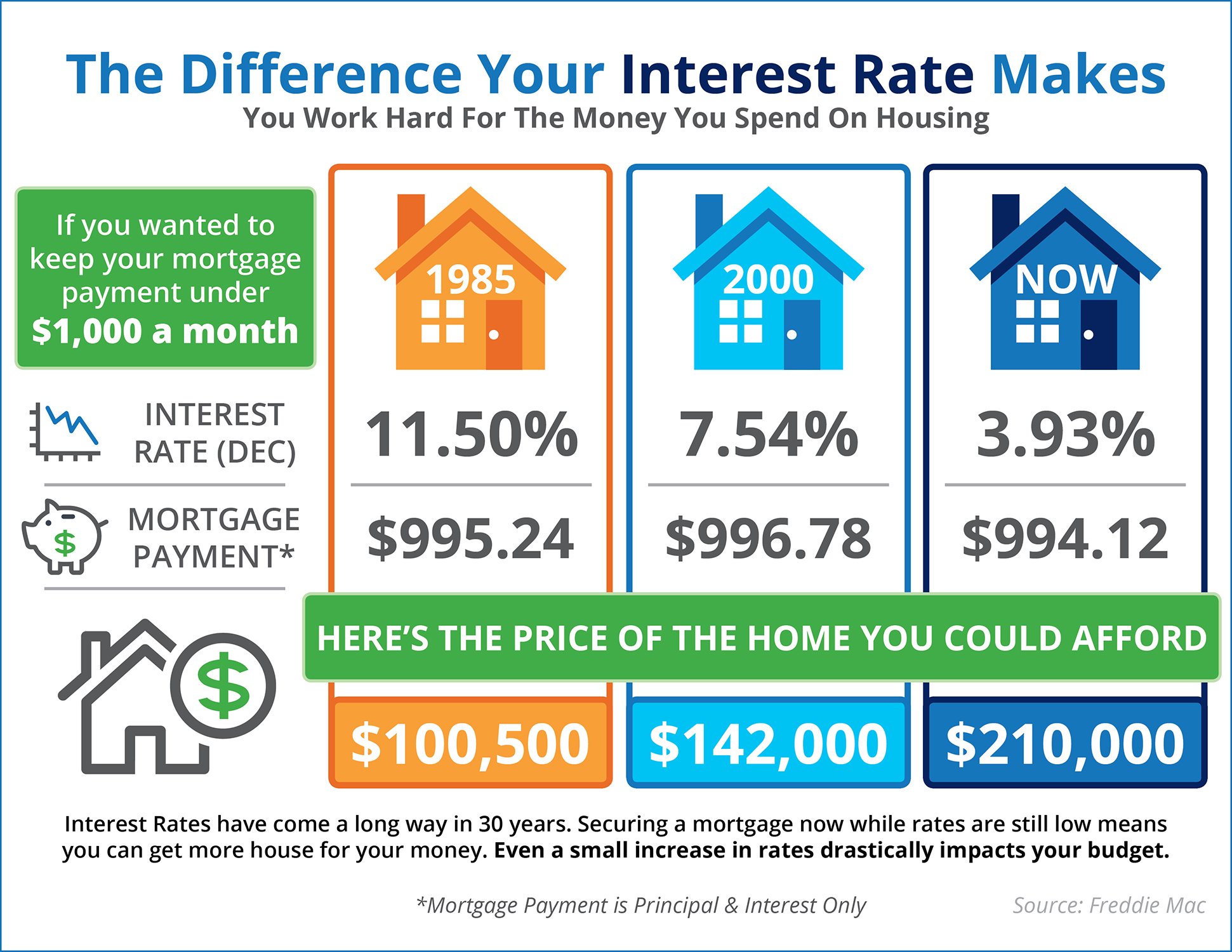 Some Highlights:
Interest rates have come a long way in the last 30 years.
The interest rate you secure directly impacts your monthly payment and the amount of house that you can afford.
Experts predict that rates will increase by 3/4 a percent over the next 12 months.
Secure a low rate now to get the most house for your money.
The monthly mortgage payment on a home is determined by two elements: the price of the house and the interest rate you pay on your mortgage. Recently released reports are revealing that the experts expect both elements to increase in 2016.
Below are quotes from experts as well as industry reports & articles that cover the residential rental market in the U.S.
Last week, an article in the Washington Post discussed a new 'threat' homebuyers will soon be facing: higher mortgage rates. The article revealed: