Some of the housing headlines are causing concern for some consumers who are in the process of either buying or selling a home. Pundits are concerned over the lack of new construction or the month-over-month sales numbers. Let's set the record straight; 2015 was a good year for residential real estate in the United States and 2016 is starting out stronger.
In CoreLogic's latest Home Price Index, they revealed home appreciation in three categories: percentage appreciation over the last year, over the last month, and projected appreciation over the next twelve months.
The National Association of Realtors (NAR) just announced that the February Pending Home Sales Index reached its highest reading since July 2015.
In today's market, with homes selling quickly and prices rising, some homeowners might consider trying to sell their home on their own, known in the industry as a For Sale by Owner (FSBO). There are several reasons this might not be a good idea for the vast majority of sellers. Here are five of those reasons: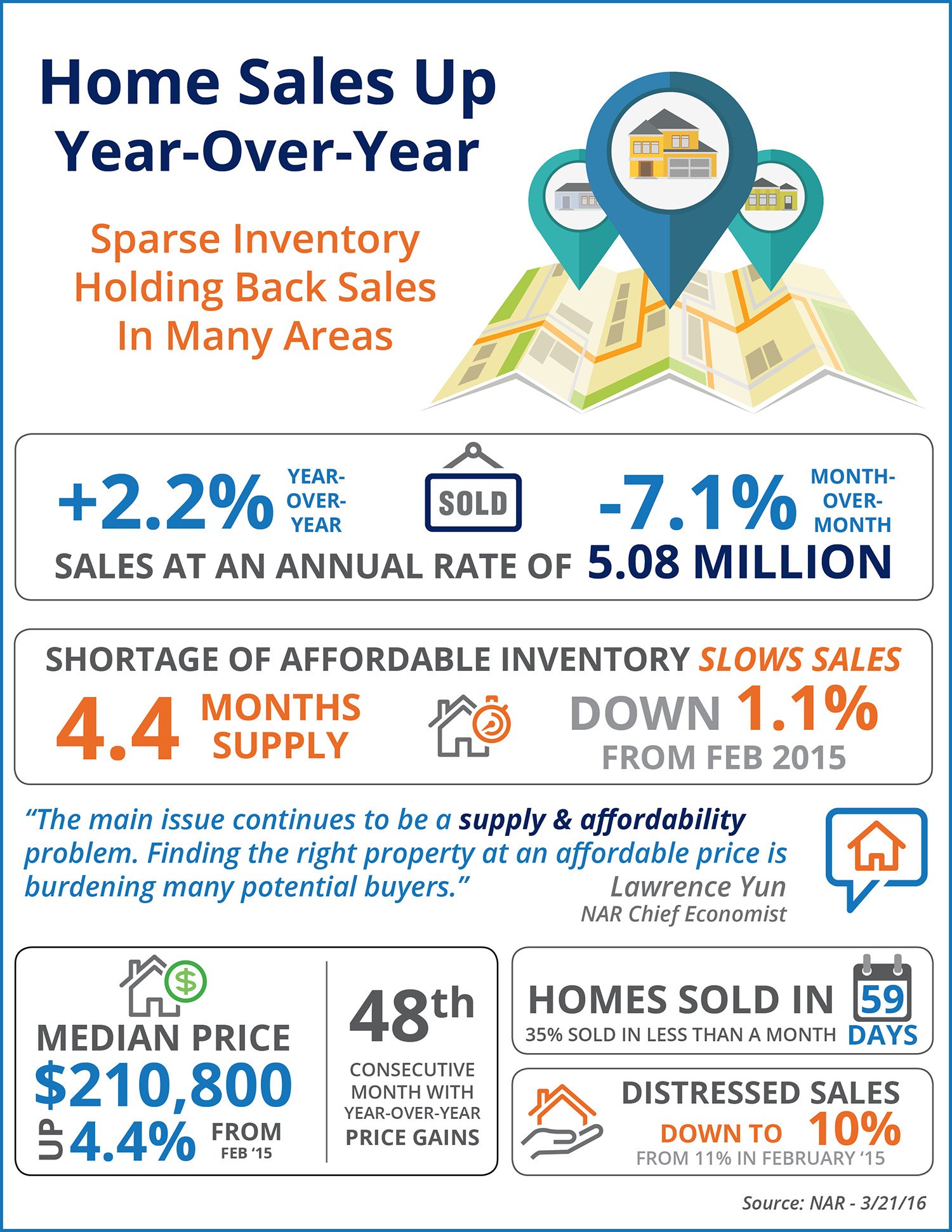 Some Highlights
This is the 48th consecutive month with year-over-year price gains.
Lawrence Yun, NAR's Chief Economist says that, "The main issue continues to be a supply & affordability problem. Finding the right property at an affordable price is burdening many potential buyers."
Inventory is still below historic norms at a 4.4 month supply.
Two weeks ago, we posted a blog which explained that current increases in home prices were the result of the well-known concept of supply & demand and should not lead to conversations of a new housing bubble. Today, we want to look at home prices as compared to current incomes.
CoreLogic's latest Equity Report revealed that one million borrowers regained equity in their homes in 2015. The outlook for 2016 remains positive as well, as an additional 850,000 properties would regain equity if home prices rose another 5% this year.
In school we all learned the Theory of Supply and Demand. When the demand for an item is greater than the supply of that item, the price will surely rise.
When a homeowner decides to sell their house, they obviously want the best possible price with the least amount of hassles. However, for the vast majority of sellers, the most important result is to actually get the home sold.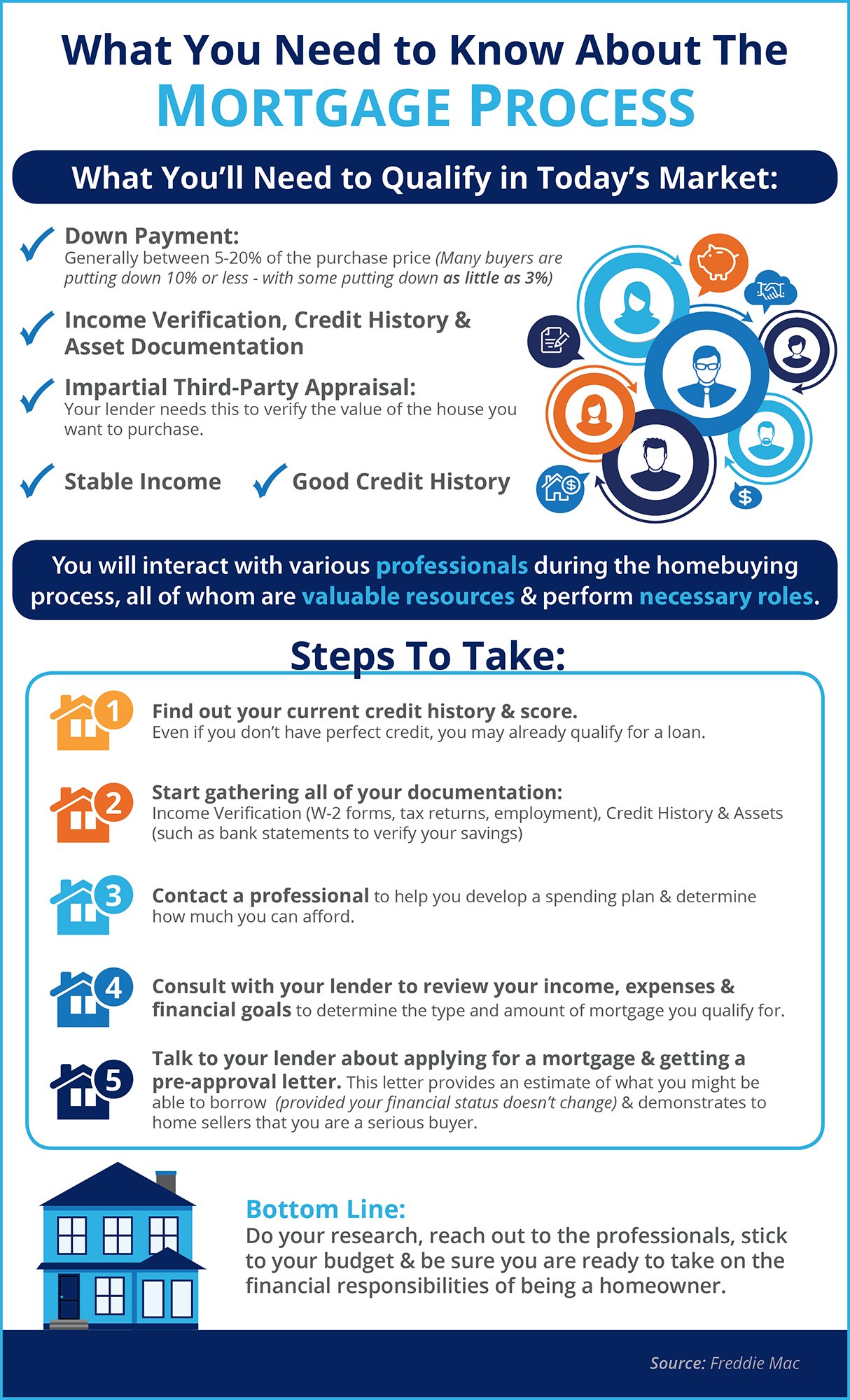 Some Highlights:
Many buyers are purchasing a home with a down payment as little as 3 percent.
You may already qualify for a loan, even if you don't have perfect credit.
Take advantage of the knowledge of your local professionals who are there to help you determine how much you can afford.
Going into the 2016 spring market, the biggest challenge the real estate industry has is the lack of available housing inventory for sale. Here are a few experts and their thoughts on the subject:
Every homeowner hopes to accomplish five goals when selling their home:
In today's housing market, where supply is very low and demand is very high, home values are increasing rapidly. One major challenge in such a market is the bank appraisal.
As a seller, you will be most concerned about 'short term price' – where home values are headed over the next six months. As either a first-time or repeat buyer, you must not be concerned only about price but also about the 'long term cost' of the home.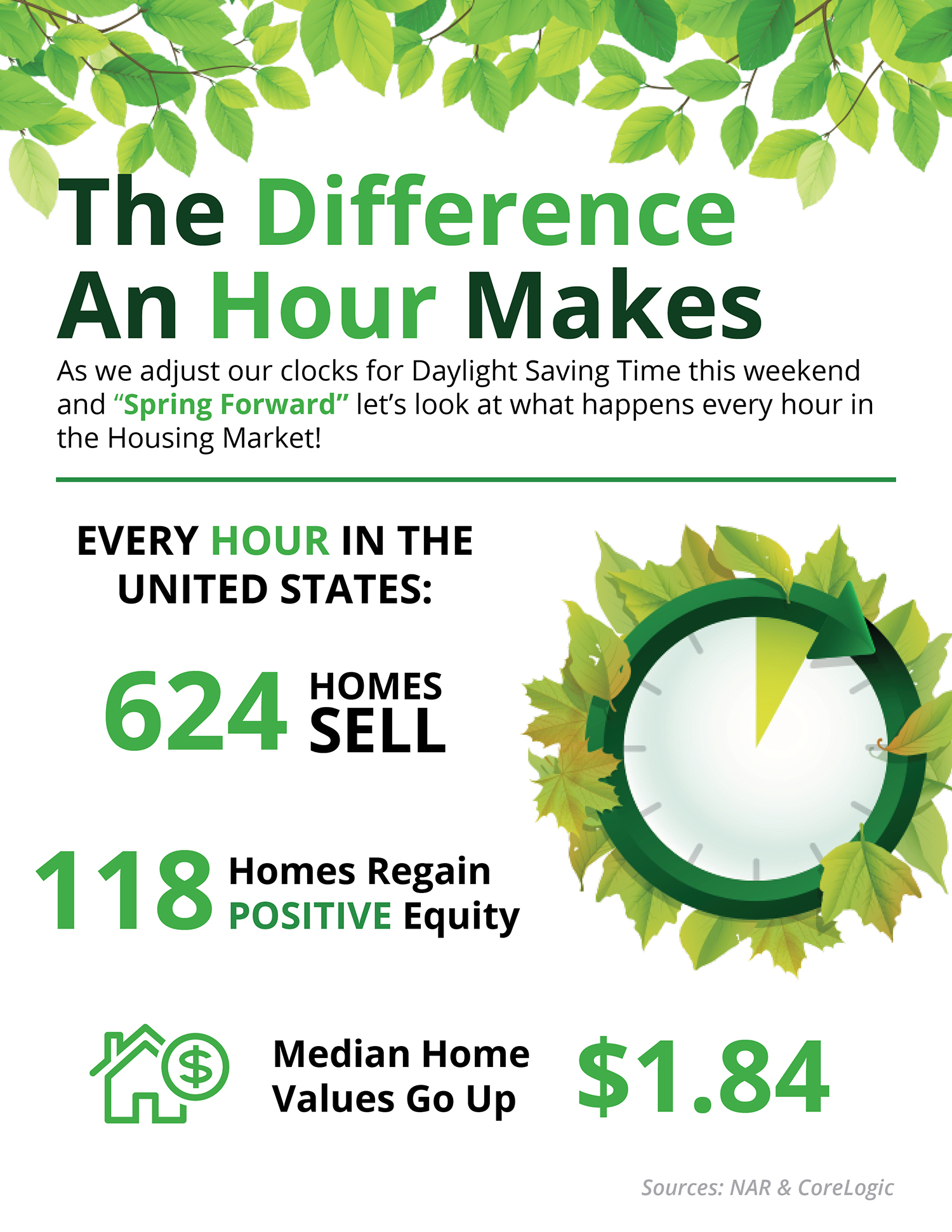 Some Highlights:
Sunday, March 13th, we "Spring Forward" one hour for Daylight Savings Time (except for our friends in HI & AZ).
Every hour in the United States, 624 homes will sell and 118 homes will regain positive equity.
The median home value will also increase each hour in the United States by $1.84.
We recently reported that home prices are continuing to rise across most of the nation. This has created concern in some pundits that a housing bubble, like we saw ten years ago, is forming again. We want to explain why these concerns are unfounded.
Just like our clocks this weekend in the majority of the country, the housing market will soon "spring forward!" Similar to tension in a spring, the lack of inventory available for sale in the market right now is what is holding back the market.
According to the latest Beracha, Hardin & Johnson Buy vs. Rent (BH&J) Index homeownership is a better way to produce greater wealth, on average, than renting.
There are many young people debating whether they should renew the lease on their apartment or sign a contract to purchase their first home. As we have said before, mortgage interest rates are still near historic lows and rents continue to rise.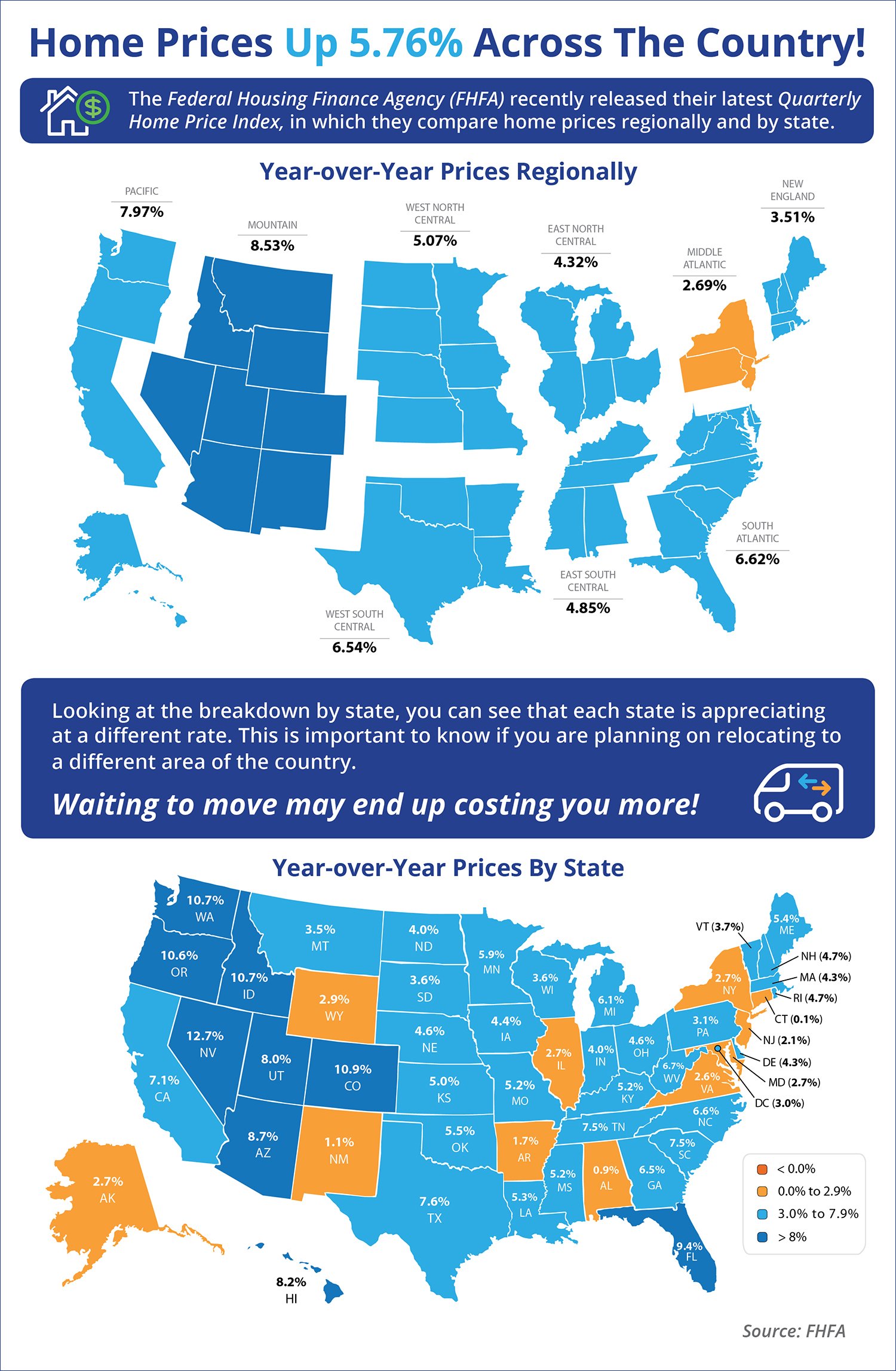 Some Highlights:
The Federal Housing Finance Agency (FHFA) recently released their latest Quarterly Home Price Index report.
In the report, home prices are compared both regionally and by state.
Based on the latest numbers, waiting to move may end up costing you more!
Yesterday, we discussed the reasons why homeownership makes sense, financially. Today we wanted to touch on the emotional or 'real' reasons that many Americans strive to become homeowners.
In a recent blog post on Marginal Revolution, economist Alex Tabarrok discussed homeownership as an investment.
There are some homeowners that have been waiting for months to get a price they hoped for when they originally listed their house for sale. The only thing they might want to consider is... If it hasn't sold yet, maybe it's not priced properly.