As the economy continues to improve, more and more Americans are seeing their personal financial situations also improving. Instead of just getting by, many are now beginning to save and find other ways to build their net worth. One way to dramatically increase their family wealth is through the acquisition of real estate.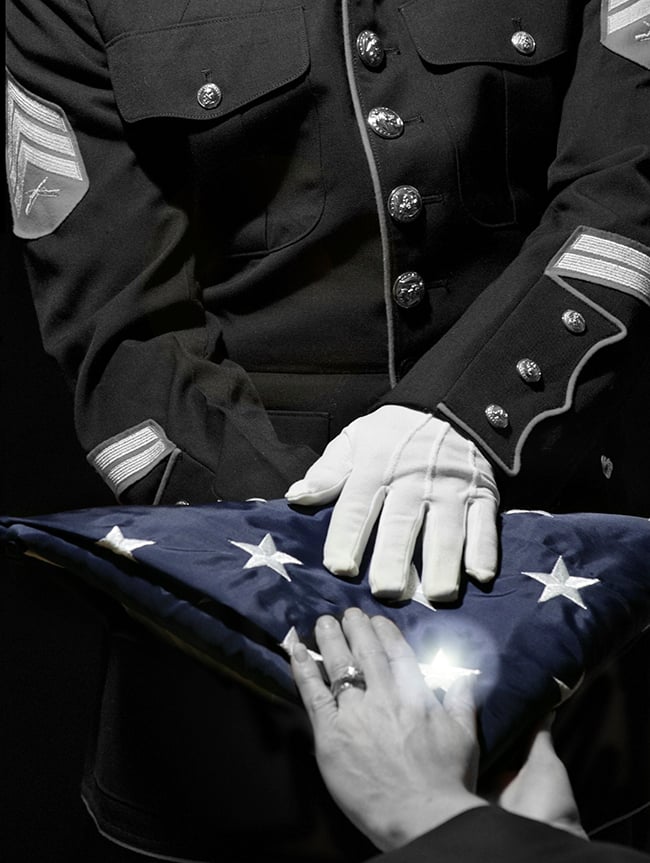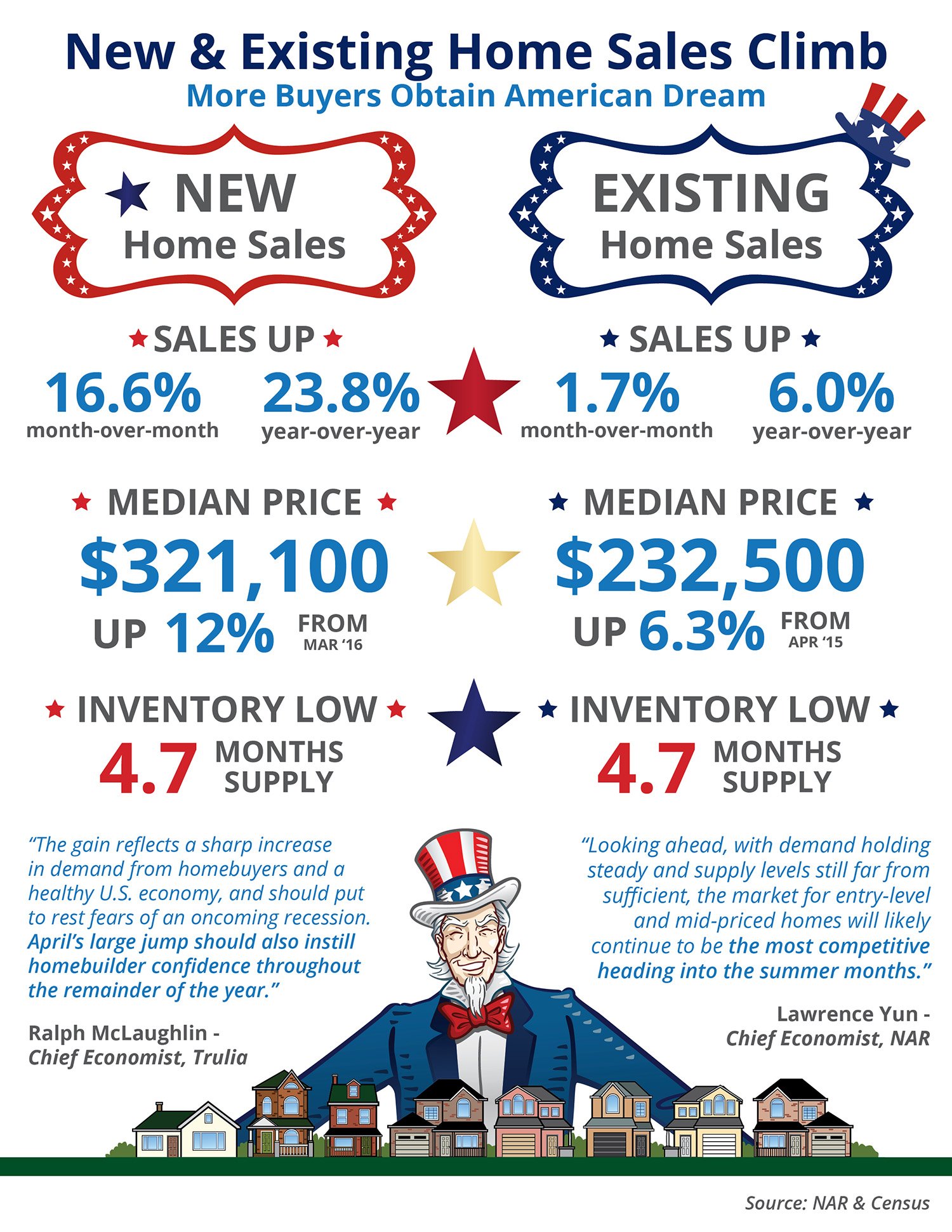 Some Highlights:
Both New Home Sales and Existing Home Sales are up month-over-month and year-over-year.
Inventory remains low which continues to drive home prices up as demand continues to exceed the 4.7-month inventory.
The median price of new homes is up 12% from March 2016, while the median price of existing homes is up 6.3% from April 2015.
You and your family have decided to sell your house. It is now time to choose a real estate professional to help with the process. One of the major attributes this agent must possess is trustworthiness. To what degree do you need to trust them?
In their current edition of the Home Price Expectation Survey released last week, Pulsenomics asked this question of the 100+ economists, real estate experts and investment & market strategists they surveyed:
Today, many real estate conversations center on housing prices and where they may be headed. That is why we like the Home Price Expectation Survey.
People often ask whether or not now is a good time to buy a home. No one ever asks when a good time to rent is. However, we want to make certain that everyone understands that today is NOT a good time to rent.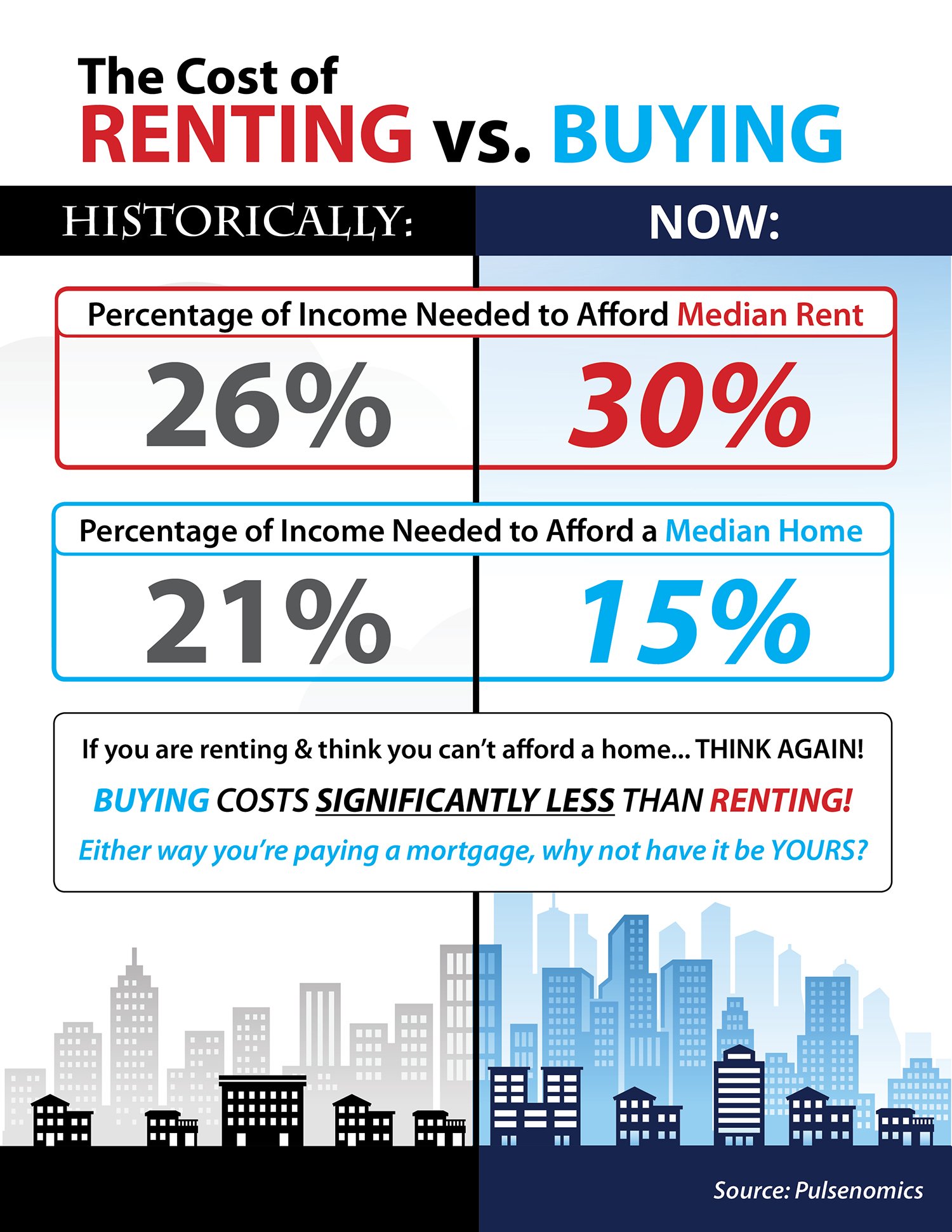 Some Highlights:
The percentage of income needed to afford a median priced home is almost half the percentage of income needed to afford median rent.
Buying costs are significantly less than renting costs.
The percentage of income needed to afford a median priced home is less than the historic norm.
Every four years people question what effect the Presidential election might have on the national housing market. Let's take a look at what is currently taking place. The New York Times ran an article earlier this week where they explained:
Recently, there has been a lot of talk about the size of the foreclosure inventory in the nation. There has been some speculation that distressed property inventories are about to skyrocket. Today, we want to reveal what is actually taking place in this segment of the housing market.
A study by Edelman Berland reveals that 33% of homeowners who are contemplating selling their house in the near future are planning to scale down. Let's look at a few reasons why this might make sense for many homeowners, as the majority of the country is currently experiencing a seller's market.
The National Association of Realtors' most recent Existing Home Sales Report revealed that home sales were up rather dramatically over last year in five of the six price ranges they measure.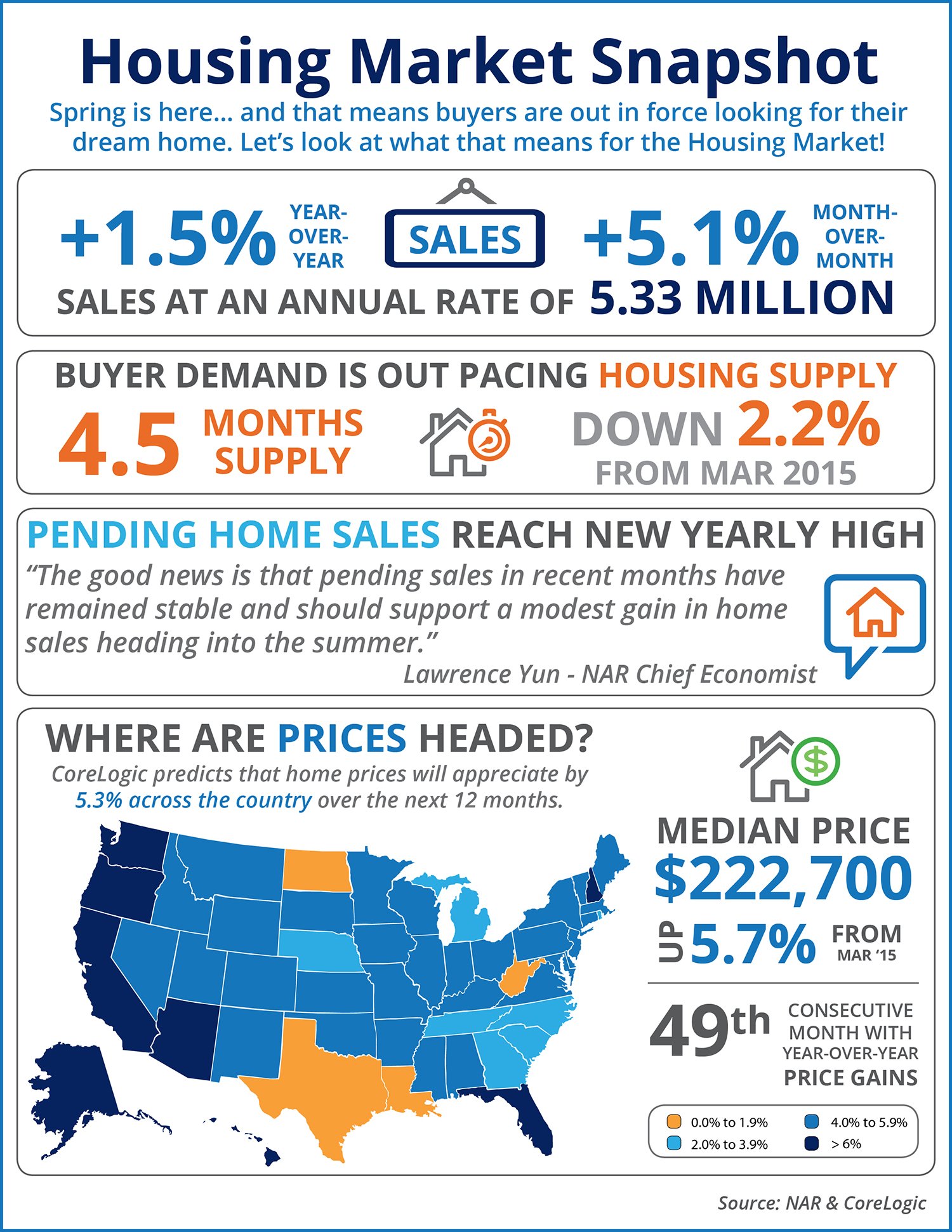 Some Highlights:
Home sales are up 1.5% year-over-year and 5.1% month-over-month.
Demand is still much higher than the available housing inventory which declined 2.2% from March 2015.
This is the 49th consecutive month with year-over-year price gains.
With the overall economy just inching along, some experts are questioning whether the housing market can continue its momentum throughout the rest of the year. People are beginning to ask questions such as:
In today's highly competitive seller's market where there are more buyers than there are listings for them to purchase, some sellers may feel like the ball is in their court.
The latest report from Freddie Mac shows that the 30-year fixed-rate mortgage averaged 3.61% last week, slightly down from the week before (3.66%), and nearly 20 points lower than a year ago (3.80%).
Spring is in full force; the summer months are right around the corner. If you are debating moving up to your dream home, here are four great reasons to consider listing your current home and moving up to your dream home now, instead of waiting.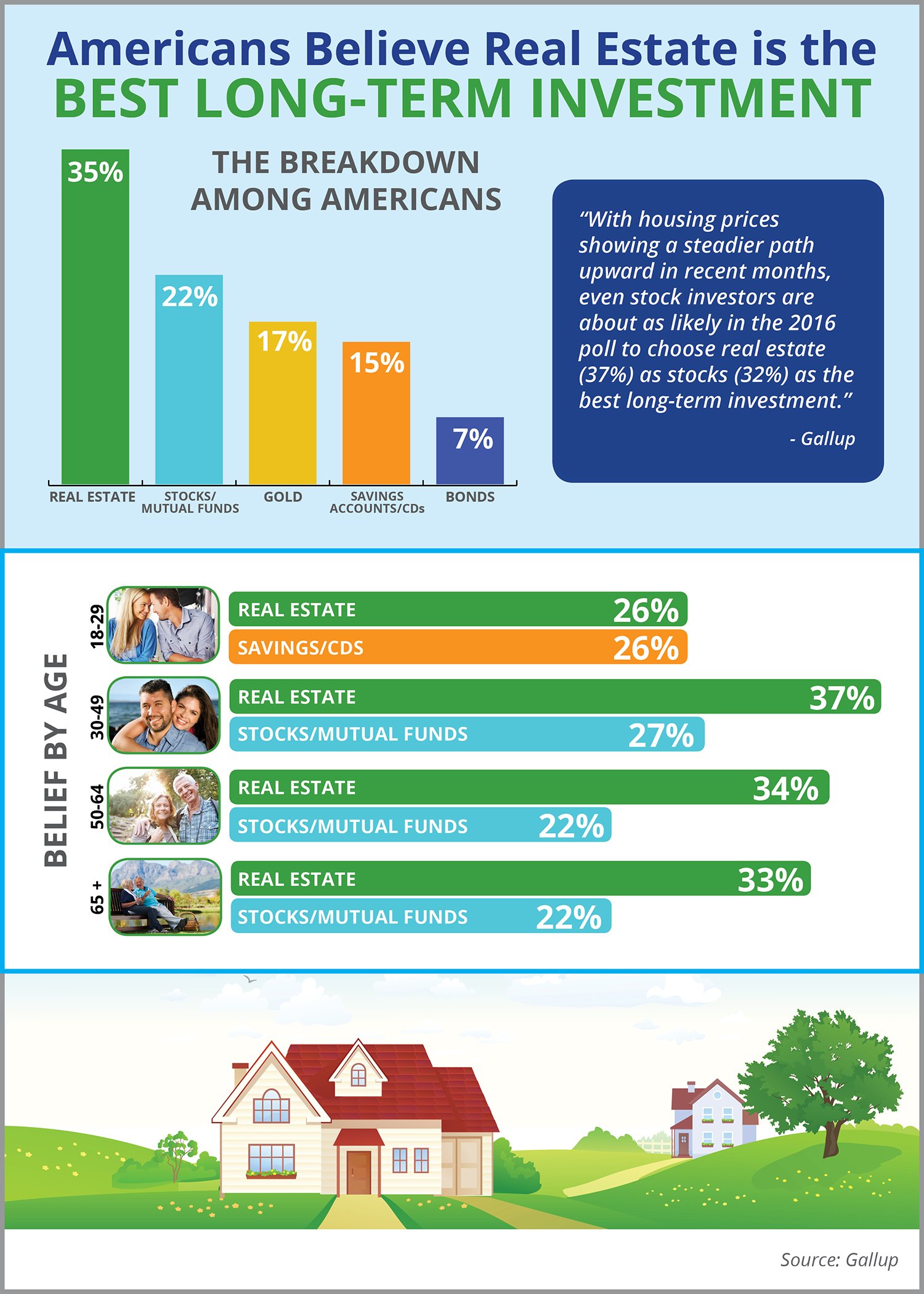 Some Highlights:
Real estate outranks stocks/mutual funds, gold, savings accounts/CDs, and bonds as the best long-term investment among Americans.
Real estate is ranked as the best long-term investment among all age groups.
Millennials rank both real estate and savings/CDs at 26% when it comes to the best long-term investment.
With home prices expected to appreciate by over 5% this year, some are beginning to worry about a new housing bubble forming. Warren Buffet addressed this issue last week in an article by Fortune Magazine. He simply explained:
The Gallup organization recently released a survey in which Americans were asked to rank what they considered to be the "best long term investment." Real estate ranked number one, with 35% of those surveyed saying it was a better long term investment than stocks & mutual funds, gold, savings accounts or bonds.
The price of any item is determined by the supply of that item, and the market demand. The National Association of Realtors (NAR) recently released their latest Existing Home Sales Report which gives insight into today's market conditions.
Three years ago, John Paulson gave a keynote address at the CNBC/Institutional Investor Conference. In his speech, he told those in attendance that he believes housing will continue its strong recovery for the next 4 to 7 years, saying that: