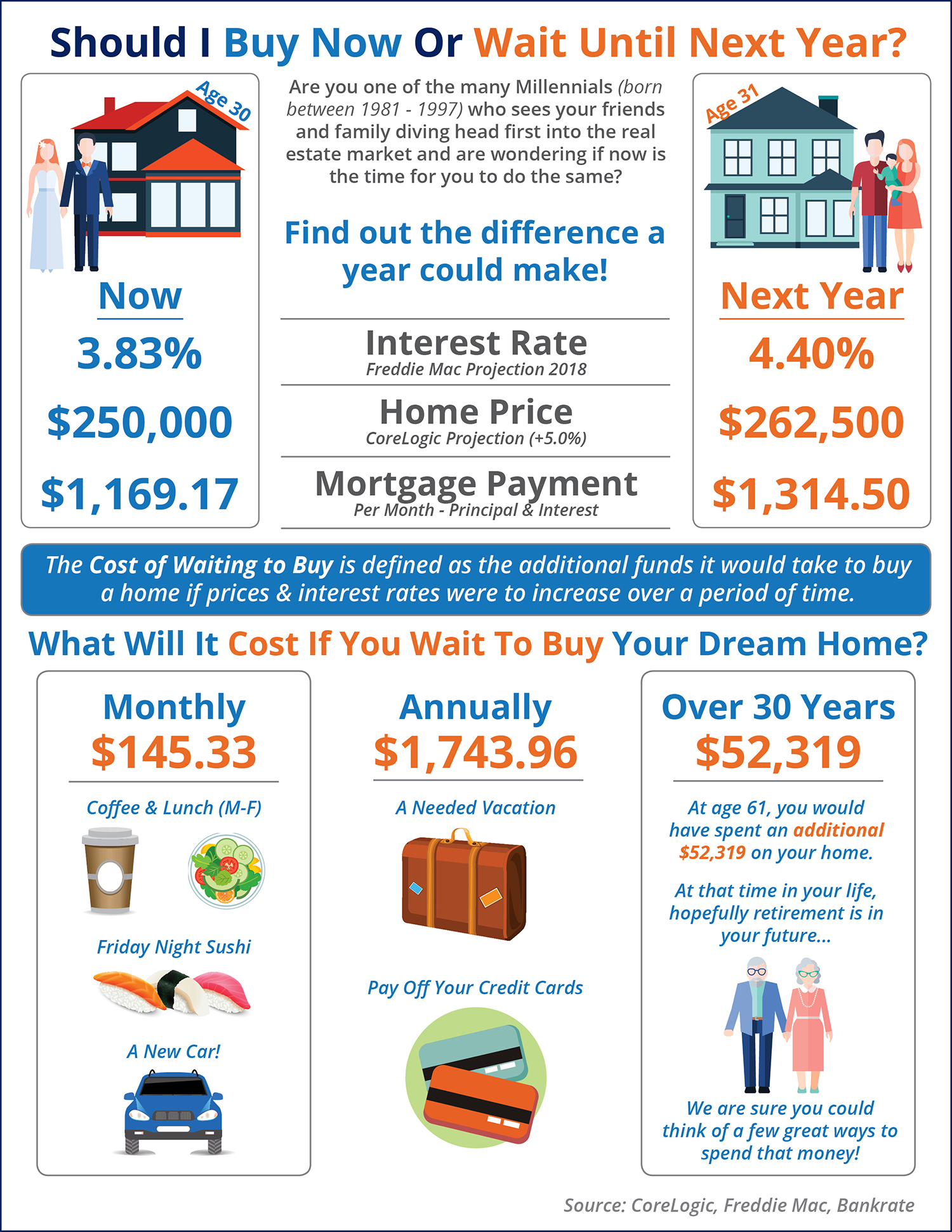 Some Highlights
The Cost of Waiting to Buy is defined as the additional funds it would take to buy a home if prices & interest rates were to increase over a period of time.
Freddie Mac predicts interest rates to rise to 4.4% by next year.
CoreLogic predicts home prices to appreciate by 5.0% over the next 12 months.
If you are ready and willing to buy your dream home, find out if you are able to!
The number of building permits issued for single-family homes is the best indicator of how many newly built homes will rise over the next few months. According to the latest U.S. Census Bureau and U.S. Department of Housing & Urban Development Residential Sales Report, the number of these permits were up 7.7% over last year.
How do you select the members of your team who are going to help you make your dream of owning a home a reality? What should you be looking for? How do you know if you've found the right agent or lender?
According to a survey conducted by ClosingCorp, over half of all homebuyers are surprised by the closing costs required to obtain their mortgage.
Every homeowner wants to make sure they maximize their financial reward when selling their home. But how do you guarantee that you receive maximum value for your house? Here are two keys to ensure that you get the highest price possible.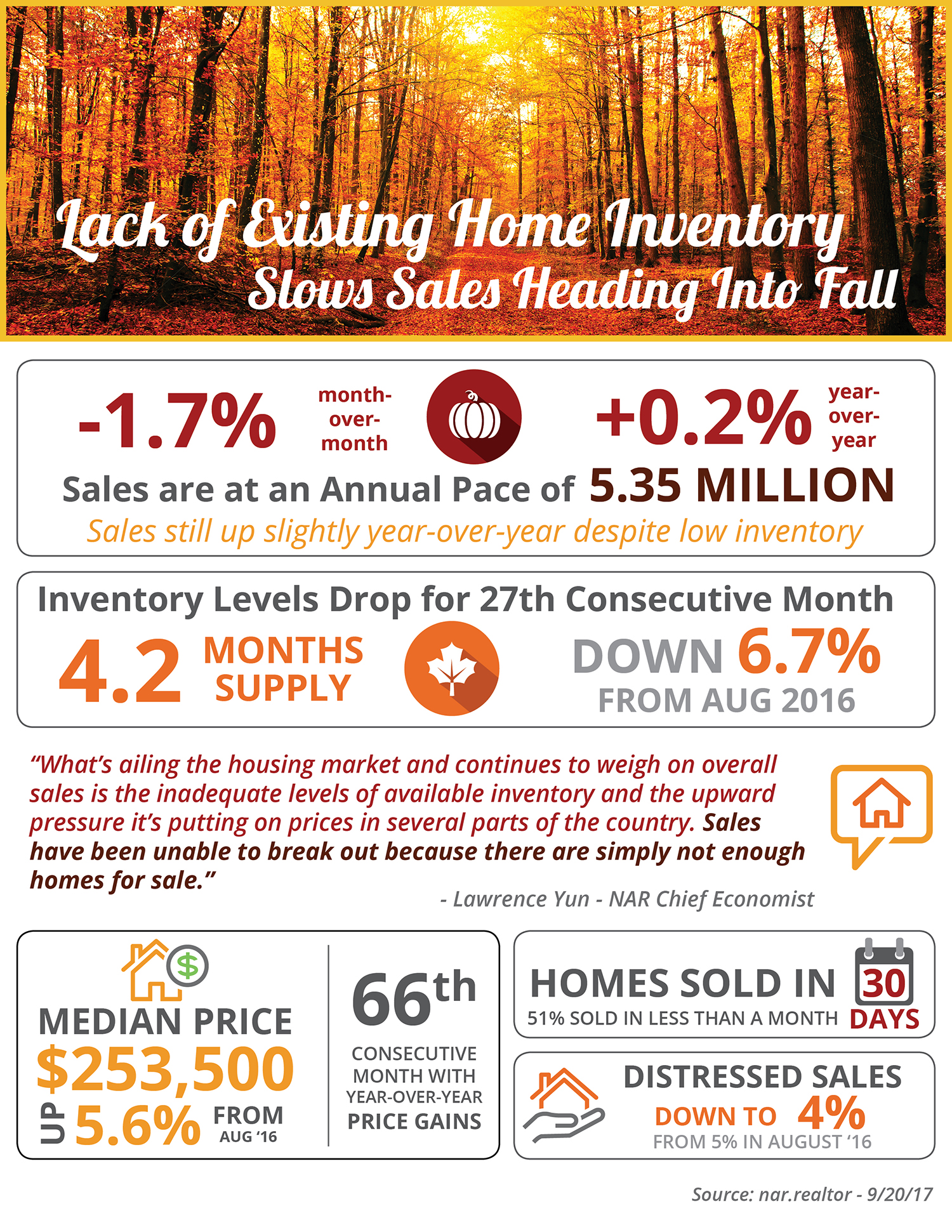 Some Highlights
The National Association of Realtors (NAR) recently released their latest Existing Home Sales Report.
First-time homebuyers made up 31% of all sales in August.
Homes are selling quickly with 51% of homes on the market for less than a month.
A limited supply continues to drive up prices for the 66th consecutive month.
There is no doubt that the largest challenge in today's housing market is a lack of housing inventory for sale. This challenge has been defined as an "overwhelming lack of supply," and even a "straight up inventory crisis."
Recently released data from Fannie Mae's National Housing Survey revealed that rising home prices were the catalyst behind an eight-point jump in the net percentage of respondents who say now is a good time to sell. The index is now 21 points higher than it was this time last year.
Freddie Mac, Fannie Mae, and The Mortgage Bankers Association are all projecting that home sales will increase in 2018. Here is a chart showing what each entity is projecting in sales for the remainder of this year and the next.
Here are five reasons listing your home for sale this fall makes sense.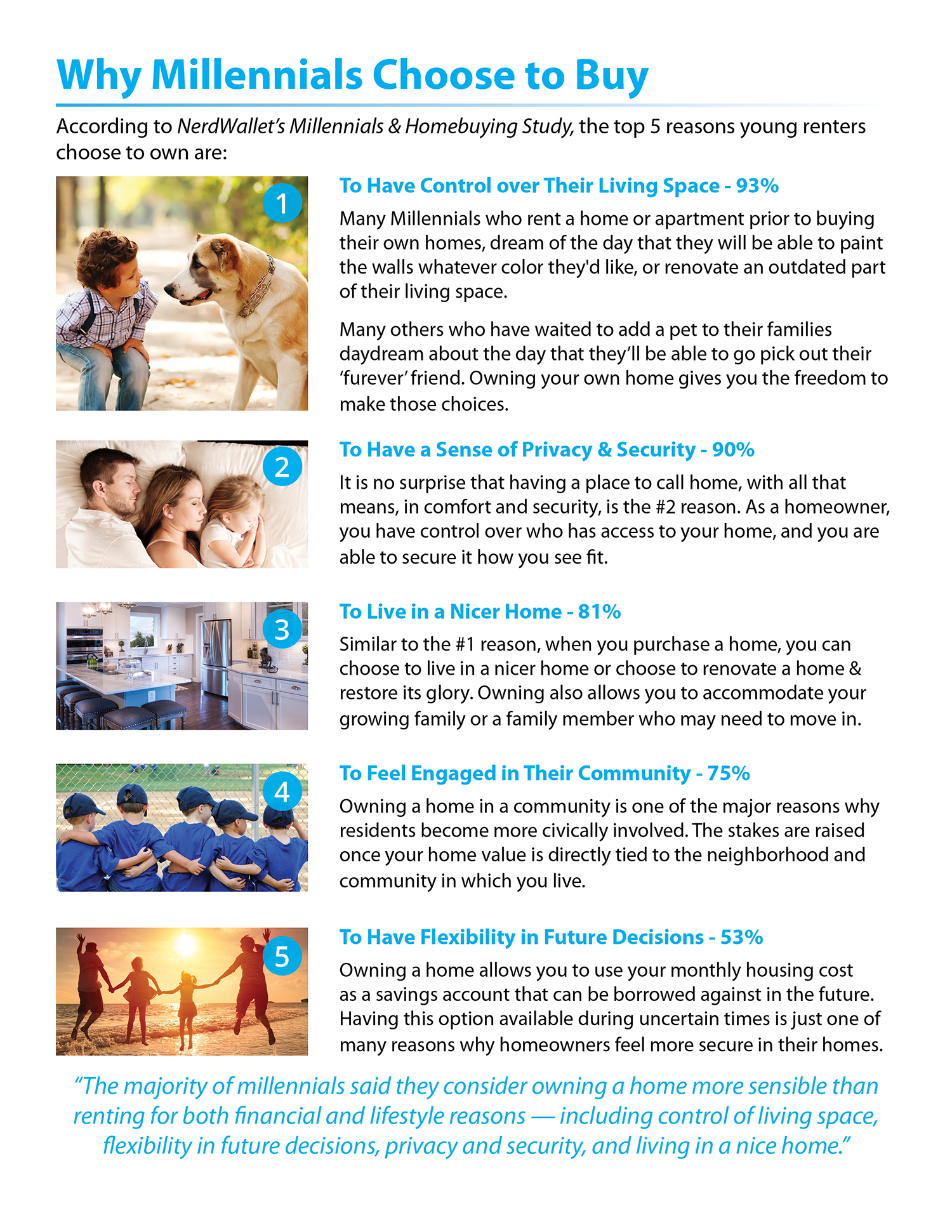 Some Highlights
"The majority of millennials said they consider owning a home more sensible than renting for both financial and lifestyle reasons — including control of living space, flexibility in future decisions, privacy and security, and living in a nice home."
The top reason millennials choose to buy is to have control over their living space, at 93%.
Many millennials who rent a home or apartment prior to buying their own homes dream of the day that they will be able to paint the walls whatever color they'd like, or renovate an outdated part of their living space.
Hearth just released their 2017 State of the American Dream report which showed that Americans still see homeownership as an integral piece of the American Dream. The report confirmed that "all generations–including millennials–agree homeownership is very important to achieving the American Dream."
Married couples once again dominated the first-time homebuyer statistics last year at 66% of all buyers, according to the most recent Profile of Home Buyers & Sellers. It is no surprise that having two incomes to save for down payments and contribute to monthly housing costs makes buying a home more attainable.
In this day and age of being able to shop for anything anywhere, it is really important to know what you're looking for when you start your home search.
Here are four great reasons to consider buying a home today, instead of waiting.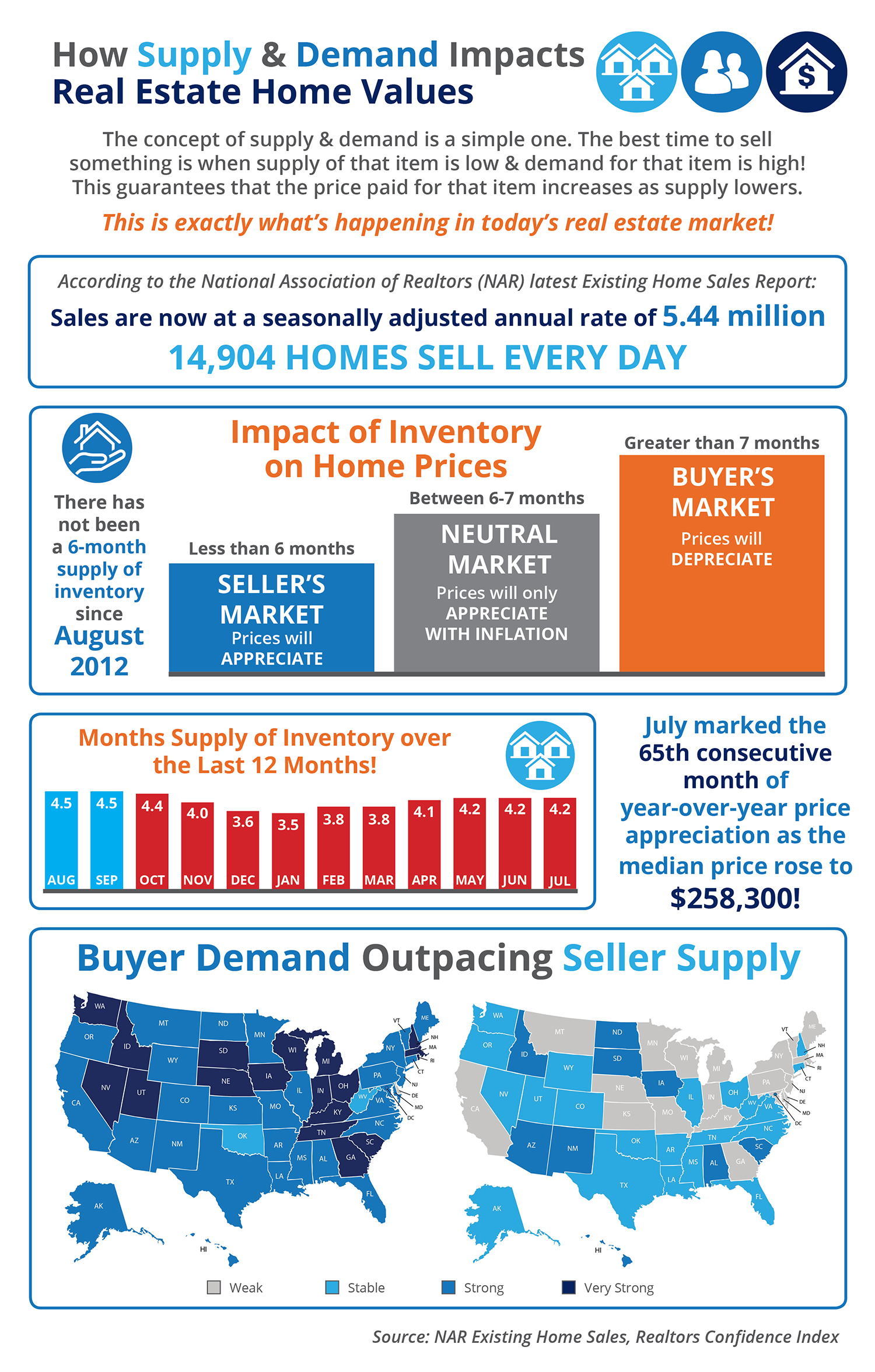 Some Highlights
The concept of supply & demand is a simple one. The best time to sell something is when the supply of that item is low & the demand for that item is high!
Anything under a 6-month supply is a seller's market!
Nationally, there has not been a 6-months inventory supply since August 2012!
Inventory levels differ depending on the area of the country and price range, so let's get together to discuss the exact market conditions in our area.
The biggest challenge in today's real estate market is a lack of housing inventory. How big of a challenge is the housing shortage? Here are what four industry economists are saying on the issue (emphases added):
The latest edition of CoreLogic's Home Price Index shows that nationally, home prices have appreciated 6.7% over the last year and 0.9% month-over-month. The release of the report included this headline,
Over the next five years, home prices are expected to appreciate 3.64% per year on average and to grow by 18.4% cumulatively, according to Pulsenomics' most recent Home Price Expectation Survey.
There are some homeowners who are patiently waiting to get the price they hoped for when they originally listed their houses for sale. Something these homeowners might want to take into consideration is the fact that if their homes haven't sold yet, maybe they're not priced properly.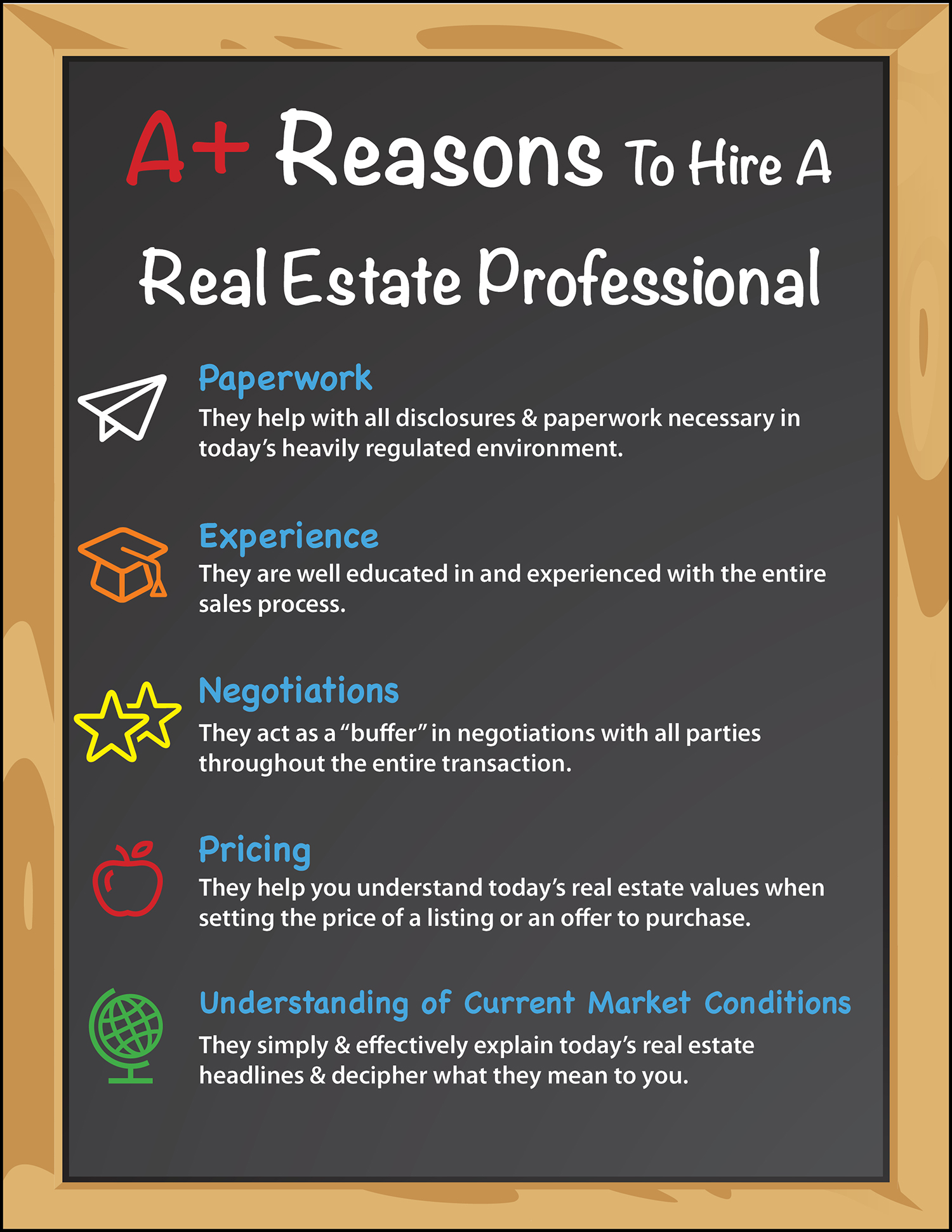 Some Highlights:
Hiring a real estate professional to buy your dream home, or sell your current house, is one of the most 'educated' decisions you can make!
A real estate professional has the experience needed to help you through the entire process.
Make sure that you hire someone who knows current market conditions & can simply and effectively explain them to you and your family!
Some Highlights