With businesses starting to slowly open back up again in some parts of the country, it's important to understand how housing can have a major impact on the recovery of the U.S. economy. As we've mentioned before, buying a home is a driving financial force in this process. Today, many analysts believe one of the first things we'll be able to safely bring back is the home building sector, creating more jobs and impacting local neighborhoods in a big way. According to Robert Dietz in The Eye on Housing:
Through all the volatility in the economy right now, some have put their search for a home on hold, yet others have not. According to ShowingTime, the real estate industry's leading showing management technology provider, buyers have started to reappear over the last several weeks. In the latest report, they revealed:
With the release of the latest Economic Pulse Flash Survey from the National Association of Realtors (NAR), results show that people selling their houses today are holding strong on price. According to the most recent data, 74% of real estate agents noted that sellers are not dropping listing prices to attract more buyers.
A big challenge facing the housing industry is determining what impact the current pandemic may have on home values. Some buyers are hoping for major price reductions because the health crisis is straining the economy.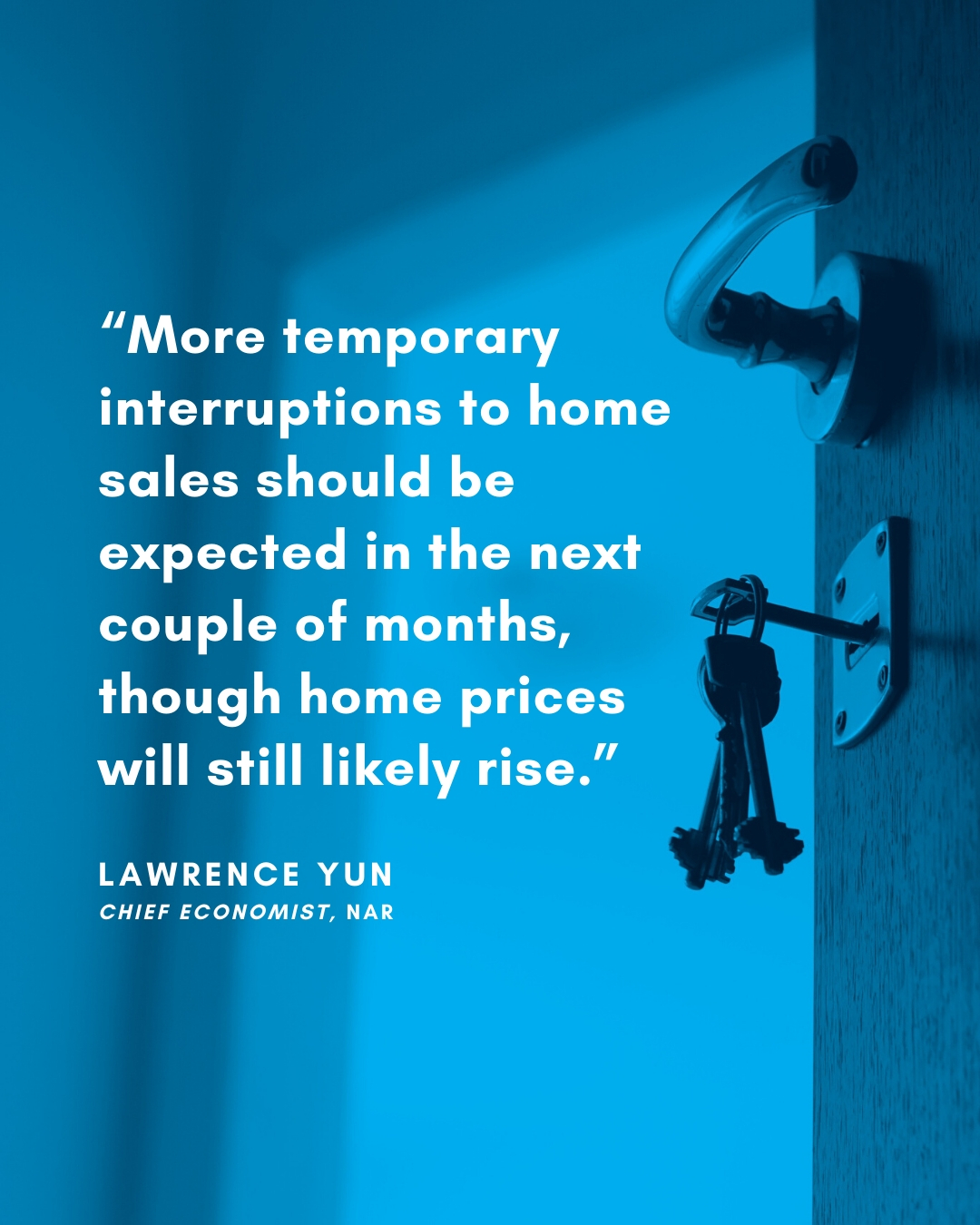 Some Highlights
According to Lawrence Yun, Chief Economist at NAR, home prices are forecasted to rise.
Results from the Existing Home Sales Report note that home sales declined in March due to the coronavirus, but prices are still strong.
Let's connect so you can better understand your home's value today.
Earlier this week, we discussed how most projections from financial institutions are calling for a quick V-shaped recovery from this economic downturn, and there's research on previous post-pandemic recoveries to support that expectation.
In a recent survey by realtor.com, people thinking about selling their homes indicated they're generally willing to allow their agent and some potential buyers inside if done under the right conditions. They're less comfortable, however, hosting an open house. This is understandable, given the health concerns associated with social contact these days. The question is, if you need to sell your house now, what virtual practices should you use to make sure you, your family, and potential buyers stay safe in the process?
Many American businesses have been put on hold as the country deals with the worst pandemic in over one hundred years. As the states are deciding on the best strategy to slowly and safely reopen, the big question is: how long will it take the economy to fully recover?
There are two crises in this country right now: a health crisis that has forced everyone into their homes and a financial crisis caused by our inability to move around as we normally would. Over 20 million people in the U.S. became instantly unemployed when it was determined that the only way to defeat this horrific virus was to shut down businesses across the nation. One second a person was gainfully employed, a switch was turned, and then the room went dark on their livelihood.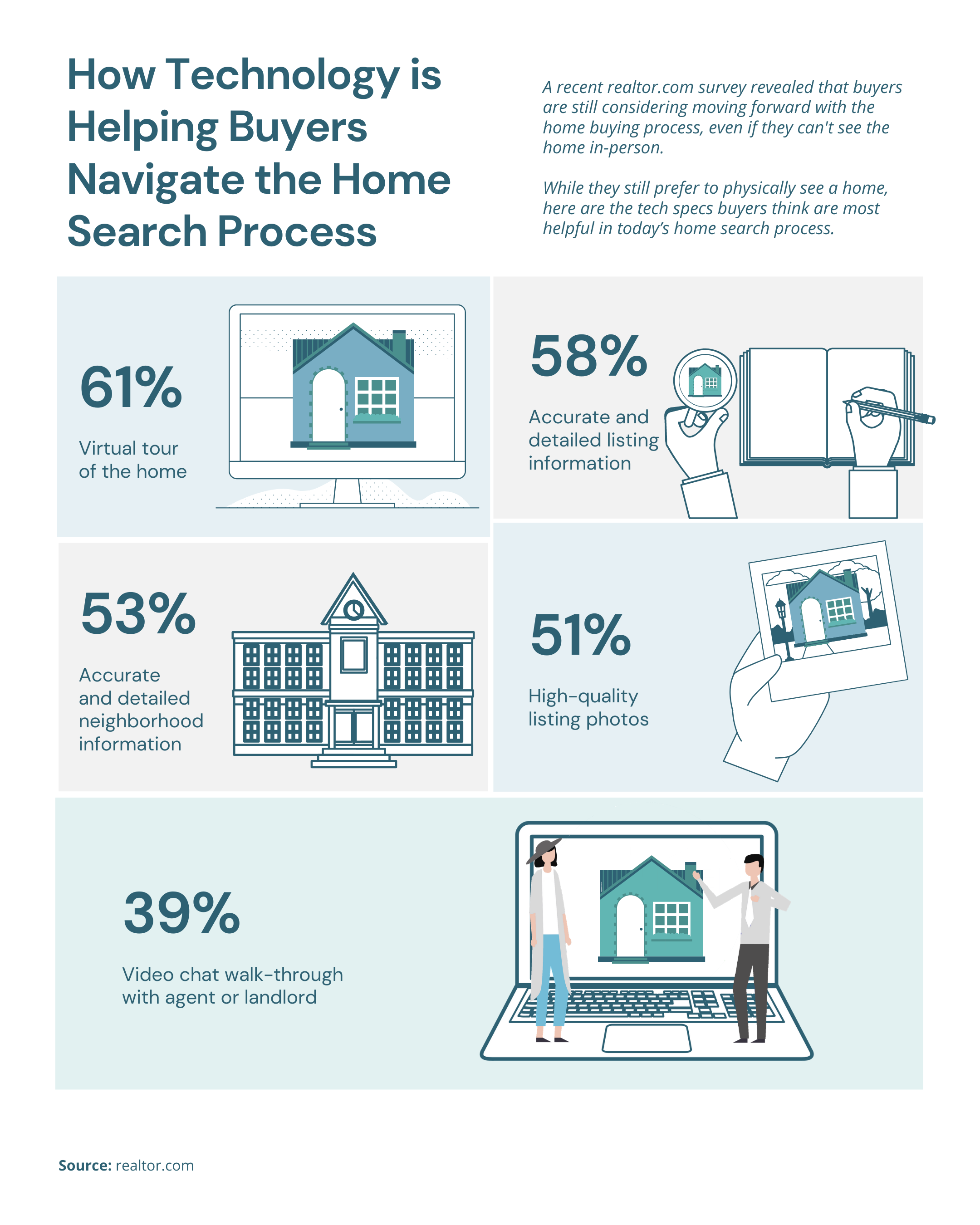 Some Highlights
A recent realtor.com survey revealed that buyers are still considering moving forward with the homebuying process, even if they can't see the home in-person.
While they still prefer to physically see a home, virtual home tours and accurate listing information top the list of tech specs buyers find most helpful in today's process.
Let's connect today to determine how technology can help power your home search.
The uncertainty the world faces today due to the COVID-19 pandemic is causing so many things to change. The way we interact, the way we do business, even the way we buy and sell real estate is changing. This is a moment in time that's even sparking some buyers to search for a better deal on a home. Sellers, however, aren't offering a discount these days; they're holding steady on price.
With all of the unanswered questions caused by COVID-19 and the economic slowdown we're experiencing across the country today, many are asking if the housing market is in trouble. For those who remember 2008, it's logical to ask that question.
Every day that passes, people have a need to buy and sell homes. That doesn't stop during the current pandemic. If you've had a major life change recently, whether with your job or your family situation, you may be in a position where you need to sell your home – and fast. While you probably feel like timing with the current pandemic isn't on your side, making a move is still possible. Rest assured, with technology at your side and fewer sellers on the market in most areas, you can list your house and make it happen safely and effectively, especially when following the current COVID-19 guidelines set forth by the National Association of Realtors (NAR) and the Centers for Disease Control and Prevention (CDC).
With over 90% of Americans now under a shelter-in-place order, many experts are warning that the American economy is heading toward a recession, if it's not in one already. What does that mean to the residential real estate market?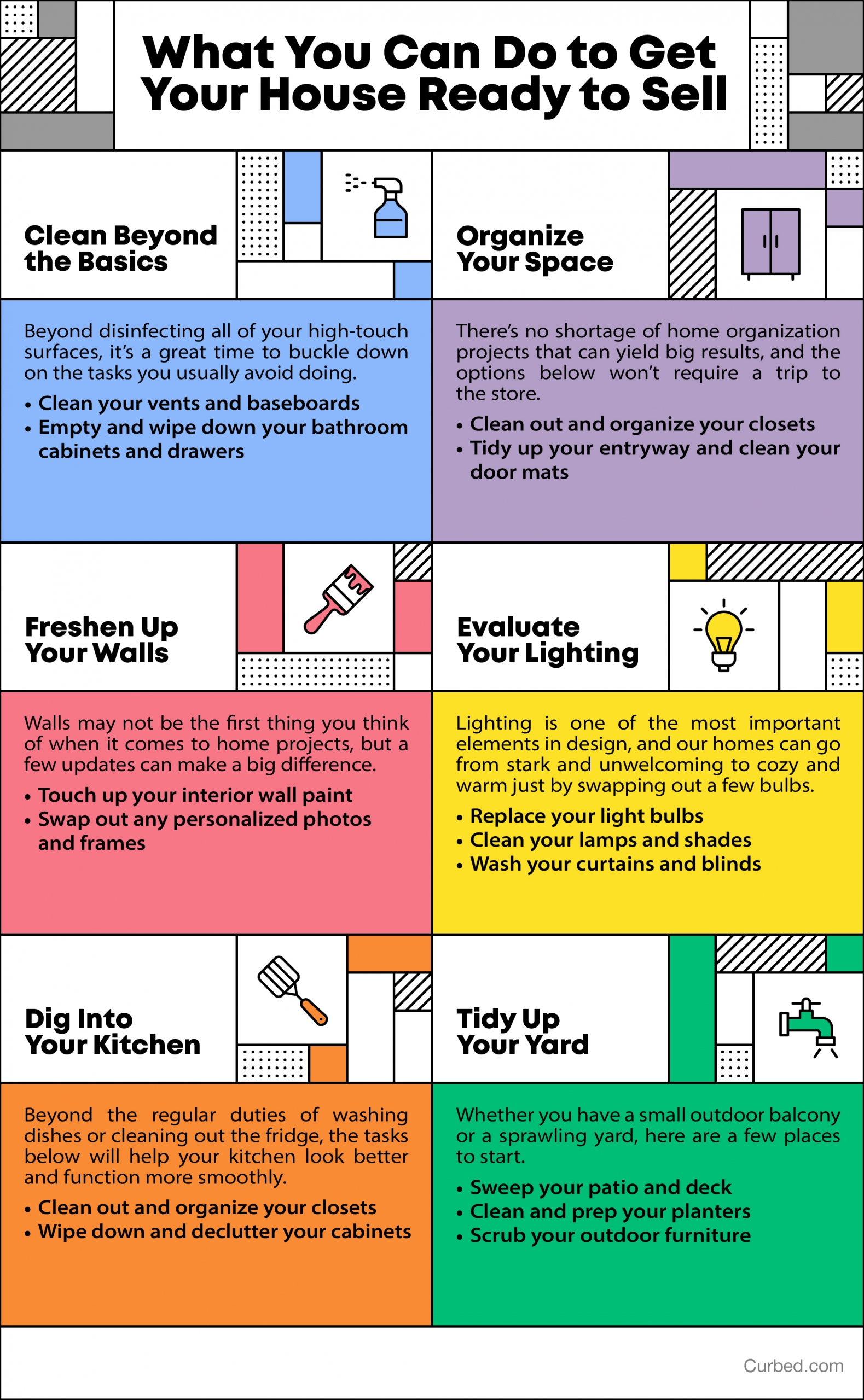 Some Highlights
Believe it or not, there are lots of things you can do to prep your house for a sale without even going to the store.
Your real estate plans don't have to be completely on hold even while we've hit the pause button on other parts of daily life.
Tackling small projects from cleaning the corners you may normally skip to tidying up your yard are easy and necessary wins if you're thinking of listing your house and making a move.
For years, we've all heard about the most desirable home features buyers are looking for, from upgraded kitchens to remodeled bathrooms, master suites, and more. The latest on the hotlist, however, might surprise you: home offices.
Today's everyday reality is pretty different than it looked just a few weeks ago. We're learning how to do a lot of things in new ways, from how we work remotely to how we engage with our friends and neighbors. Almost everything right now is shifting to a virtual format. One of the big changes we're adapting to is the revisions to the common real estate transaction, which all vary by state and locality. Technology, however, is making it possible for many of us to continue on the quest for homeownership, an essential need for all.
There's a ton of real estate information available in the news today and on the Internet. It can be extremely confusing, especially in times of uncertainty like we're facing right now.
Ten million Americans lost their jobs over the last two weeks. The next announced unemployment rate on May 8th is expected to be in the double digits. Because the health crisis brought the economy to a screeching halt, many are feeling a personal financial crisis. James Bullard, President of the Federal Reserve Bank of St. Louis, explained that the government is trying to find ways to assist those who have lost their jobs and the companies which were forced to close (think: your neighborhood restaurant). In a recent interview he said: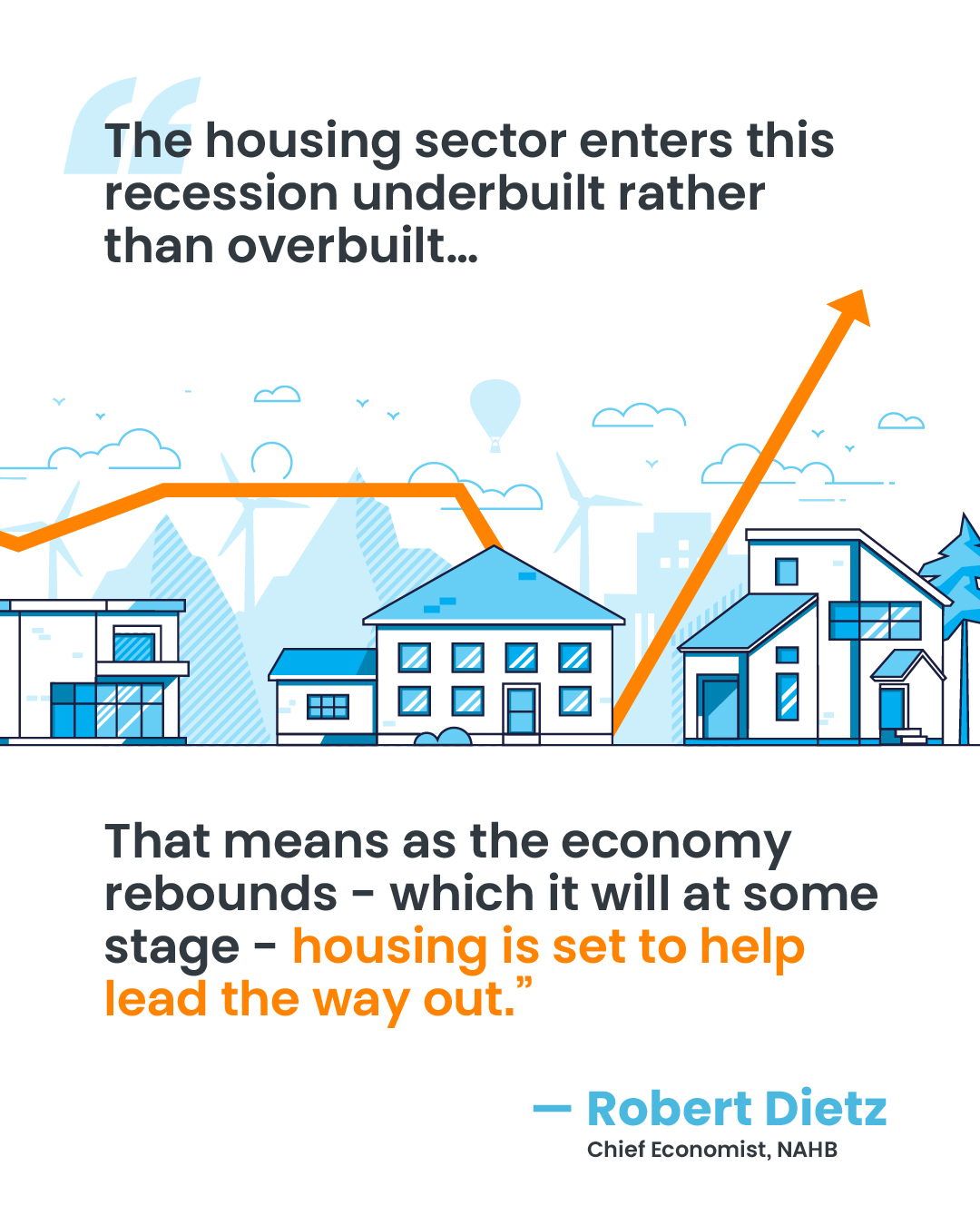 Some Highlights
Expert insights are painting a bright future for housing when the economy bounces back – and it will.
We may be facing challenging economic times today, but the housing market is poised to help the economy recover, not drag it down.
Let's connect to make sure you're informed and ready when it's time to make your move.
As our lives, our businesses, and the world we live in change day by day, we're all left wondering how long this will last. How long will we feel the effects of the coronavirus? How deep will the impact go? The human toll may forever change families, but the economic impact will rebound with a cycle of downturn followed by economic expansion like we've seen play out in the U.S. economy many times over.
The last few weeks and months have caused a major health crisis throughout the world, leading to a pause in the U.S. economy as businesses and consumers work to slow the spread of the coronavirus. The rapid spread of the virus has been compared to prior pandemics and outbreaks not seen in many years. It also has consumers remembering the economic slowdown of 2008 that was caused by a housing crash. This economic slowdown, however, is very different from 2008.