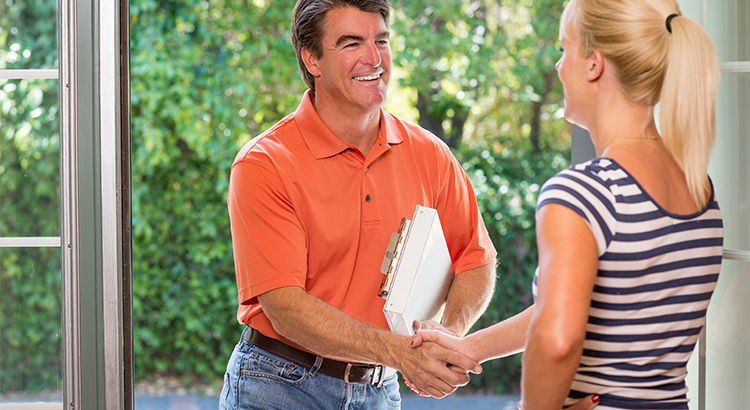 Usted hizo una oferta y fue aceptada. Su siguiente tarea es inspeccionar la casa antes del cierre. Los agentes a menudo recomiendan hacer su oferta contingente en una inspección favorable.
Esta contingencia le permite a usted renegociar el precio pagado por su casa, pedir al vendedor que cubra los gastos de las reparaciones, o en algunos casos, retirarse si salen desafíos. Su agente puede aconsejarle la mejor forma de actuar una vez se presente el informe.
Como elegir un inspector
Probablemente su agente tiene una lista breve de inspectores con los que ellos han trabajado en  el pasado y que le pueden recomendar. HGTV sugiere considere las siguientes 5 áreas al escoger el inspector de vivienda adecuado para usted:
1.Calificaciones – Averigüe que está incluido en su inspección y si la edad o ubicación de su casa justifica certificaciones particulares o especiales.
2. Informes de muestra – Pida informes de inspección de muestra para que usted pueda examinar que tan exhaustivamente ellos van a inspeccionar la casa de sus sueños. en la mayoría de los casos, entre más detallado el informe, mejor.
3. Referencias – haga su tarea – pida números de teléfonos y nombres de clientes del pasado que usted pueda llamar y preguntar sobre su experiencia.
4. Membresías – No todos los inspectores perteneces a la asociación nacional o estatal de inspectores de viviendas, y la membresía de uno de esos grupos no debe ser la única forma de evaluar su opción. A menudo la membresía en una a de estas organizaciones significa que se requiere educación y capacitación en forma continua.
5. Seguro contra errores y omisiones – Averigüe cual es la responsabilidad del inspector o la compañía de inspección una vez se termina la inspección. El inspector es un humano después de todo, y es posible que pueda pasar por alto algo que debería haber visto.
Pregunte a su inspector si está bien que usted este presente durante la inspección. De esa manera ellos pueden señalar cualquier cosa que se debería abordar o arreglar.
No se sorprenda de ver a su inspector subirse al techo, gatear alrededor del ático, y en los pisos. El trabajo del inspector es proteger su inversión y encontrar cualquier problema con la casa, incluyendo, pero no limitando a: el techo, la plomería, los componentes eléctricos, los electrodomésticos, el sistema de calefacción y aire acondicionado, la ventilación, las ventanas, la chimenea, la fundación y ¡mucho más!
En conclusión,
El dicho 'la ignorancia es una bendición', no al invertir su dinero duramente ganado en una casa propia. Trabaje con un profesional que usted pueda confiar para que le dé la mayor información posible sobre su casa nueva, así usted puede tomar la decisión más educada acerca de su compra.
We believe every family should feel confident when buying & selling a home. KCM helps real estate professionals reach these families & enables the agent to simply & effectively explain a complex housing market. Take a 14-Day Free Trial of our monthly membership to see how we can help you!
---
https://files.keepingcurrentmatters.com/wp-content/uploads/2019/09/30165204/20191001-Share-KCM.jpg
410
750
The KCM Crew
https://assets.keepingcurrentmatters.com/wp-content/uploads/2017/01/KCMBannerNoWebsiteDarkLarge.png
The KCM Crew
2019-10-01 06:30:40
2019-09-30 17:10:10
Qué esperar de la inspección de su vivienda