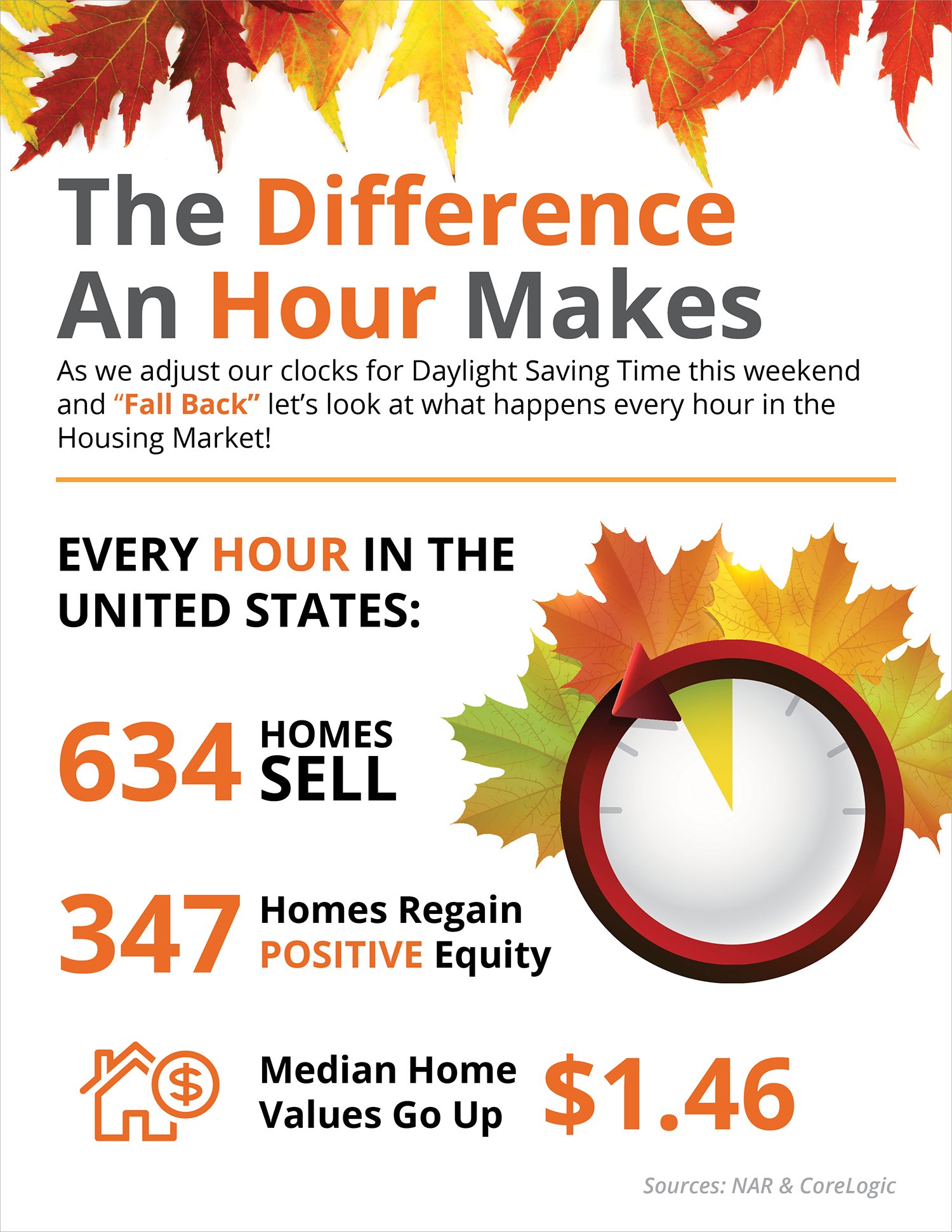 Every Hour in the US Housing Market:
634 Homes Sell
347 Homes Regain Positive Equity
Median Home Values Go Up $1.46
According to a joint study released by Google and the National Association of Realtors, 2 of 3 people searching for a prospective real estate professional research them "extensively online prior to working with them". And, that number is probably increasing every day.
The Mortgage Bankers' Association (MBA) recently released a report: 'Housing Demand: Demographics And The Numbers Behind The Coming Multi-Million Increase In Households'. In this study, the MBA "utilized a comprehensive analysis of data from 1976 to 2014, a period encompassing several market and housing cycles, to provide a projection of much stronger housing demand over the next decade."
Many people wonder whether they should hire a real estate professional to assist them in buying their dream home or if they should first try to go it on their own. In today's market: you need an experienced professional!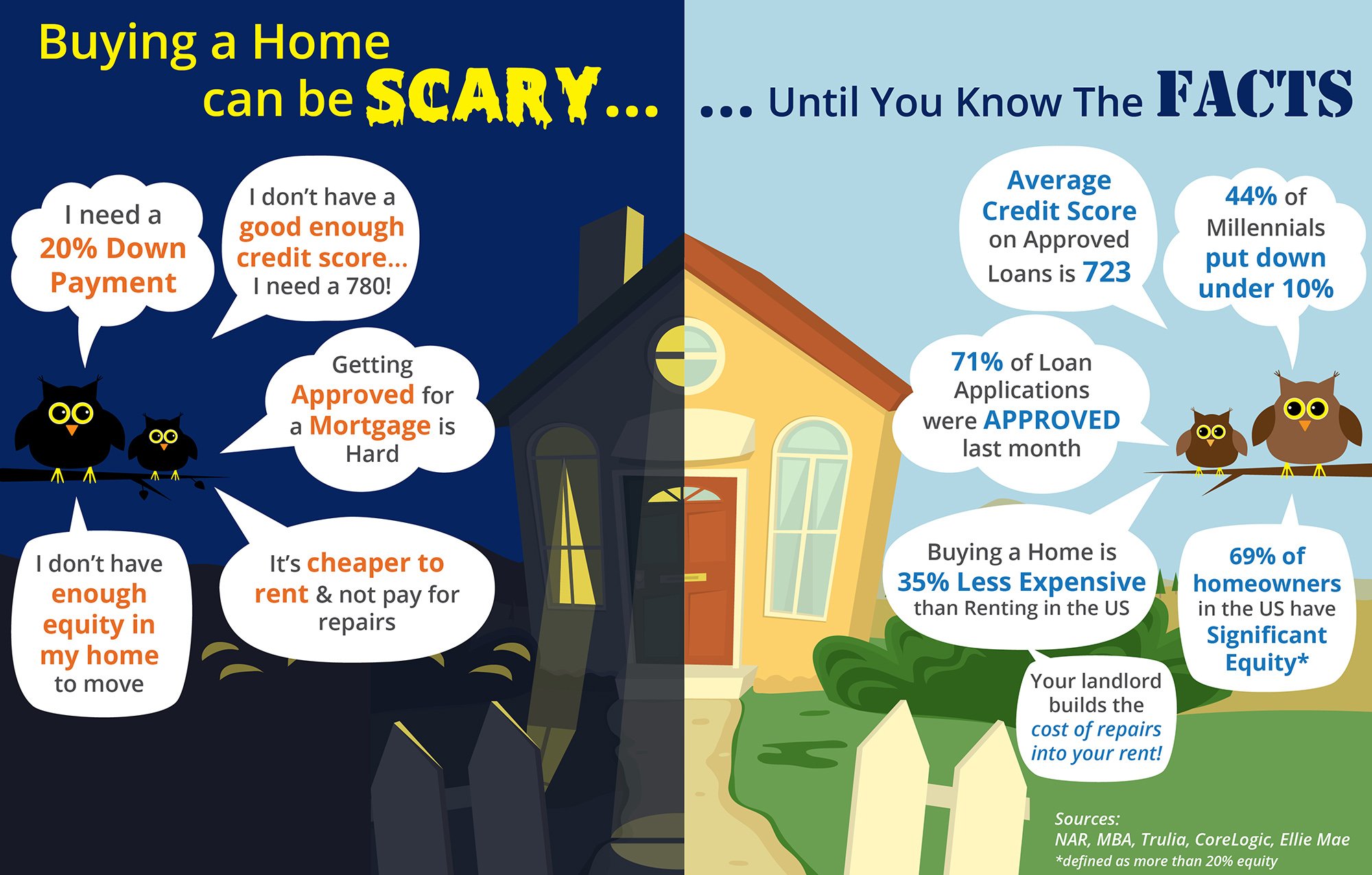 Some Highlights:
36% of Americans think they need a 20% down payment to buy a home. 44% of Millennials who purchased a home this year have put down less than 10%.
71% of loan applications were approved last month
The average credit score of approved loans was 723 in September (the lowest recorded score since Ellie Mae began tracking in August 2011).
Many have been wondering when the much anticipated move by Millennials' into homeownership would actually take place. We know the belief in owning a home is there.
With residential real estate values rising quite substantially in most parts of the country over the last few years, many homeowners are seeing a major increase in their family's wealth as equity continues to build in their house.
We are often asked why there is so much paperwork mandated by the bank for a mortgage loan application when buying a home today. It seems that the bank needs to know everything about us and requires three separate sources to validate each and every entry on the application form.
In the latest Rent vs. Buy Report from Trulia, they explained that homeownership remains cheaper than renting with a traditional 30-year fixed rate mortgage throughout the 100 largest metro areas in the United States.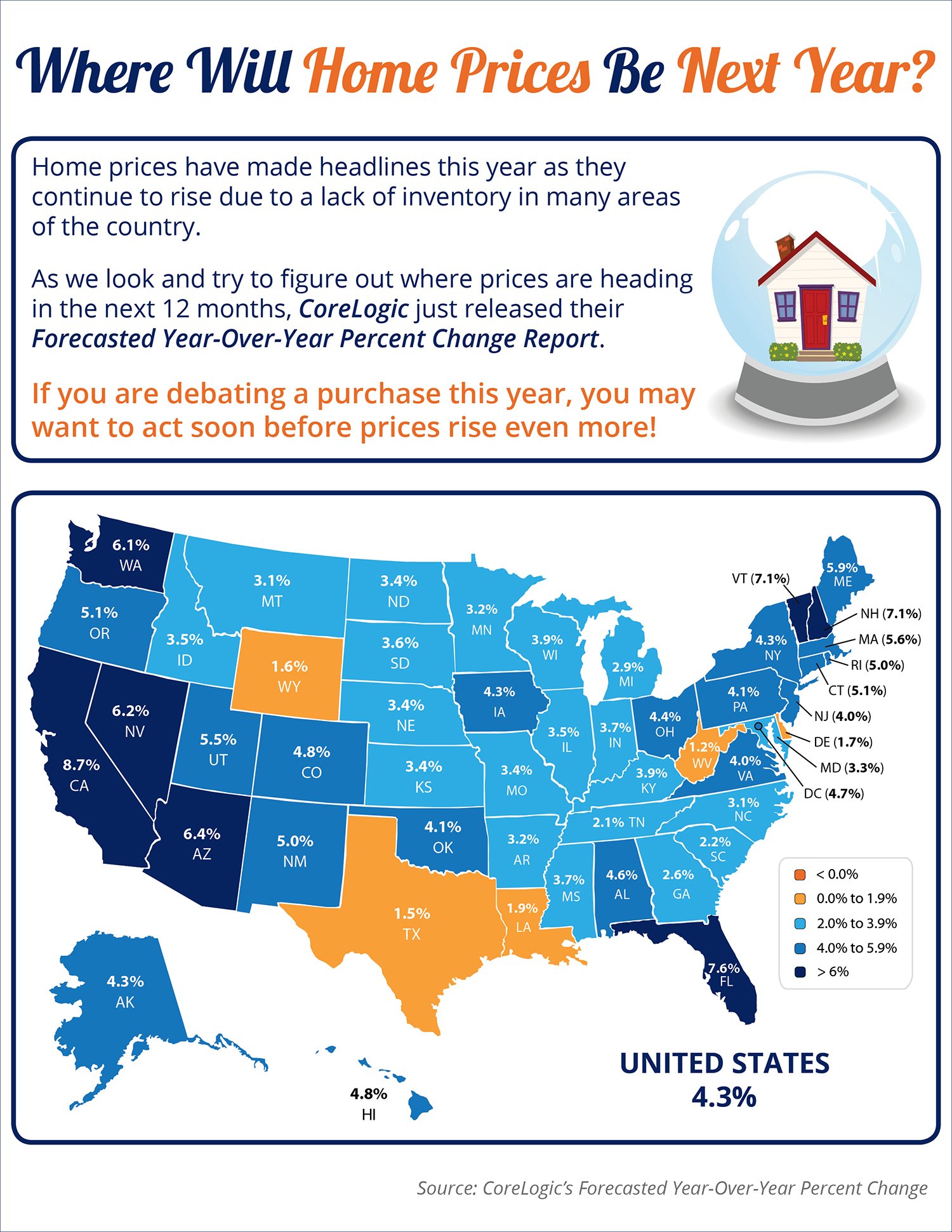 Some interesting facts:
25 states are forecasted to achieve higher levels of appreciation in the next 12 months than already achieved in the last year.
25 state and the District of Columbia are forecasted to experience a slow in appreciation.
All 50 states & D.C. are forecasted to achieve some level of positive price appreciation.
Even though each state is appreciating at different levels, you need to know the Cost of Waiting until next year to buy your dream home!
A recent article that appeared on Nasdaq.com addressed the issue of whether it is best to buy or rent in today's real estate environment. The article was very fair in discussing both options. However, there was one portion of the article that we questioned. One of the experts was quoted as saying: "For some people, the choice is very clear: Buying a home can be more costly, given the cost of the purchase itself, plus taxes and insurance, plus maintenance and repairs."
It appears that Millennials are finally beginning to enter the housing market. In a recent report, CoreLogic looked at the annual net change in household formations over the last decade (see graph below):
According to the latest report from the US Census Bureau and the Department of Housing and Urban Development, newly constructed home sales jumped 5.7% month-over-month and 21.6% year-over-year to an annual pace of 552,000. Many buyers are looking to the new homes market to make up for the lack of existing home sales inventory. National Association of Home Builders Chief Economist David Crowe explains:
It's that time of year; the seasons are changing and with them bring thoughts of the upcoming holidays, family get-togethers, and planning for a new year. Those who are on the fence about whether now is the right time to buy don't have to look much farther to find four great reasons to consider buying a home now, instead of waiting.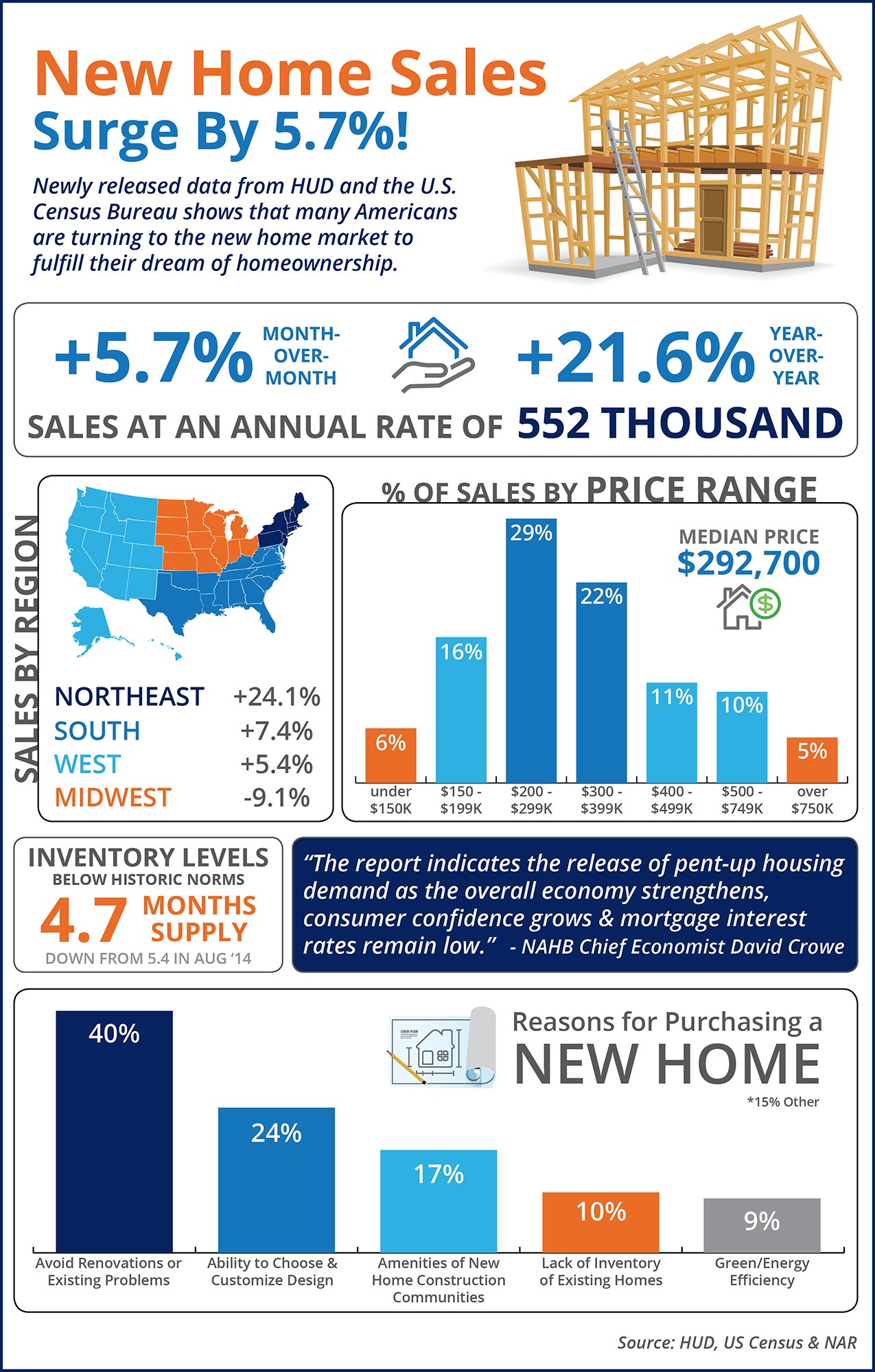 Some Highlights:
The median price of a newly constructed home is currently $292,700.
Sales are up 5.7% month-over-month and 21.6% year-over-year.
Many buyers are looking to new homes as an option due to the lack of inventory of existing homes for sale.
The National Association of REALTORS' just released the results of their latest Pending Home Sales Index, which showed a small 1.4% decline in signed contracts in August. Pending sales remain strong year-over-year as they were 6.1% higher than August '14 and have now risen for 12 consecutive months.
What is the Pending Home Sales Index (PHSI)?
CoreLogic recently released their 2015 2nd Quarter Equity Report which revealed that 759,000 properties had regained equity in the last quarter. That means that 91% of all mortgaged properties (approximately 45.9 million) are now in a positive equity position. Anand Nallathambi, president and CEO of CoreLogic, reported:
The National Association of Realtors' most recent Existing Home Sales Report revealed that home sales were up rather dramatically over last year in five of the six price ranges they measure.
If you are debating listing your house for sale this year or even early next year, here is the #1 reason not to wait!
Buyer Demand Continues to Outpace the Supply of Homes For Sale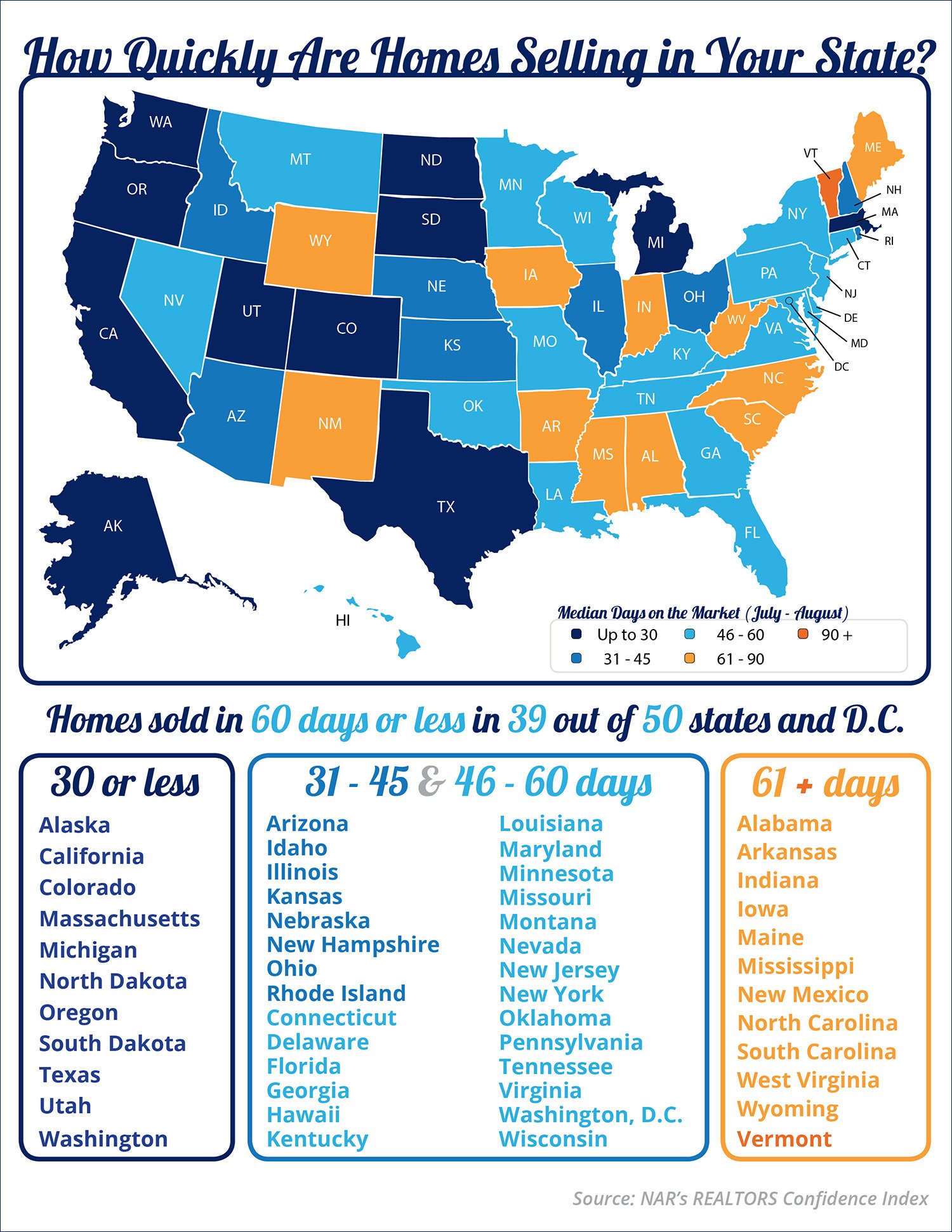 Some Highlights:
The National Association of REALTORS® surveyed their members for their Confidence Index
The REALTORS® Confidence Index is a key indicator of housing market strength based on a monthly survey sent to over 50,000 real estate practitioners. Practitioners are asked about their expectations for home sales, prices and market conditions.
Homes sold in less than 60 days in 39 out of 50 states and Washington D.C.
Only Vermont had a median sold date longer than 90 days.
A recent study by Edelman Berland revealed that of homeowners who are contemplating selling their house in the near future 33% plan to scale down. Let's look at a few reasons why that would make sense to many Americans.