So you've been searching for that perfect house to call a 'home,' and you finally found one! The price is right, and in such a competitive market that you want to make sure you make a good offer so that you can guarantee your dream of making this house yours comes true!
Fannie Mae's article, "What Consumers (Don't) Know About Mortgage Qualification Criteria," revealed that "only 5 to 16 percent of respondents know the correct ranges for key mortgage qualification criteria."
So you made an offer, it was accepted, and now your next task is to have the home inspected prior to closing. More often than not, your agent may have made your offer contingent on a clean home inspection.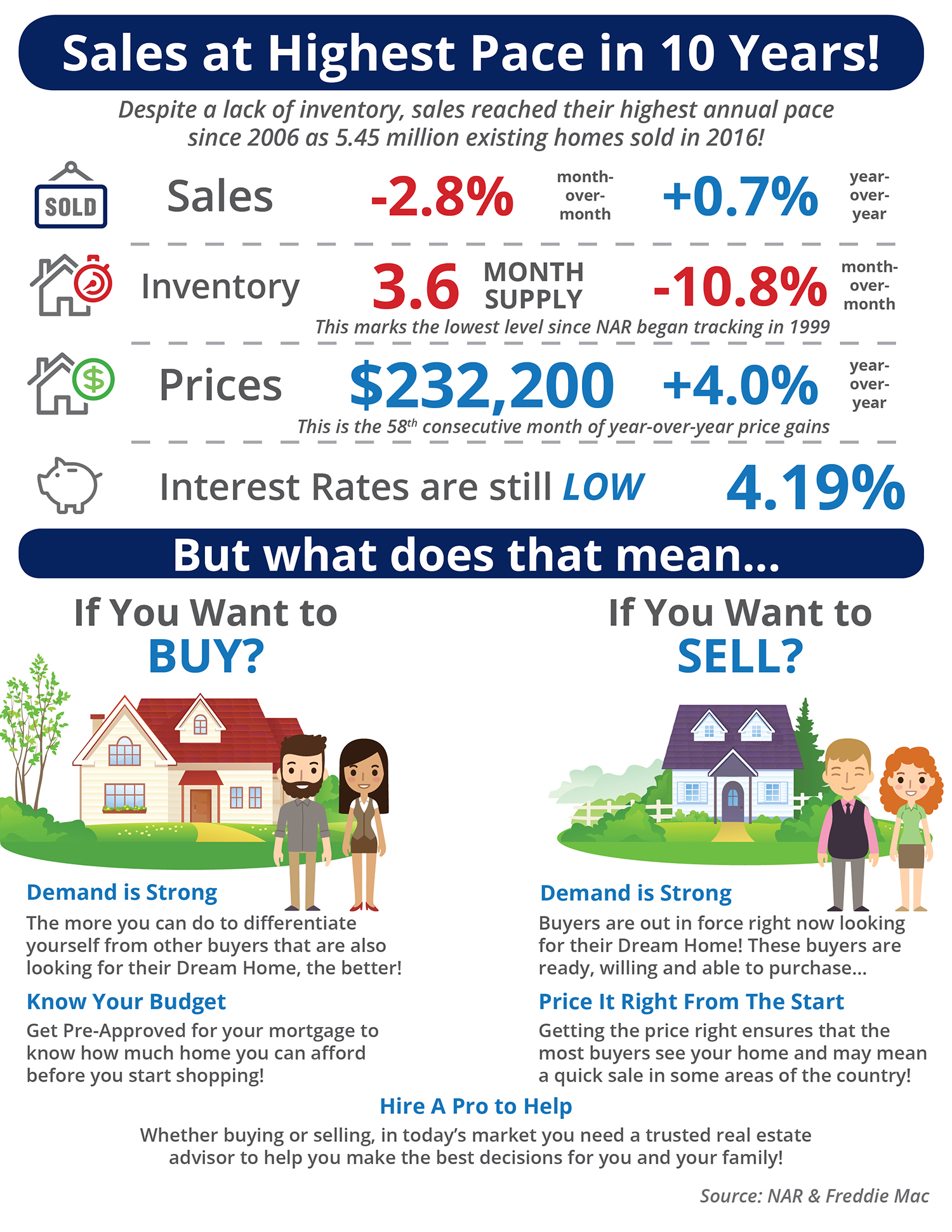 Highlights:
5.45 million existing homes were sold in 2016! This is the highest mark set since 2006.
Inventory of existing homes for sale dropped to a 3.6-month supply, the lowest level since NAR began tracking in 1999.
The median price of homes sold in December was $232,200. This is the 58th consecutive month of year-over-year price gains.
It is common knowledge that a large number of homes sell during the spring-buying season. For that reason, many homeowners hold off on putting their homes on the market until then. The question is whether or not that will be a good strategy this year.
According to ATTOM Data Solutions' 2017 Rental Affordability Report, buying a home is more affordable than renting in 354 of the 540 U.S. counties they analyzed.
According to Freddie Mac's latest Primary Mortgage Market Survey, interest rates for a 30-year fixed rate mortgage are currently at 4.09%, which is still very low in comparison to recent history!
There are many potential homebuyers, and even sellers, who believe that they need at least a 20% down payment in order to buy a home or move on to their next home. Time after time, we have dispelled this myth by showing that many loan programs allow you to put down as little as 3% (or 0% with a VA loan).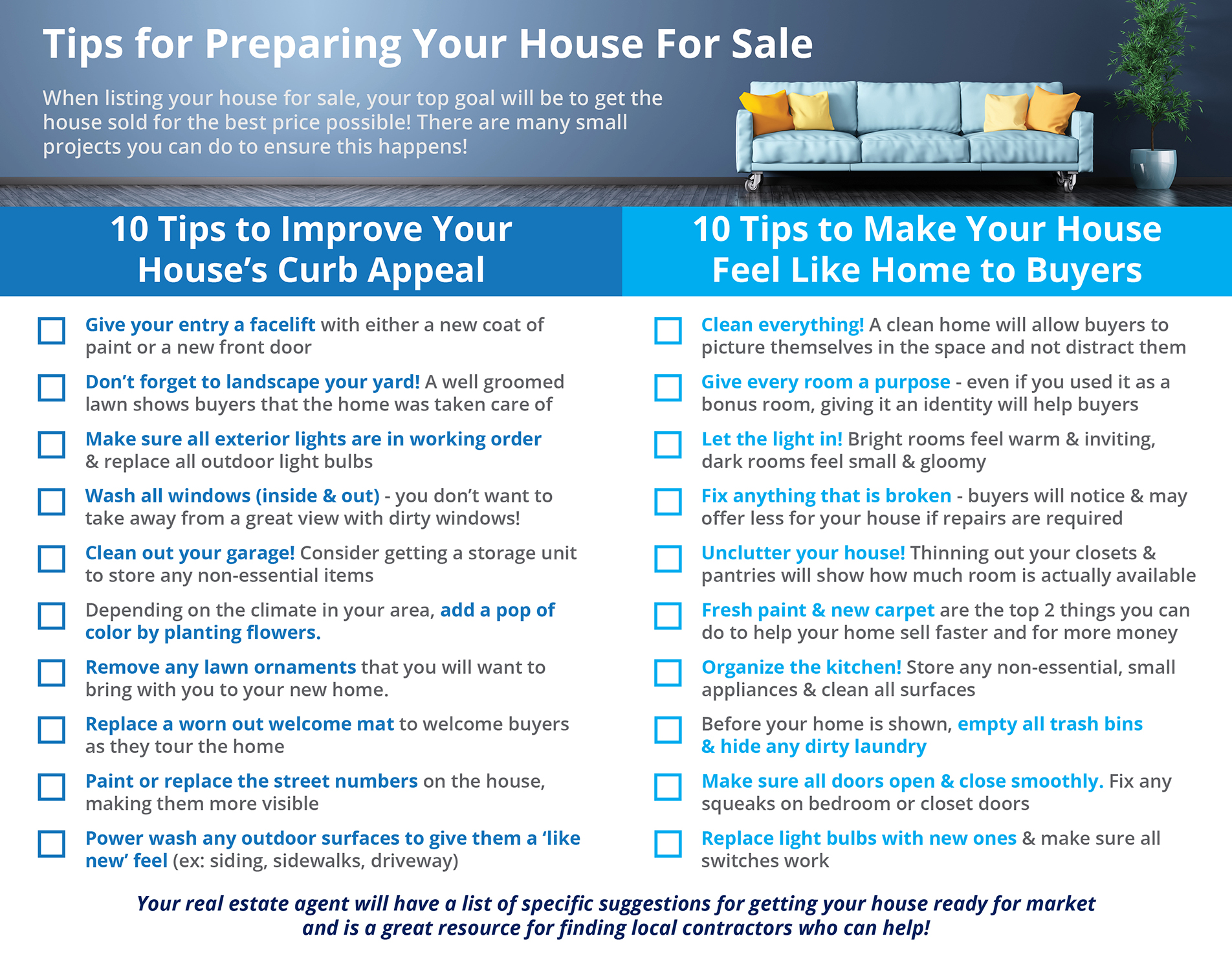 Highlights:
When listing your house for sale your top goal will be to get the home sold for the best price possible!
There are many small projects that you can do to ensure this happens!
Your real estate agent will have a list of specific suggestions for getting your house ready for market and is a great resource for finding local contractors who can help!
Some industry experts are saying that the housing market may be heading for a slowdown in 2017 based on rising home prices and a jump in mortgage interest rates. One of the data points they use is the Housing Affordability Index, as reported by the National Association of Realtors (NAR).
Recently released data from the National Center for Health Statistics revealed that 1.3 million Millennial women gave birth for the first time in 2015. There are now over 16 million women in this generation who have become mothers.
Have you ever been flipping through the channels, only to find yourself glued to the couch in an HGTV binge session? We've all been there… watching entire seasons of "Love it or List it," "Fixer Upper," "House Hunters," "Property Brothers," and so many more, just in one sitting.
In many markets across the country, the number of buyers searching for their dream homes greatly outnumbers the amount of homes for sale. This has led to a competitive marketplace where buyers often need to stand out. One way to show you are serious about buying your dream home is to get pre-qualified or pre-approved for a mortgage before starting your search.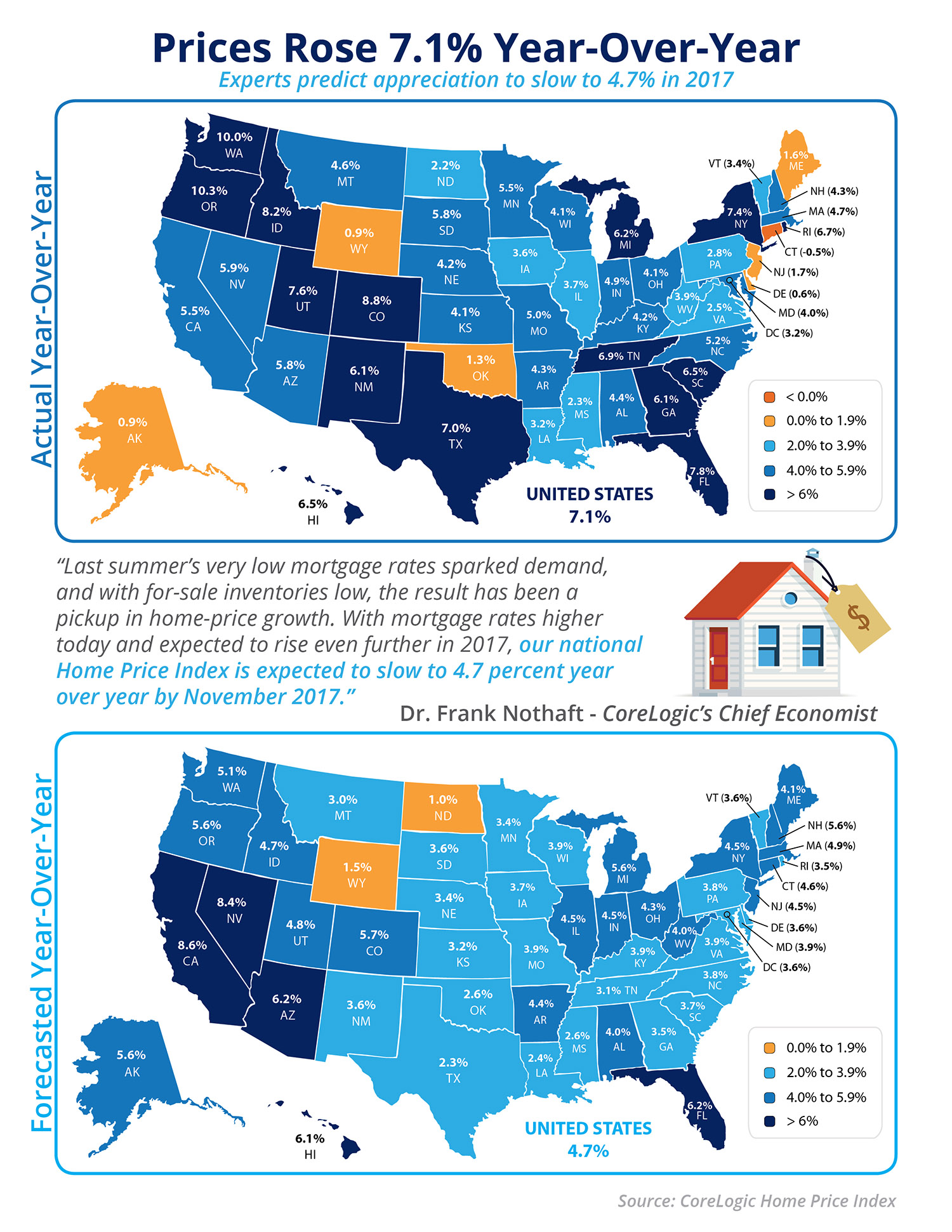 Some Highlights:
CoreLogic's latest Home Price Index shows that prices rose by 7.1% across the United States year-over-year.
With mortgage interest rates rising in the short term, CoreLogic believes price appreciation will slow to 4.7% by this time next year.
49 out of 50 states, and the District of Columbia, all had positive appreciation over the last 12 months, with the only exception being the state of Connecticut, which experienced a -0.5% appreciation.
It appears that Americans are regaining faith in the U.S. economy. The following indexes have each shown a dramatic jump in consumer confidence in their latest surveys:
According to data from the U.S Census bureau, there are approximately 76.4 million baby boomers living in the United States today. Contrary to what many think, there are very different segments within this generation, and one piece that sets them apart are their housing needs.
Many people wonder whether they should hire a real estate professional to assist them in buying their dream home or if they should first try to do it on their own. In today's market: you need an experienced professional!
The residential housing market has been hot. Home sales have bounced back solidly and are now at their second highest pace since February 2007. Demand has remained strong throughout the winter as many real estate professionals are reporting bidding wars with many homes selling above listing price. What about your house?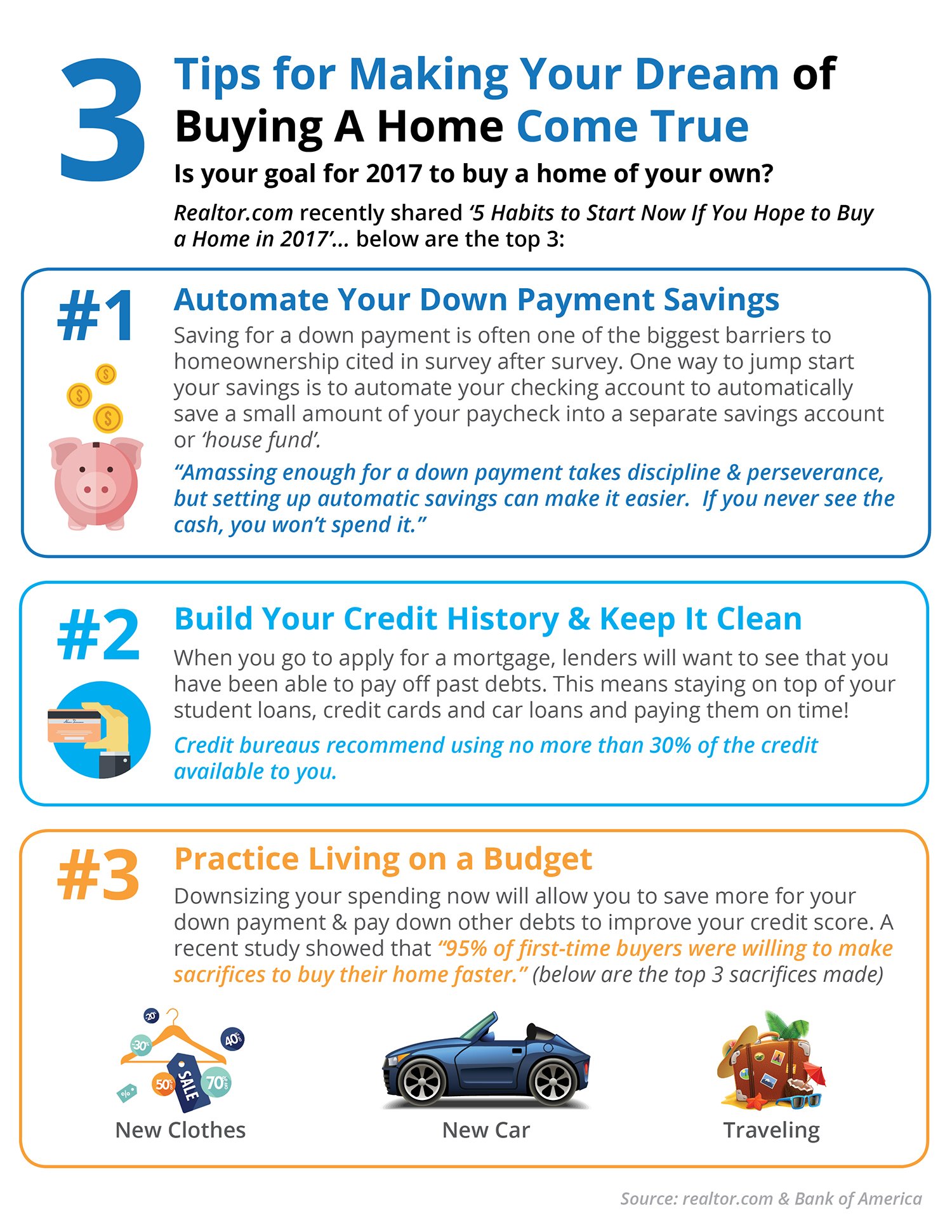 Some Highlights:
Realtor.com recently shared "5 Habits to Start Now If You Hope to Buy a Home in 2017."
Setting up an automatic savings plan that saves a small amount of every check is one of the best ways to save without thinking a lot about it.
Living within a budget now will help you save money for down payments and pay down other debts that might be holding you back.
Last week, CNBC ran an article quoting self-made millionaire David Bach explaining that not purchasing a home is "the single biggest mistake millennials are making" because buying real estate is "an escalator to wealth."
The National Association of Realtors' most recent Existing Home Sales Report revealed that, compared to last year, home sales are up dramatically in five of the six price ranges they measure.
The latest Existing Home Sales Report from the National Association of Realtors (NAR) revealed a direct correlation between a lack of inventory and rising prices.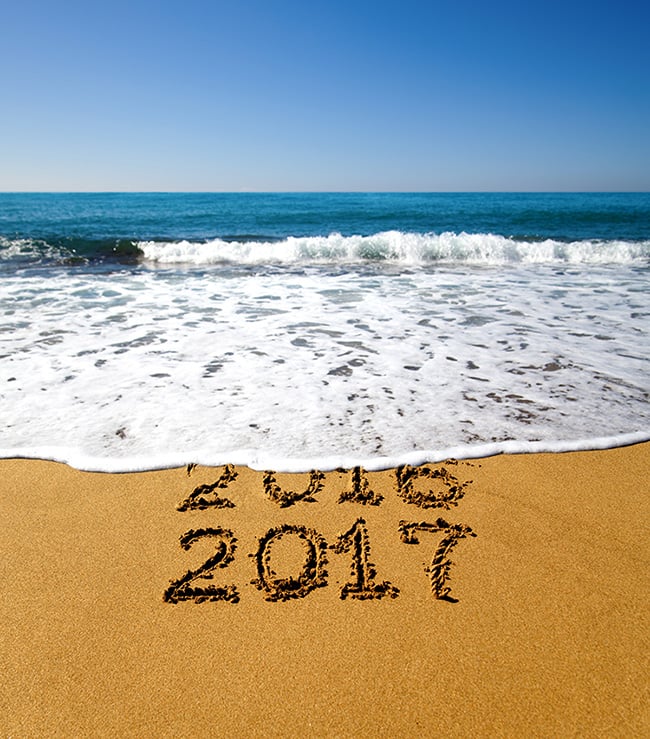 We hope 2017 is a great year for you, both personally & professionally.