There are many unsubstantiated theories as to why home values are continuing to increase. From those who are worried that lending standards are again becoming too lenient (data shows this is untrue), to those who are concerned that prices are again approaching boom peaks because of "irrational exuberance" (this is also untrue as prices are not at peak levels when they are adjusted for inflation), there seems to be no shortage of opinion.
There is a lot of discussion about the current state of housing affordability for both first-time and move-up buyers, and much of the narrative is tarnished with a negative slant. However, the truth is that housing affordability is better today than at almost any time in our history.
According to Freddie Mac's latest Primary Mortgage Market Survey, interest rates for a 30-year fixed rate mortgage are currently at 3.92%, which is still near record lows in comparison to recent history!
Owning a home has great financial benefits, yet many continue to rent! Today, let's look at the financial reasons why owning a home of your own has been a part of the American Dream for as long as America has existed.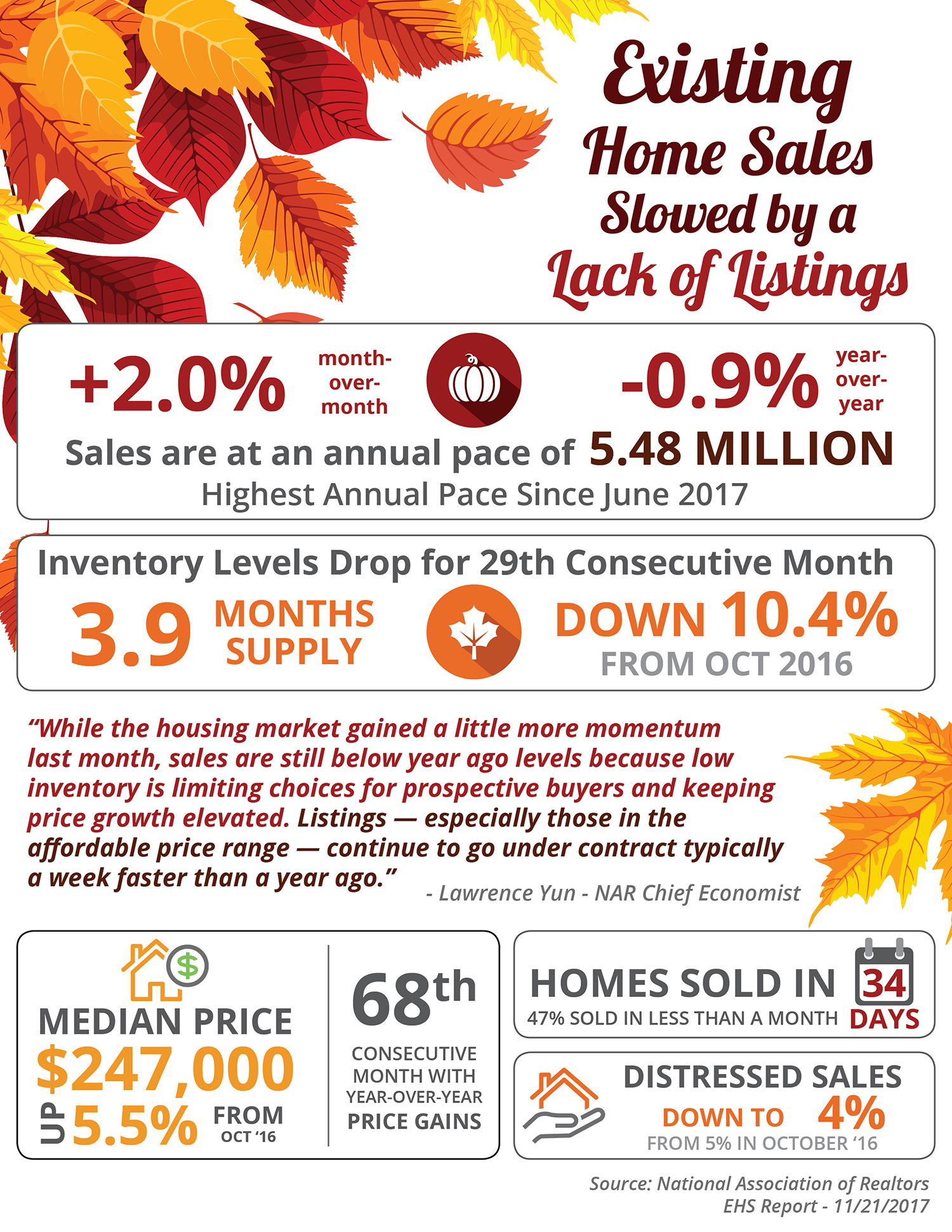 Some Highlights
The inventory of existing homes for sale has dropped year-over-year for the last 29 consecutive months and is now at a 3.9-month supply.
Existing home sales are currently at an annual pace of 5.48 million, the highest pace since June of this year, but down 0.9% from October 2016.
NAR's Chief Economist, Lawrence Yun, had this to say: "While the housing market gained a little more momentum last month, sales are still below year ago levels because low inventory is limiting choices for prospective buyers and keeping price growth elevated."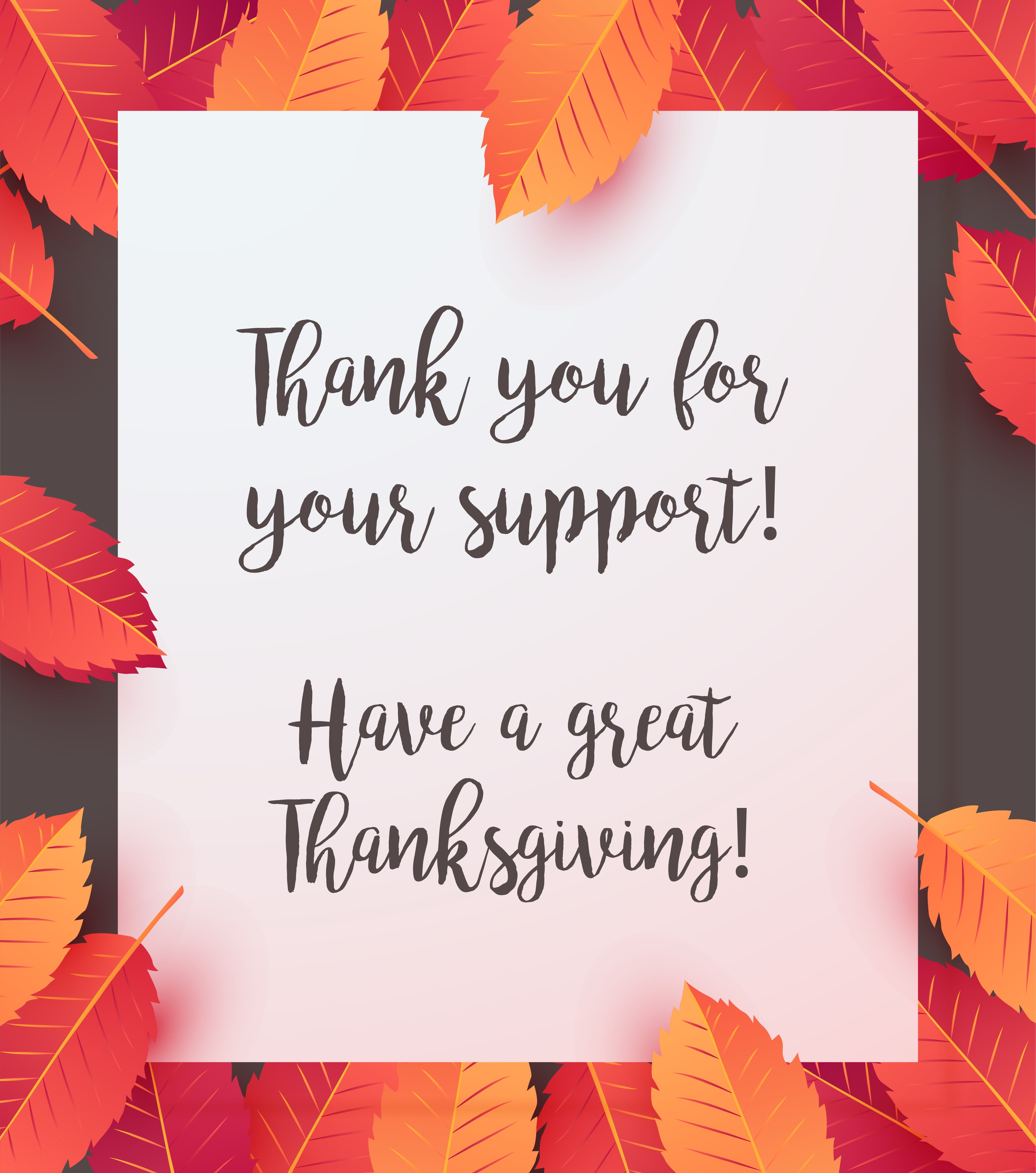 Have a great holiday!
There is little doubt that it is easier to get a home mortgage today than it was last year. The Mortgage Credit Availability Index (MCAI), published by the Mortgage Bankers Association, shows that mortgage credit has become more available in each of the last several years. In fact, in just the last year:
So, you've decided to sell your house. You've hired a real estate professional to help you with the entire process, and they have asked you what level of access you want to provide to potential buyers.
In today's housing market, where supply is very low and demand is very high, home values are increasing rapidly. Many experts are projecting that home values could appreciate by another 5%+ over the next twelve months. One major challenge in such a market is the bank appraisal.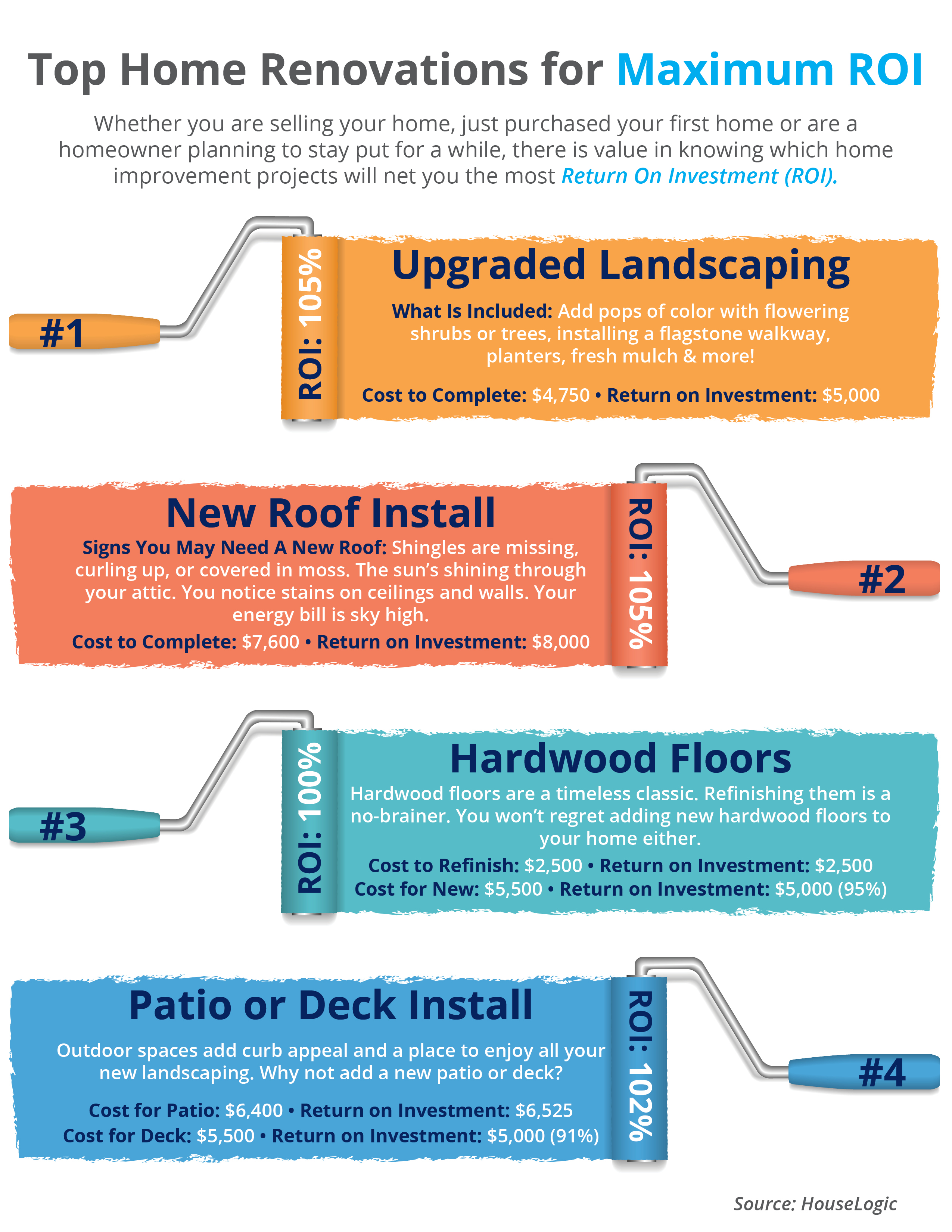 Some Highlights
Whether you are selling your home, just purchased your first home, or are a homeowner planning to stay put for a while, there is value in knowing which home improvement projects will net you the most "Return On Investment" (ROI).
While big projects like adding a bathroom or a complete remodel of a kitchen are popular ways to increase a home's value, something as simple as updating landscaping and curb appeal can have a quick impact on a home's value.
The current narrative is that home prices have risen so much so that it is no longer a smart idea to purchase a home. Your family and friends might suggest that buying a home right now (whether a first-time home or a move-up home) makes absolutely no sense from an affordability standpoint. They are wrong!
Whether you are a renter who is searching for your dream home or a homeowner who feels like your only option is to renovate, you have at least one thing in common: feeling stuck in place.
Mortgage interest rates, as reported by Freddie Mac, have increased over the last several weeks. Freddie Mac, along with Fannie Mae, the Mortgage Bankers Association and the National Association of Realtors, is calling for mortgage rates to continue to rise over the next four quarters.
Every year at this time, many homeowners decide to wait until after the holidays to put their homes on the market for the first time, while others who already have their homes on the market decide to take them off until after the holidays.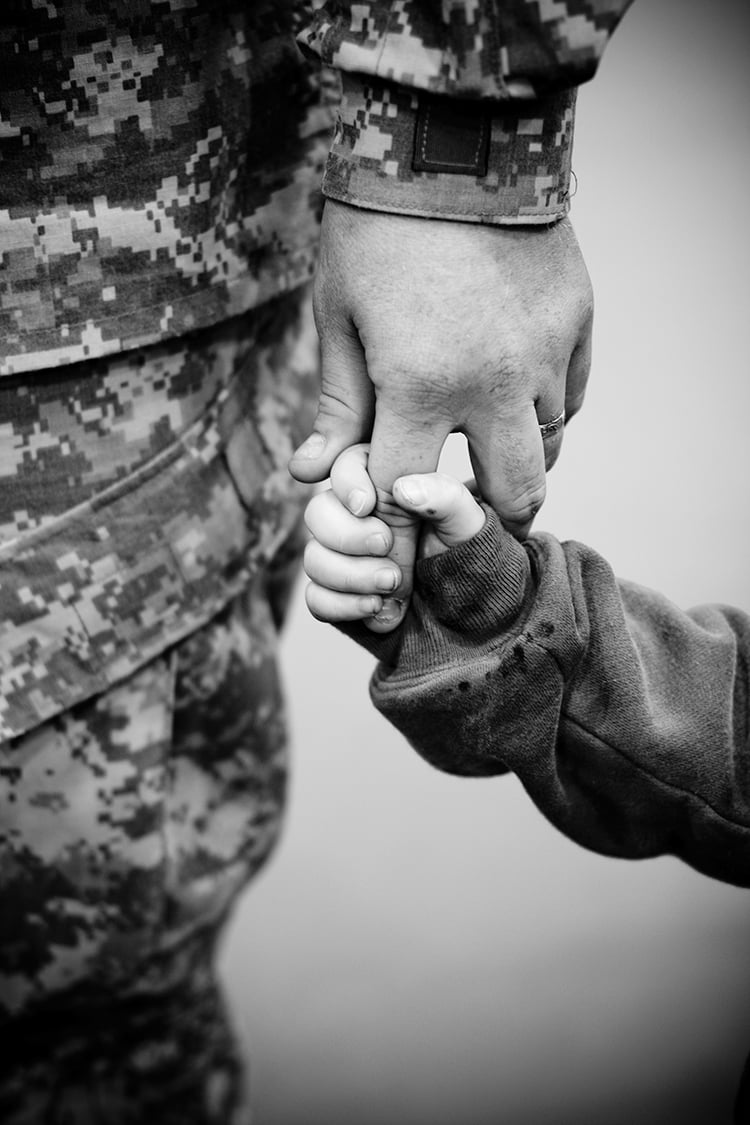 Thank you for your service!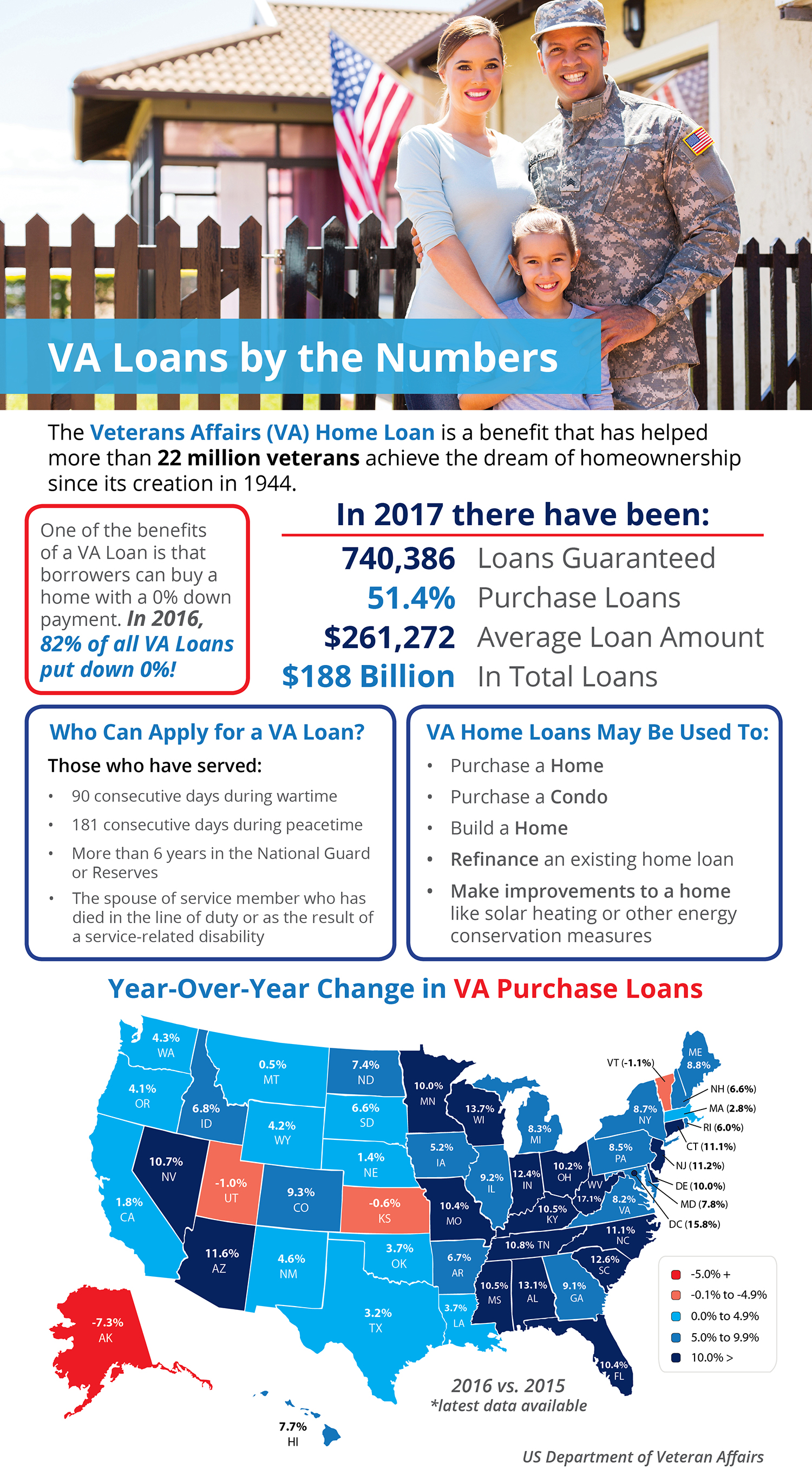 Some Highlights
Since the creation of the VA Home Loans Program, 22 million veterans have been able to achieve the American Dream of homeownership.
So far in 2017, $188 billion has been loaned to veterans and their families through the program.
VA Purchase Loans are on the rise in 46 out of 50 states and Washington, DC.
With residential home prices continuing to appreciate at levels above historic norms, some are questioning if we are heading toward another housing bubble (and subsequent burst) like the one we experienced in 2006-2008.
The American Dream of homeownership is alive and well. Recent reports show that the US homeownership rate has rebounded from recent lows and is headed in the right direction. The personal reasons to own differ for each buyer, but there are many basic similarities.
Multigenerational homes are coming back in a big way! In the 1950s, about 21%, or 32.2 million Americans shared a roof with their grown children or parents. According to an article by Realtor.com, "Nearly 1 in 5 Americans is now living in a multigenerational household – a household with two or more adult generations, or grandparents living with grandchildren – a level that hasn't been seen in the U.S. since 1950."
The National Association of Realtors (NAR) released their latest Quarterly Metro Home Price Report last week. The report revealed that severely lacking inventory across the country drained sales growth and kept home prices rising at a steady clip in nearly all metro areas. Home prices rose 5.3% over the last quarter across all metros.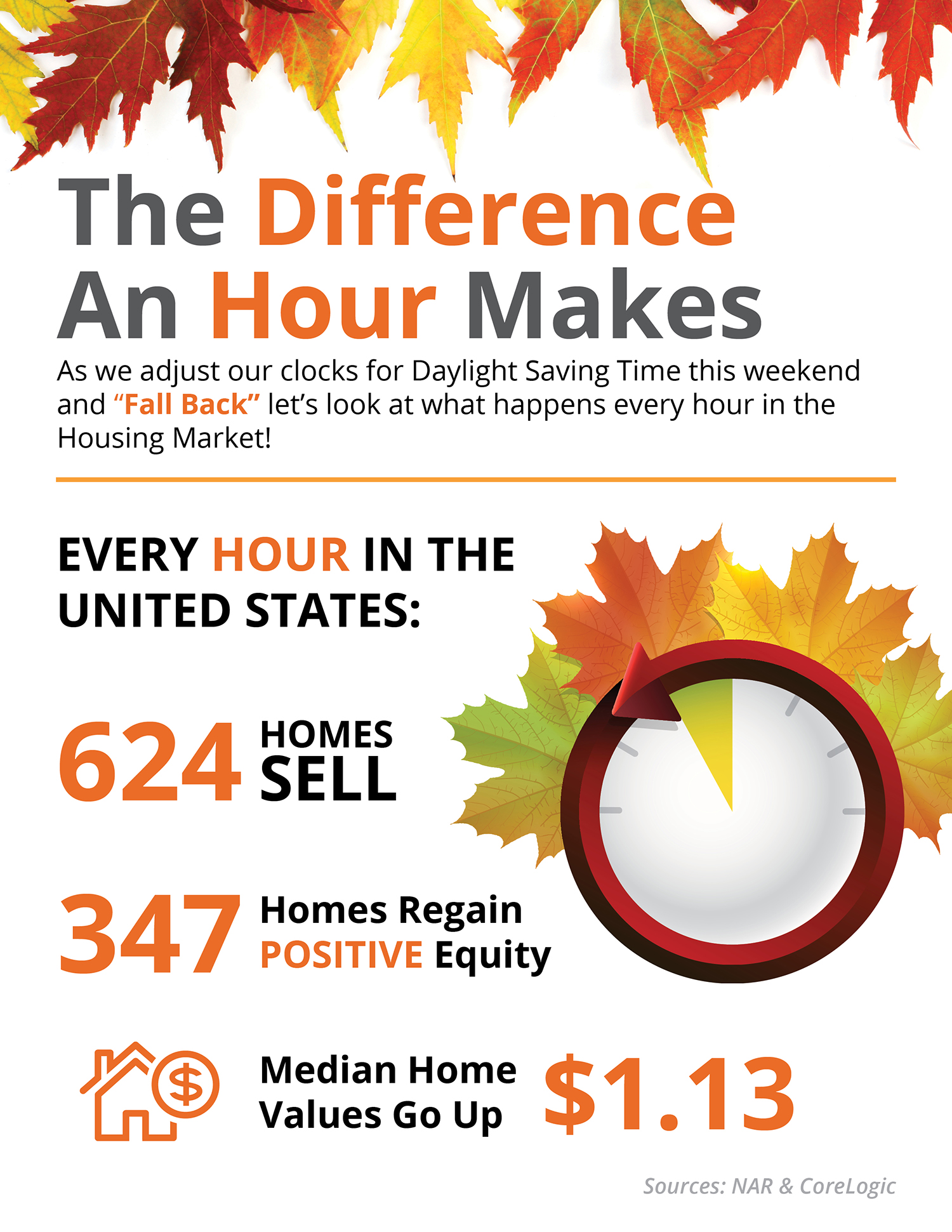 Every Hour in the US Housing Market:
624 Homes Sell
347 Homes Regain Positive Equity
Median Home Values Go Up $1.13
Some Highlights
Each year, most homeowners wait until the spring to sell their houses because they believe that they can get a better deal during the normal spring buyer's market. However, recently released data suggests that a seller's best deal may be available right now. The concept of 'supply & demand' reveals that the best price for an item will be realized when the supply of that item is low and the demand for that item is high. Let's see how this applies to the current residential real estate market.
Knowing your credit score or getting a recent copy of your credit report is one of the first steps that you can take toward knowing how ready you are to start the home buying process.