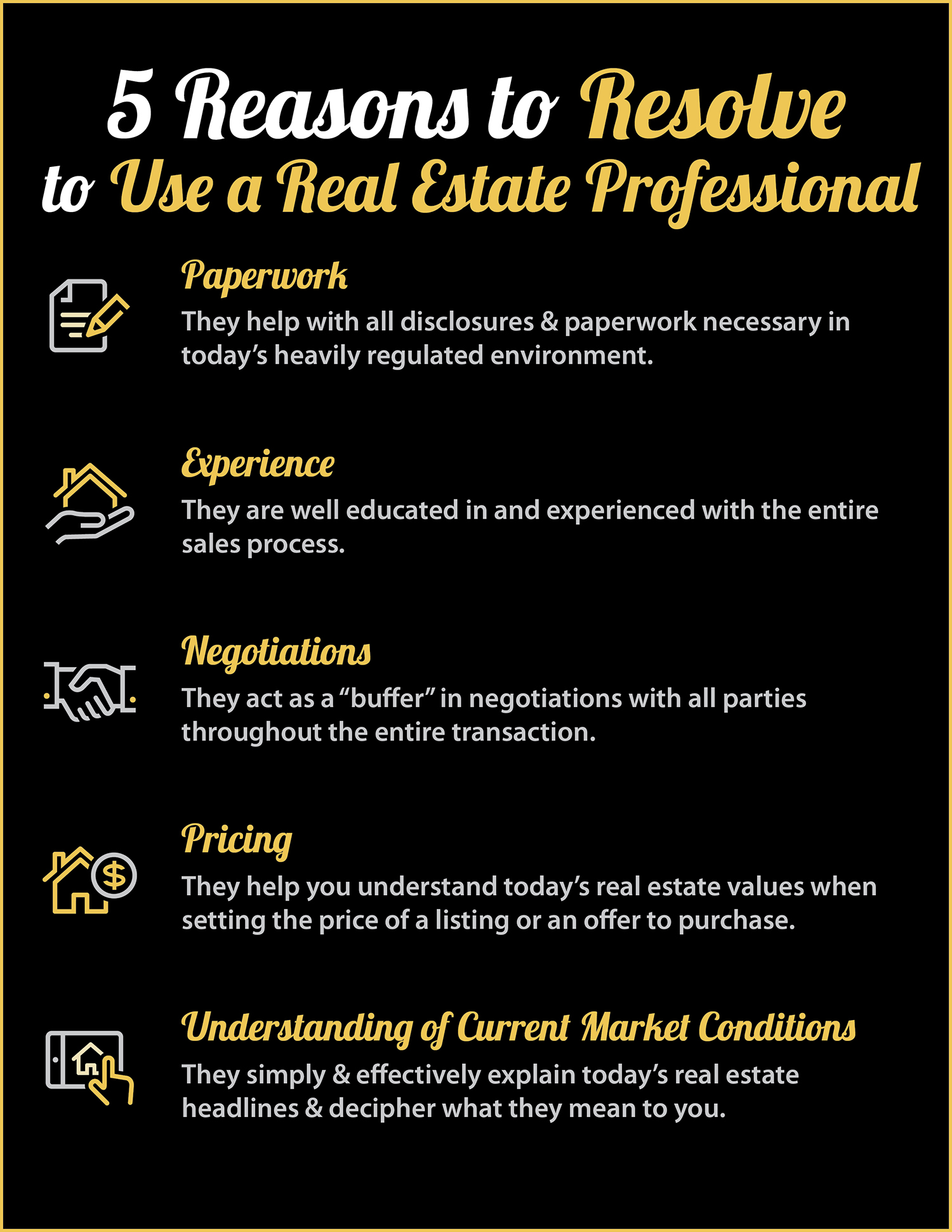 Some Highlights
As we usher in the new year, one thing is for certain… if you plan to buy or sell a house this year, you need a real estate professional on your team!
There are many benefits to using a local professional!
Pick a professional who knows your local market and can help you achieve your dreams!
What truly causes a housing bubble and the inevitable crash? For the best explanation, let's go to a person who correctly called the last housing bubble – a year before it happened.
We often talk about the financial reasons why buying a home makes sense. But, more often than not, the emotional reasons are the more powerful or compelling reasons.
In today's market, with home prices rising and a lack of inventory, some homeowners may consider trying to sell their home on their own, known in the industry as a For Sale by Owner (FSBO). There are several reasons why this might not be a good idea for the vast majority of sellers.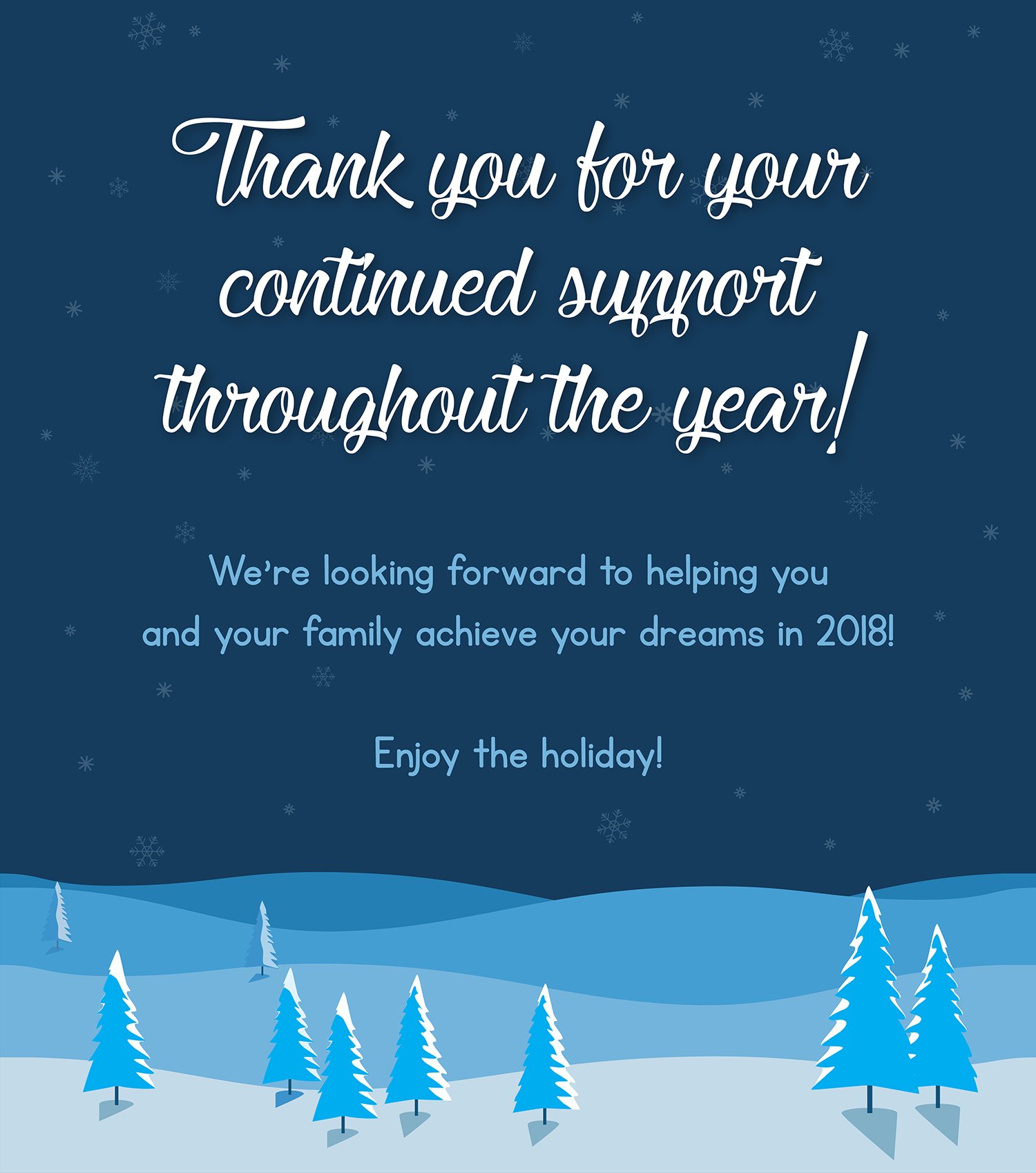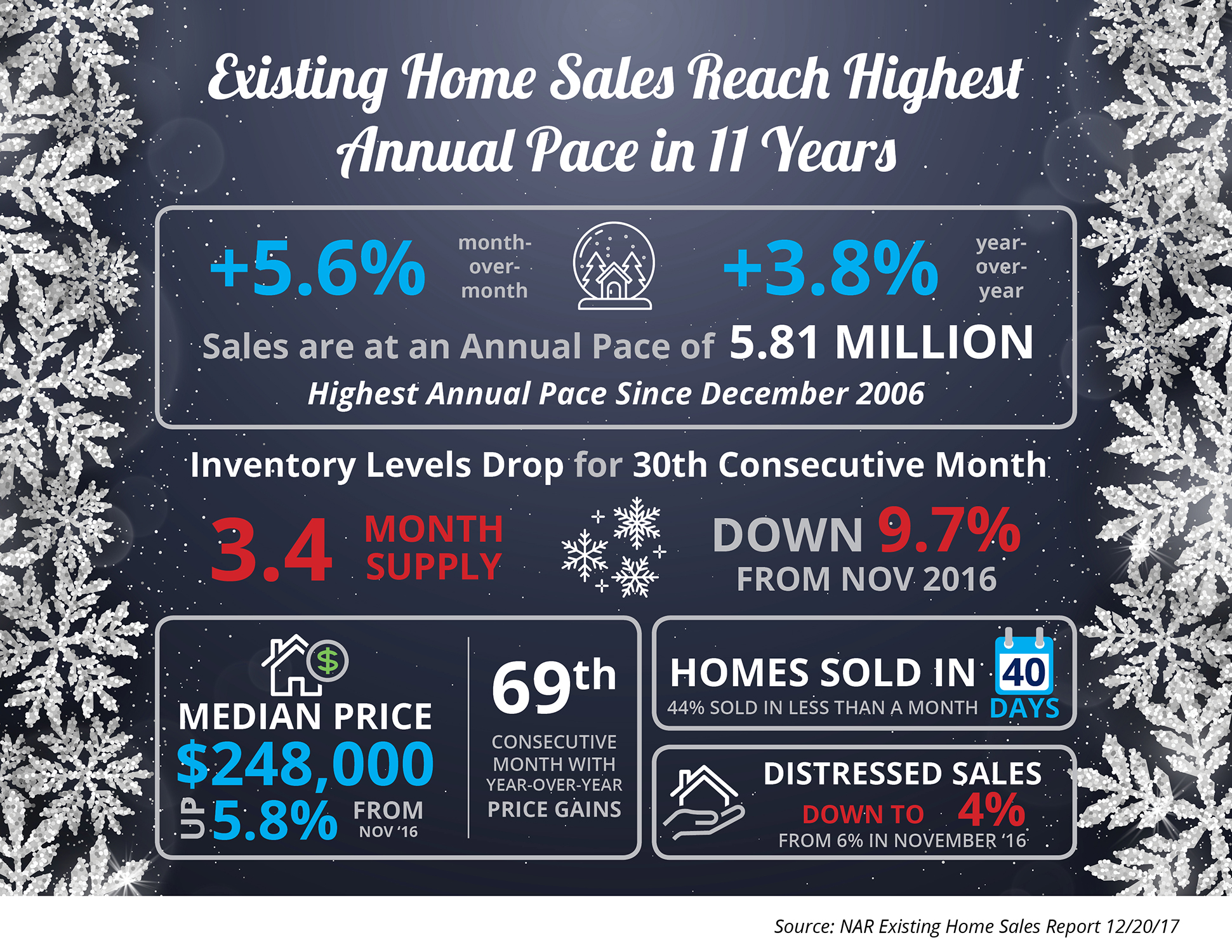 Some Highlights
Existing home sales are currently at an annual pace of 5.81 million, the highest pace since December 2006.
The inventory of existing homes for sale has dropped year-over-year for the last 30 consecutive months and is now at a 3.4-month supply.
NAR's Chief Economist Lawrence Yun had this to say: "Faster economic growth in recent quarters, the booming stock market and continuous job gains are fueling substantial demand for buying a home as 2017 comes to an end."
As home values continue to increase at levels greater than historic norms, some are concerned that we are heading for another crash like the one we experienced ten years ago. We recently explained that the lenient lending standards of the previous decade (which created false demand) no longer exist. But what about prices?
The National Association of Realtors (NAR) recently released their 2017 Profile of Home Buyers and Sellers in which they surveyed recent home buyers and sellers about their experiences. An entire section of the profile is dedicated to buyers' experiences with their real estate agents.
There are many benefits to homeownership. One of the top benefits is protecting yourself from rising rents, by locking in your housing cost for the life of your mortgage.
Here are four great reasons to consider buying a home today instead of waiting.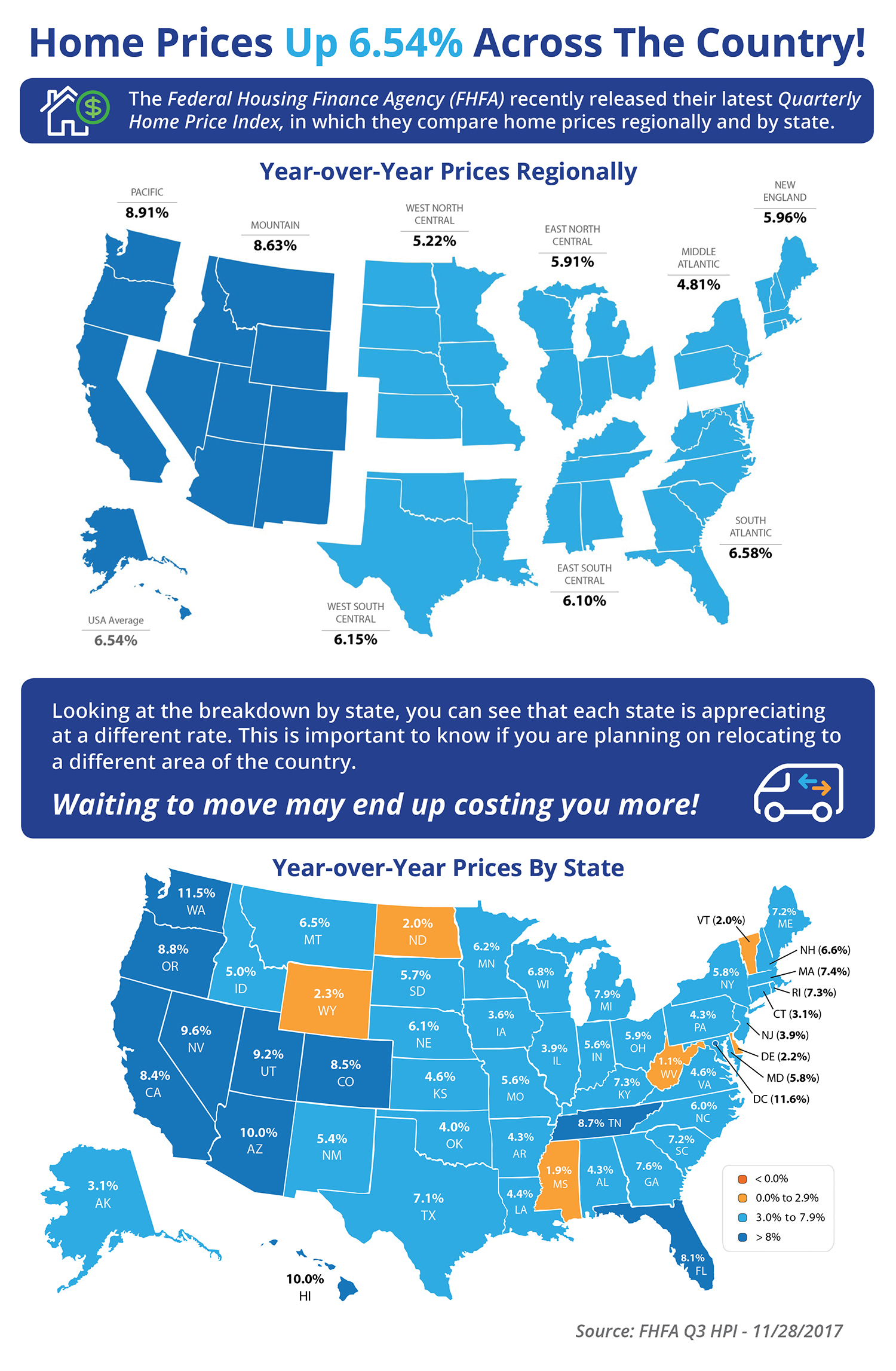 Some Highlights
The Federal Housing Finance Agency (FHFA) recently released their latest Quarterly Home Price Index report.
In the report, home prices are compared both regionally and by state.
Based on the latest numbers, if you plan on relocating to another state, waiting to move may end up costing you more!
In a recent CNBC article, it was reported that many baby boomers are selling their current homes and moving into rentals, rather than purchasing another home.
We recently shared that over the course of the last 12 months, home prices have appreciated by 7.0%. Over the same amount of time, interest rates have remained historically low which has allowed many buyers to enter the market.
So, you've been searching for that perfect house to call a 'home,' and you finally found it! The price is right, and in such a competitive market, you want to make sure that you make a good offer so that you can guarantee that your dream of making this house yours comes true!
In many markets across the country, the number of buyers searching for their dream homes greatly outnumbers the number of homes for sale. This has led to a competitive marketplace where buyers often need to stand out. One way to show you are serious about buying your dream home is to get pre-qualified or pre-approved for a mortgage before starting your search.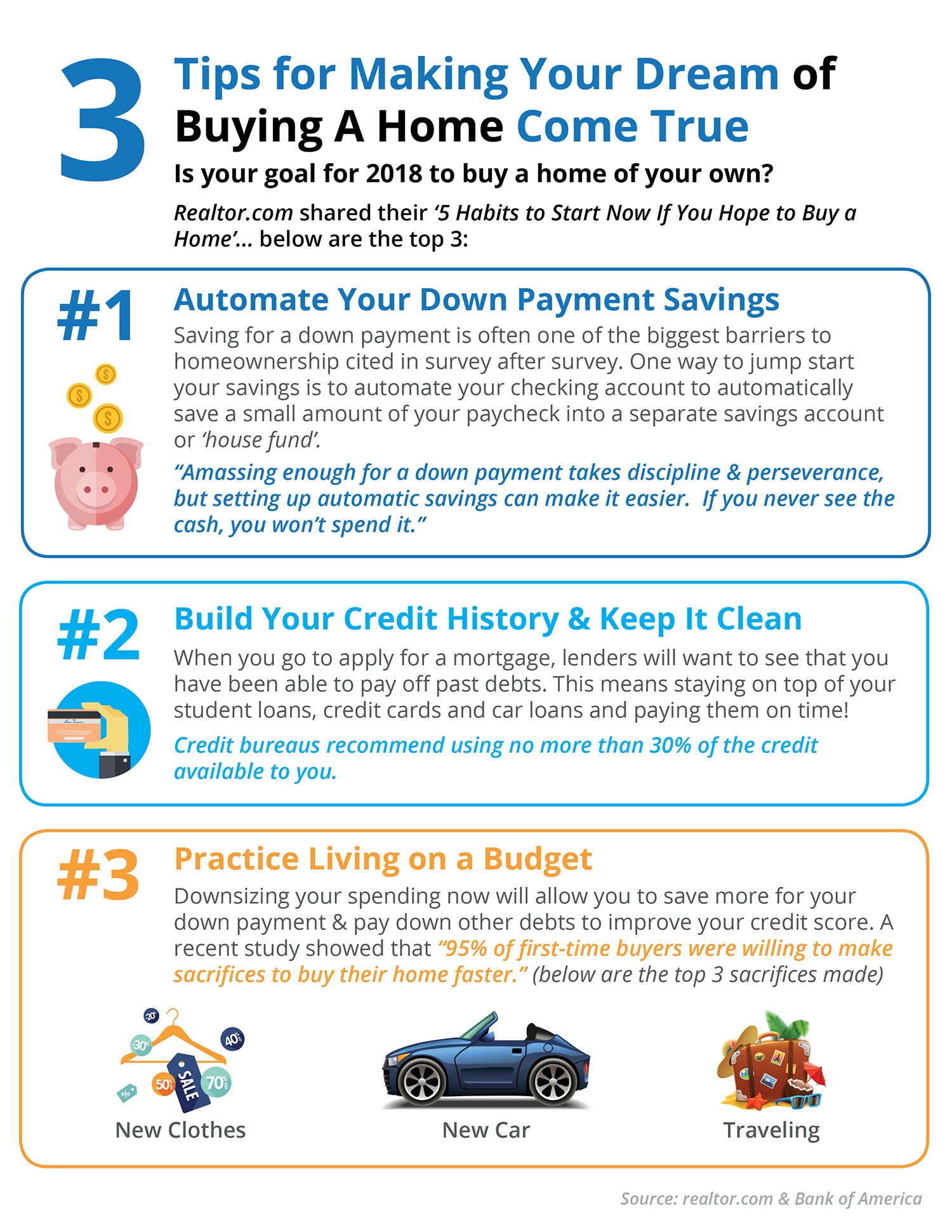 Some Highlights
Realtor.com shared their "5 Habits to Start Now If You Hope to Buy a Home."
Setting up an automatic savings plan that saves a small amount of every check is one of the best ways to save without thinking a lot about it.
Living within a budget will not only help you save money for down payments but will help you pay down other debts that might be holding you back.
Many people believe that selling their house during "the spring buyers' market" is the best thing to do. Their reasoning is that there will be more buyers than there are during the winter months and, therefore, their house will sell quicker and for a higher price.
According to CoreLogic's latest Home Price Index, national home prices have appreciated by 7.0% from October 2016 to October 2017. This marks the second month in a row with a 7.0% year-over-year increase.
Why is there so much paperwork mandated by the lenders for a mortgage loan application when buying a home today? It seems that they need to know everything about you and requires three separate sources to validate each and every entry on the application form.
Here are five reasons listing your home for sale this winter makes sense.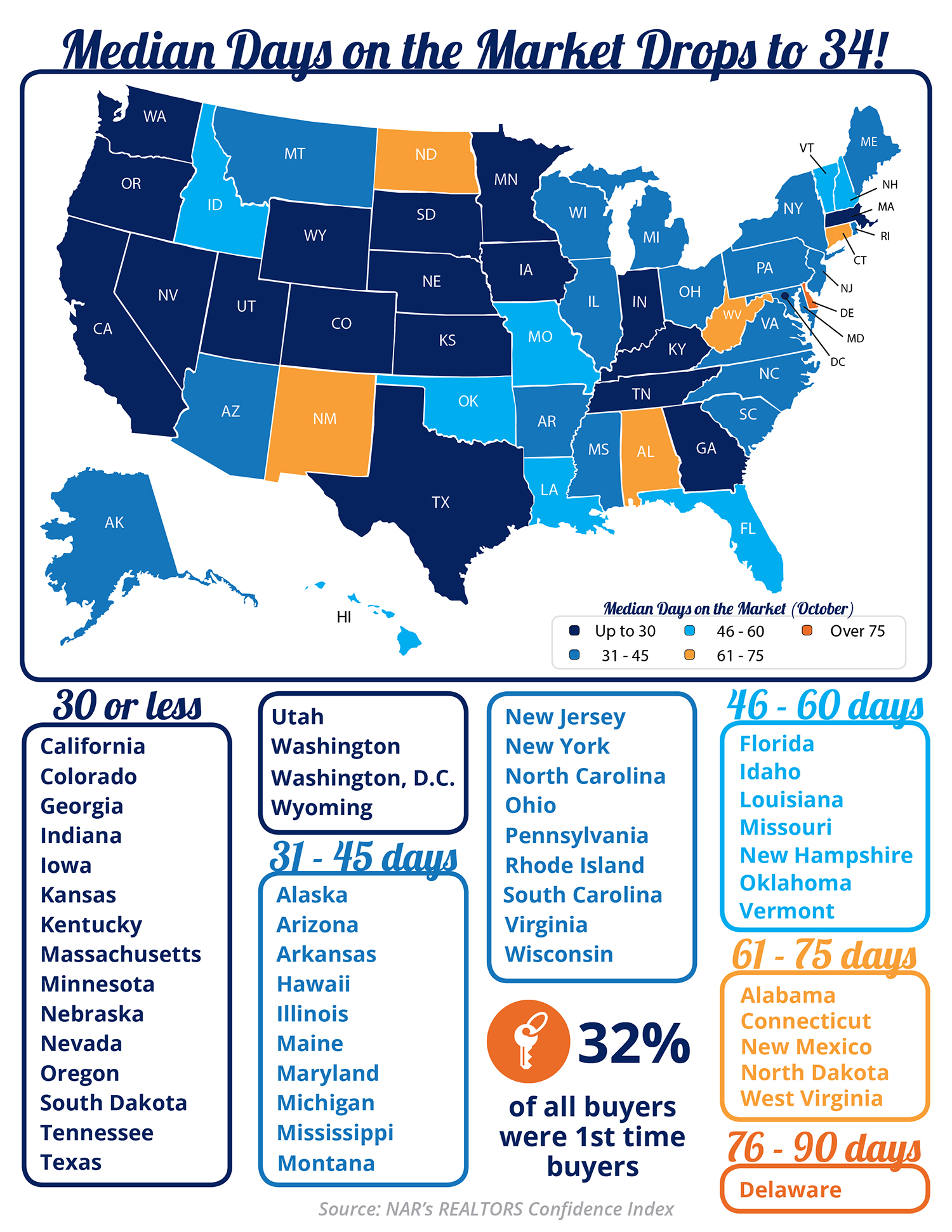 Some Highlights
The National Association of REALTORS® surveyed their members for their Confidence Index.
The REALTORS® Confidence Index is a key indicator of housing market strength based on a monthly survey sent to over 50,000 real estate practitioners. Practitioners are asked about their expectations for home sales, prices and market conditions.
Homes sold in less than 60 days in 44 out of 50 states, and Washington D.C.
Homes typically went under contract in 34 days in October!