There are many unsubstantiated theories as to why home values are continuing to increase. From those who are worried that lending standards are again becoming too lenient (data shows this is untrue), to those who are concerned that prices are again approaching boom peaks because of "irrational exuberance" (this is also untrue as prices are not at peak levels when they are adjusted for inflation), there seems to be no shortage of opinion.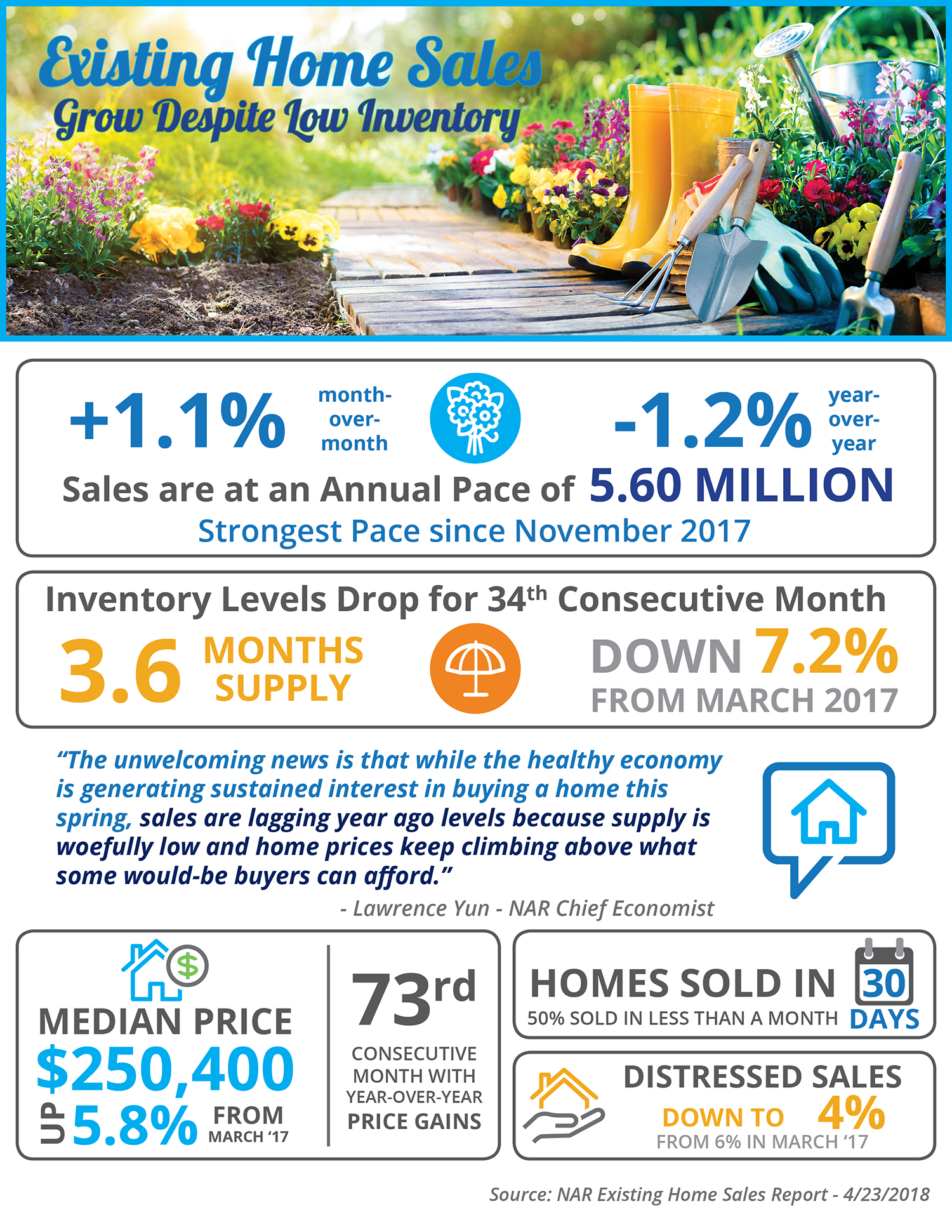 Some Highlights
According to the latest Existing Home Sales Report from the National Association of Realtors, sales grew 1.1% in March to an annual pace of 5.60 million.
This is the strongest pace since November of 2017.
Inventory levels dropped year-over-year for the 34th consecutive month and are now 7.2% lower than March 2017 levels, representing a 3.6-month supply.
This month, Arch Mortgage Insurance released their spring Housing and Mortgage Market Review. The report explained that an increase in mortgage rates and/or home prices would impact monthly payments this way:
A new study by WalletHub used "30 key metrics, ranging from share of millennials to millennial unemployment rate to millennial voter-turnout rate" to find out which states are the 'Best States for Millennials.'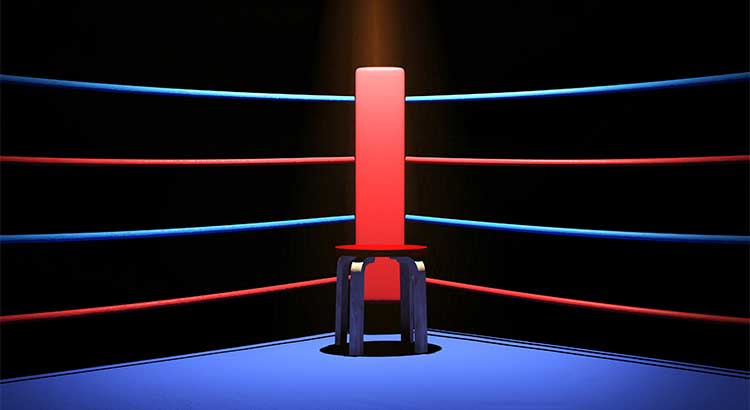 With home prices on the rise and buyer demand strong, some sellers may be tempted to try and sell their homes on their own (FSBO) without using the services of a real estate professional.
The results of the 2018 Rental Affordability Report from ATTOM show that buying a median-priced home is more affordable than renting a three-bedroom property in 54% of U.S. counties analyzed for the report.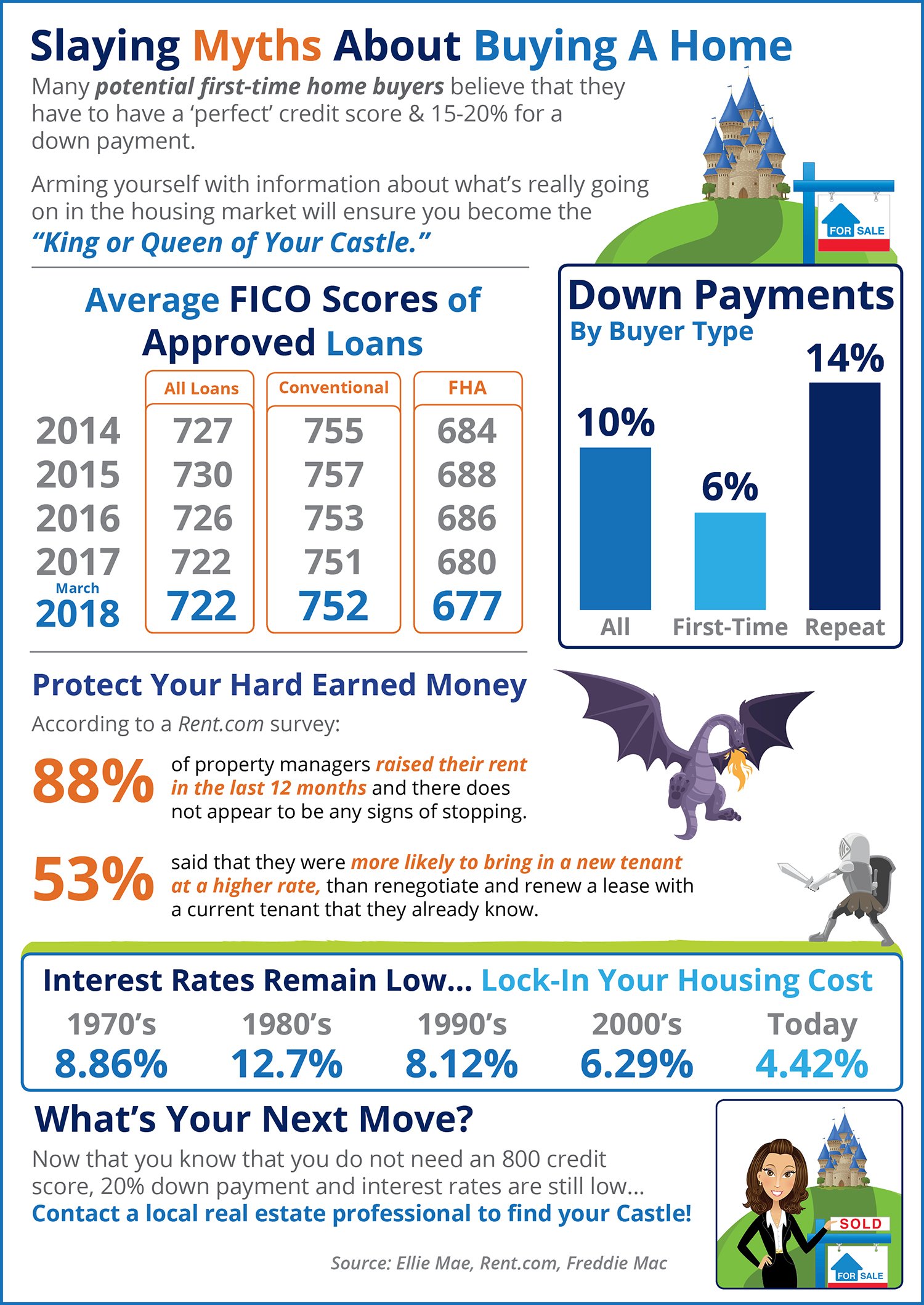 Some Highlights
The average down payment for first-time homebuyers is only 6%!
Despite mortgage interest rates being over 4%, rates are still below historic numbers.
88% of property managers raised their rents in the last 12 months!
The credit score requirements for mortgage approval continue to fall.
Some homeowners have recently done a "cash out" refinance and have taken a portion of their increased equity from their house. Others have sold their homes and purchased more expensive homes with larger mortgages. At the same time, first-time buyers have become homeowners and now have mortgage payments for the first time.
It's no mystery that cost of living varies drastically depending on where you live, so a new study by GOBankingRates set out to find out what minimum salary you would need to make in order to buy a median-priced home in each of the 50 states, and Washington, D.C.
Over the next five years, home prices are expected to appreciate, on average, by 3.6% per year and to grow by 18.2% cumulatively, according to Pulsenomics' most recent Home Price Expectation Survey.
In many markets across the country, the number of buyers searching for their dream homes greatly outnumbers the number of homes for sale. This has led to a competitive marketplace where buyers often need to stand out. One way to show you are serious about buying your dream home is to get pre-qualified or pre-approved for a mortgage before starting your search.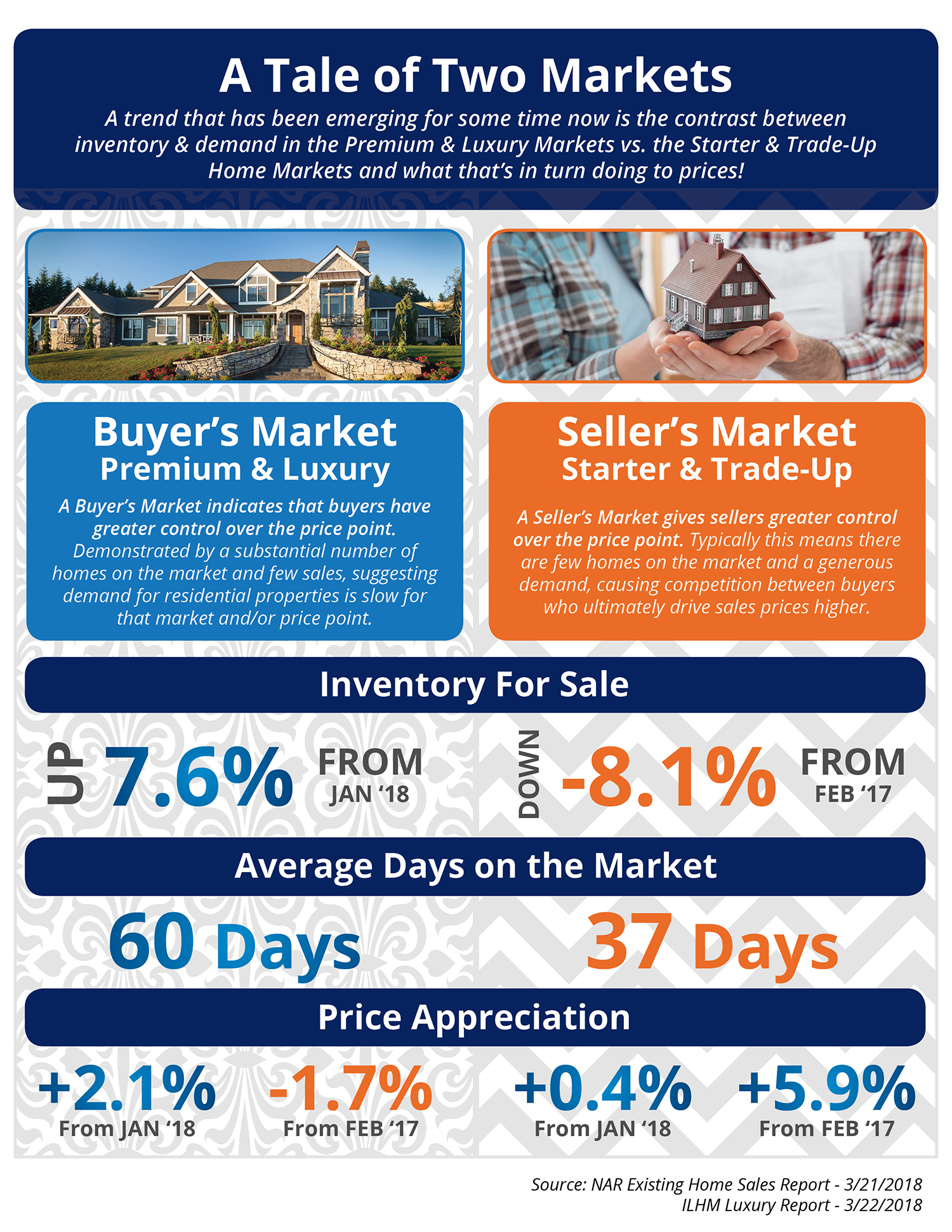 Some Highlights
A trend that has been emerging for some time now is the contrast between inventory & demand in the Premium & Luxury Markets vs. the Starter & Trade-Up Home Markets and what that's, in turn, doing to prices!
Inventory continues to rise in the luxury & premium home markets which is causing prices to cool.
Demand continues to rise with low inventory in the starter & trade-up home markets, causing prices to rise!
There is no doubt that the price of a home in most regions of the country is greater now than at any time in history. However, when we look at the cost of a home, it is cheaper to own today than it has been historically.
Whether you are a buyer searching for your first home, or a homeowner looking to move up to your next home, you should pay attention to where mortgage interest rates are heading.
When it comes to buying a home, whether it is your first time or your fifth, it is always important to know all the facts. With the large number of mortgage programs available that allow buyers to purchase homes with down payments below 20%, you can never have too much information about Private Mortgage Insurance (PMI).
According to the Beracha, Hardin & Johnson Buy vs. Rent (BH&J) Index, the U.S. housing market has continued to move deeper into buy territory, supporting the belief that housing markets across the country remain a sound investment.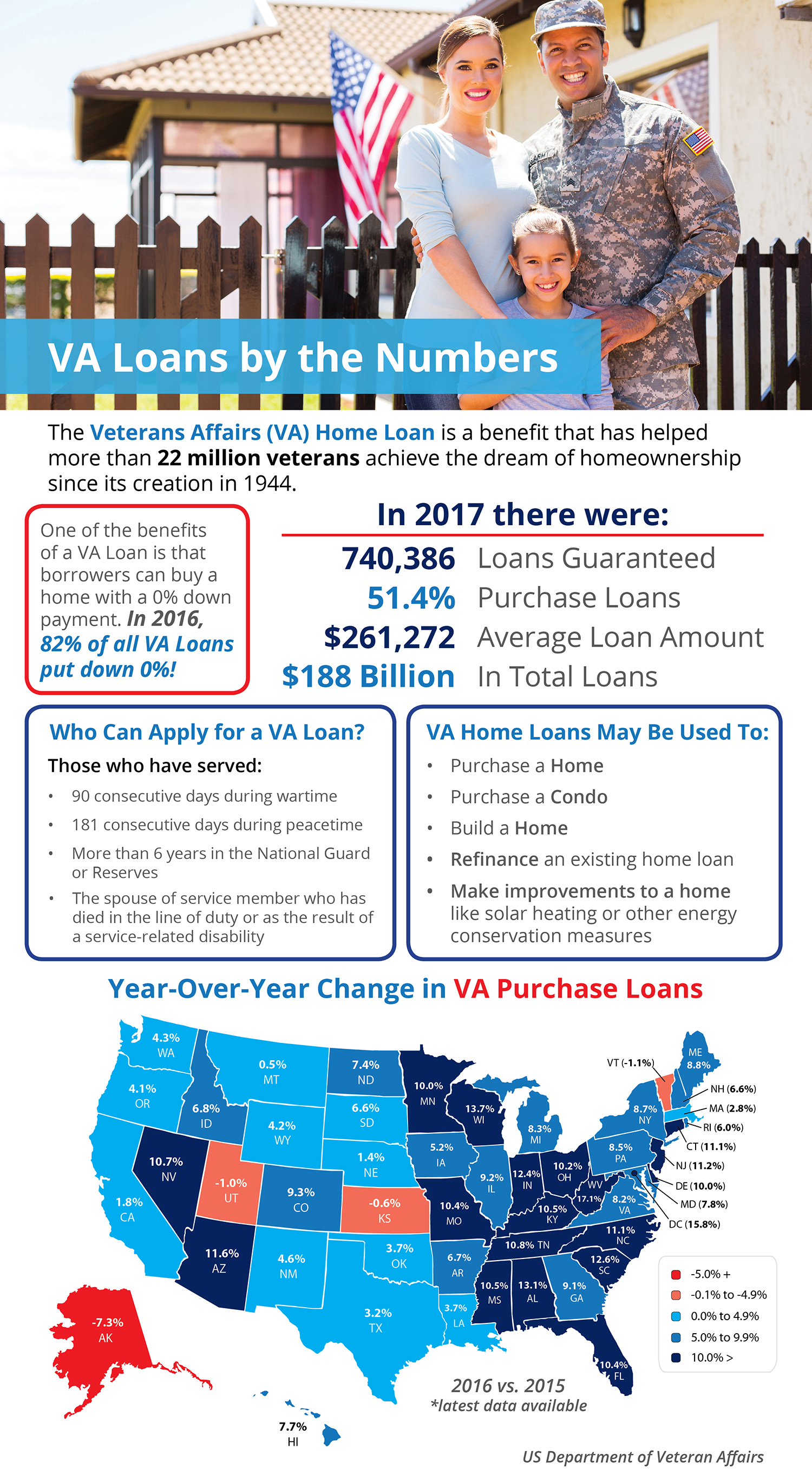 Some Highlights
Since the creation of the VA Home Loans Program, 22 million veterans have been able to achieve the American Dream of homeownership.
In 2017, $188 billion was loaned to veterans and their families through the program.
VA Purchase Loans are on the rise in 46 out of 50 states and Washington, DC.
Why are home prices still rising? It is a simple answer. There are more purchasers in the market right now than there are available homes for them to buy. This is an example of the theory of "supply and demand" which is defined as:
According to a new study from Lending Tree, Americans who have filed for bankruptcy may be able to rebuild enough credit to qualify for a home loan in as little as 2-3 years.
How do you select the members of your team who are going to help make your dream of owning a home a reality? What should you be looking for? How do you know if you've found the right agent or lender?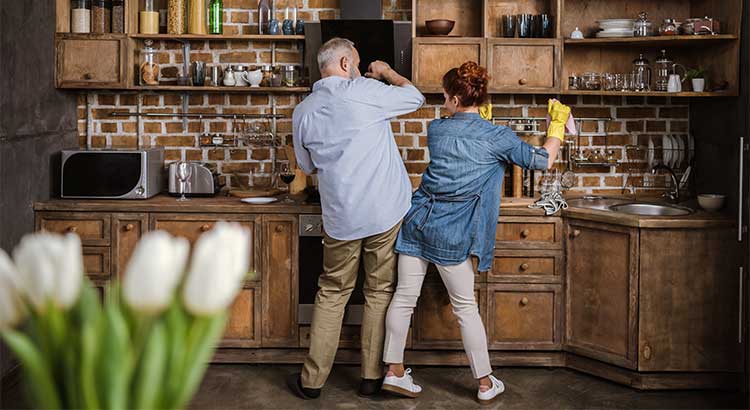 Owning a home has great financial benefits, yet many continue to rent! Today, let's look at the financial reasons why owning a home of your own has been a part of the American Dream for as long as America has existed.