In today's economy, everyone seems to be searching for signs that a recovery is coming soon. Many experts agree that it may actually already be in motion or will be starting by the 3rd quarter of this year. With the housing market positioned to lead the way out of this recession, builder confidence might be a bright spark that gets the recovery fire started. The construction of new homes coming right around the corner is a huge part of that effort, and it may drive your opportunity to make a move this year.
One of the biggest questions on everyone's minds these days is: What's going to happen to the housing market in the second half of the year? Based on recent data on the economy, unemployment, real estate, and more, many economists are revising their forecasts for the remainder of 2020 – and the outlook is extremely encouraging. Here's a look at what some experts have to say about key areas that will power the industry and the economy forward this year.

Some Highlights
For Sale By Owner (FSBO) is the process of selling real estate without the representation of a real estate broker or real estate agent.
According to the National Association of Realtors' Profile of Home Buyers & Sellers, 35% of homeowners who decided to FSBO last year did so to avoid paying a commission or fee. But, homes sold with an agent net 6% more than those sold as a FSBO according to Collateral Analytics.
Before you decide to take on the challenge of selling your house on your own, let's connect to discuss your options.
Earlier this month, realtor.com announced the release of their initial Housing Recovery Index, a weekly guide showing how the pandemic has impacted the residential real estate market. The index leverages a weighted average of four key components of the housing industry, tracking each of the following:
The New York Times recently ran an article regarding unemployment titled: Don't Cheer Too Soon. Keep an Eye on the Core Jobless Rate. The piece suggests we should look at unemployment numbers somewhat differently. The author of the article, Jed Kolko, is a well-respected economist who is currently the Chief Economist at Indeed, the world's largest online jobs site. Previously, he was Chief Economist and VP of Analytics at Trulia, the online real estate site.
A worldwide pandemic and an economic recession have had a tremendous effect on the nation. The uncertainty brought about by both has made predicting consumer behavior nearly impossible. For that reason, forecasting home prices has become extremely difficult.
According to the latest FreddieMac Quarterly Forecast, mortgage interest rates have fallen to historically low levels this spring and they're projected to remain low. This means there's a huge incentive for buyers who are ready to purchase. And homeowners looking for eager buyers can take advantage of this opportune time to sell as well.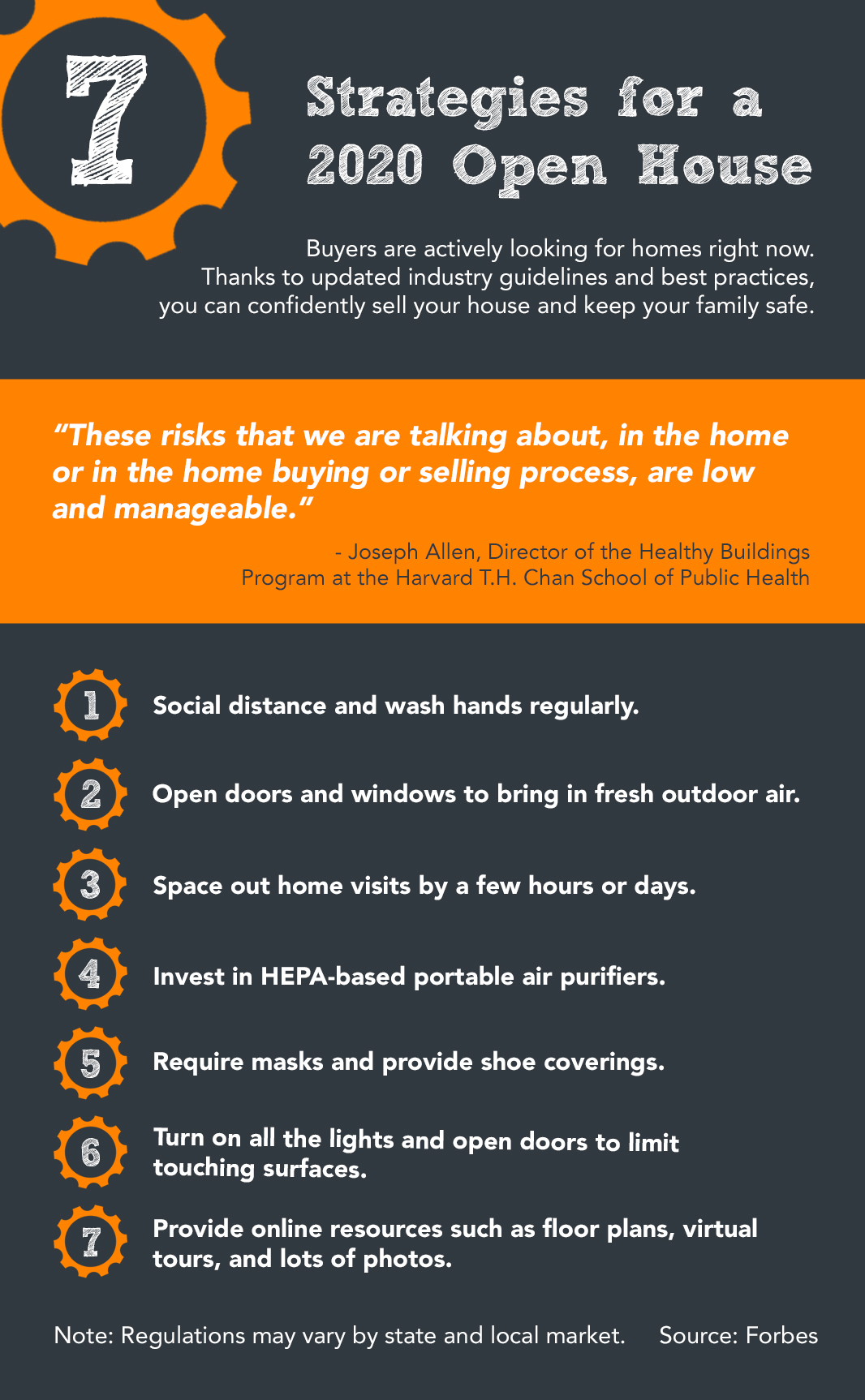 Some Highlights
Buyer interest is high right now, so this summer is a great time to sell your house.
Here are 7 strategies to help make your house showing a safe and effective one.
Let's connect today to get your house on the market while buying is hot.
One of the bright spots of the 2020 real estate market is the growth in equity homeowners are experiencing across the country. According to the recently released Homeowner Equity Insights Report from CoreLogic, in nearly every state there was a year-over-year first-quarter equity increase, averaging out to a 6.5% overall gain.
The Wall Street Journal just released their latest monthly Survey of Economists. In an article on the findings, they reported:
A recent survey by Lending Tree tapped into behaviors of over 1,000 prospective buyers. The results indicated 53% of all homebuyers are more likely to buy a home in the next year, even amid the current health crisis. The survey further revealed why, naming several reasons buyers are more likely to move this year (see graph below):
Every year, Gallup conducts a survey of Americans to determine their choice for the best long-term investment. Respondents are asked to select real estate, stocks/mutual funds, gold, savings accounts/CDs, or bonds.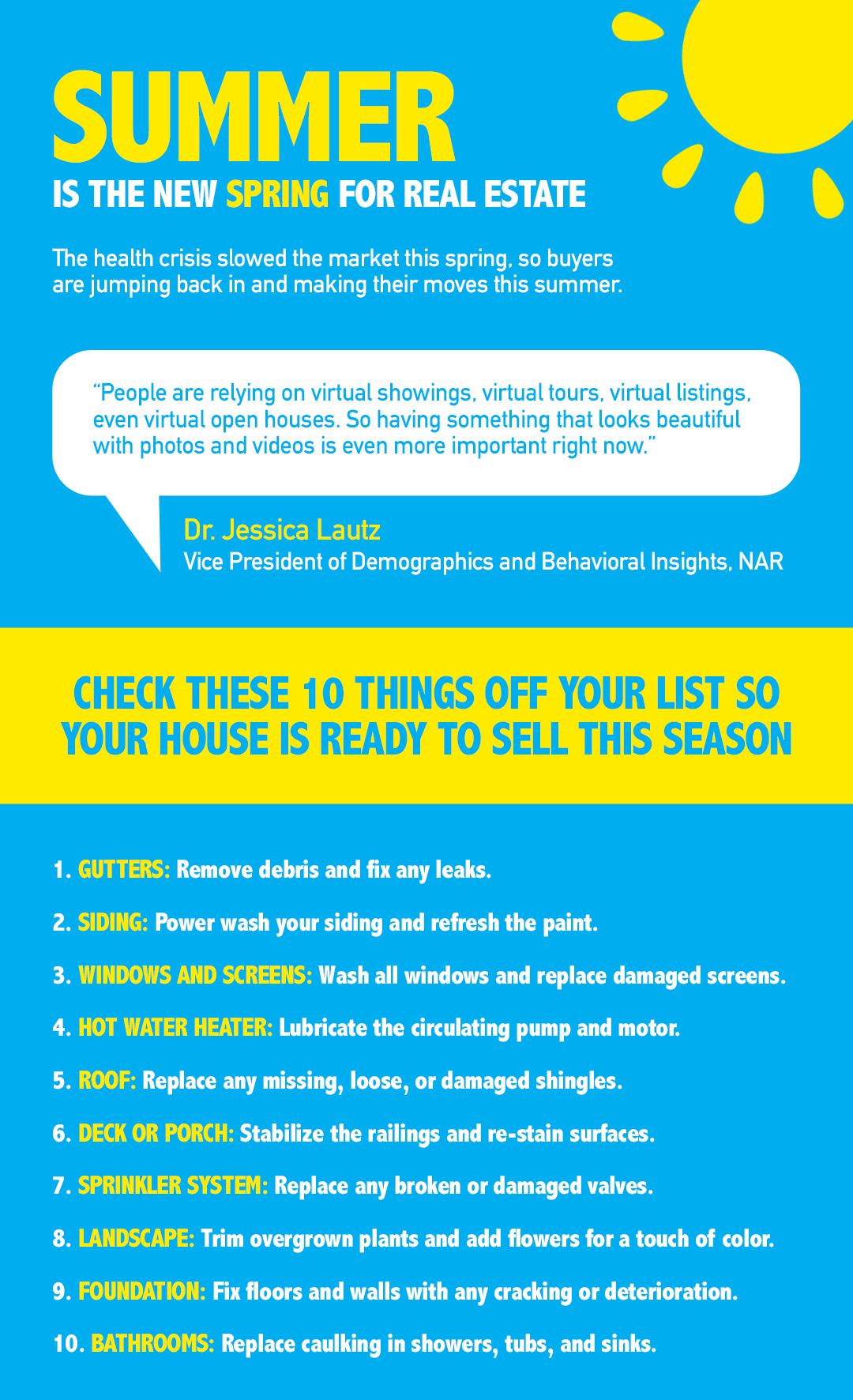 Some Highlights
The health crisis slowed the market this spring, so buyers are jumping back into the market to make their moves this summer.
Check these 10 items off your to-do list so your house is ready to sell while buying is hot!
Let's connect today to prepare your house for the sizzling summer market.
As the health crisis started making its way throughout our country earlier this spring, sellers have been cautious about putting their homes on the market. This hesitation stemmed primarily from fear of the spread of the coronavirus, and understandably so. This abundant caution has greatly impacted the number of homes for sale and slowed the pace of a typically busy spring real estate season. Mark Fleming, Chief Economist at First American notes:
On Monday, the National Bureau of Economic Research (NBER) announced that the U.S. economy is officially in a recession. This did not come as a surprise to many, as the Bureau defines a recession this way:
With more U.S. states reopening for business this summer, and as people start to return to work, we can expect the economy to begin improving. Most expert forecasts indicate this economic recovery will start to happen in the second half of this year. As we get back to work and the financial landscape of the country begins to turn around, many experts also agree that real estate has the potential to lead the way in the recovery process.
Last Friday, the U.S. Bureau of Labor Statistics released their May Employment Situation Summary. Leading up to the release, most experts predicted the unemployment rate would jump up to approximately 20% from the 14.7% rate announced last month.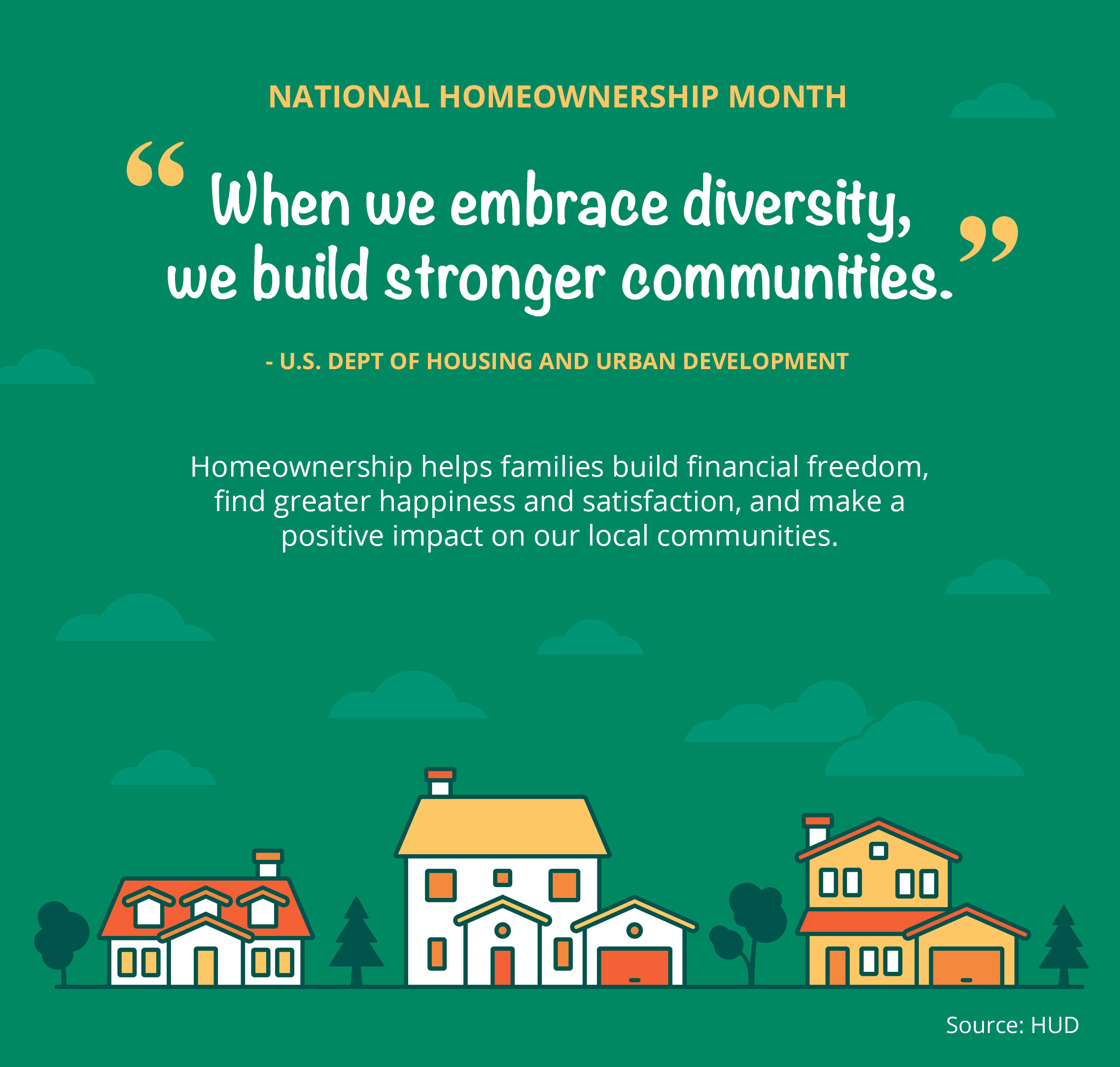 Some Highlights
National Homeownership Month is a great time to reflect on how we can each promote stronger community growth.
Homeownership helps families build financial freedom, find greater happiness and satisfaction, and make a positive impact on our local communities.
Let's connect today if homeownership is part of your future plans.
Tomorrow morning the Bureau of Labor Statistics will release the latest Employment Situation Summary, which will include the most current unemployment rate. It will be a horrific number. Many analysts believe unemployment could be greater than 20%. These numbers represent families across the nation that are not sure when (or if) they will return to work. The emotional impact on these households is devastating.
The travel industry is one of the major sectors that's been hit extremely hard by the COVID-19 pandemic. Today, it's hard to know how long it will take for summer travelers to be back in action and for the industry to fully recover. Homeowners who rent their secondary properties on their own or through programs like Airbnb, which has over 660,000 listings in the U.S. alone, have been impacted in this challenging time. Some of these homeowners are considering selling their vacation homes, and understandably so.
As we enter the summer months and work through the challenges associated with the current health crisis, many are wondering what impact the economic slowdown will have on home prices. Looking at the big picture, supply and demand will give us the clearest idea of what's to come.
More than ever, our homes have become an integral part of our lives. Today they are much more than the houses we live in. They're evolving into our workplaces, schools for our children, and safe havens that provide shelter, stability, and protection for our families through the evolving health crisis. Today, 65.3% of Americans are able to call their homes their own, a rate that has risen to its highest point in 8 years.