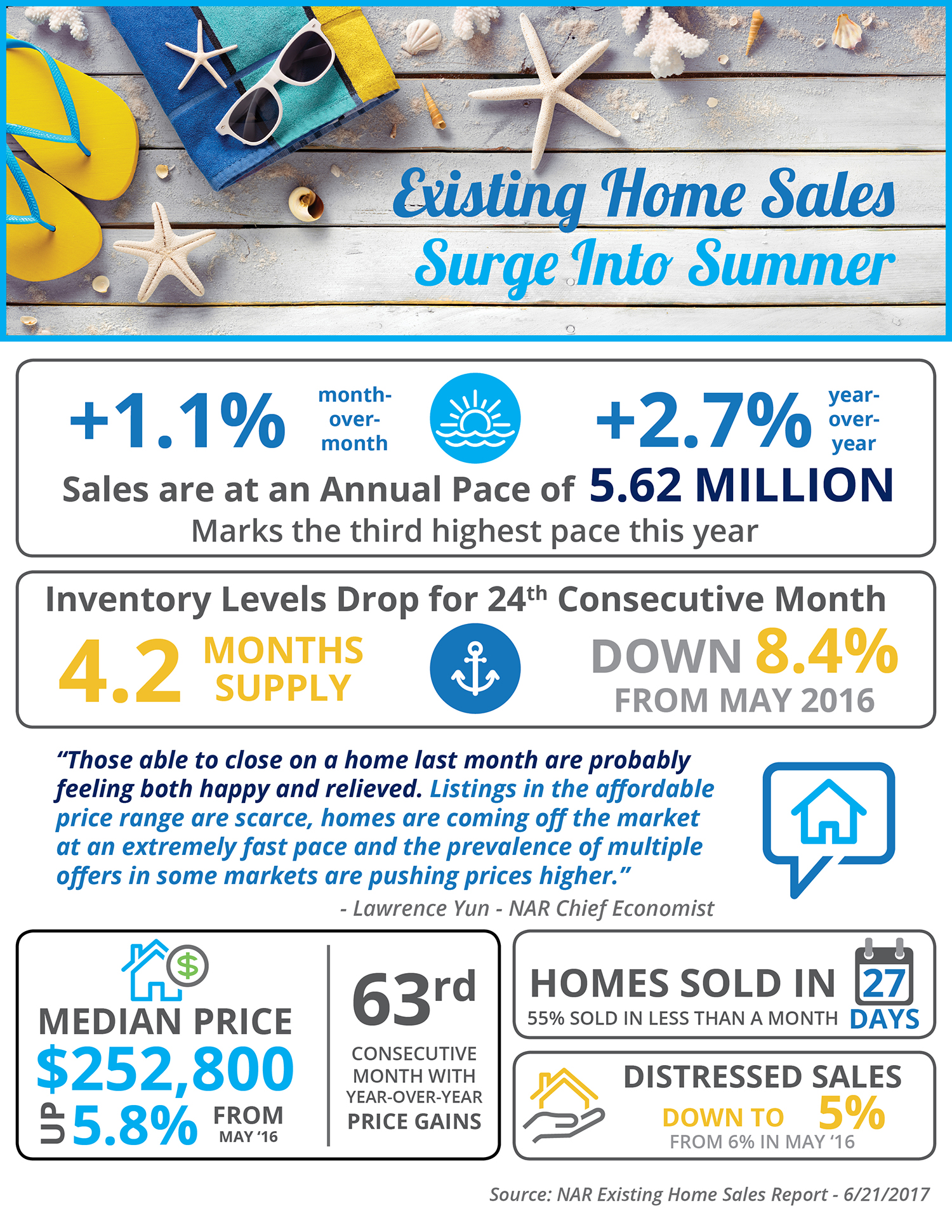 Some Highlights
Existing Home Sales reached their third highest mark this year in May.
Inventory of homes for sale has dropped 8.4% since last year, marking the 24th consecutive month of year-over-year declines.
NAR's Chief Economist, Lawrence Yun had this to say: "Those able to close on a home last month are probably feeling both happy and relieved. Listings in the affordable price range are scarce, homes are coming off the market at an extremely fast pace and the prevalence of multiple offers in some markets are pushing prices higher."
The National Association of Realtors (NAR) recently released the findings of their Q2 Homeownership Opportunities and Market Experience (HOME) Survey. The report covers core topics like, "if now is a good time to buy or sell a home, the perception of home price changes, perceived ability to qualify for a mortgage, and [an] outlook on the U.S. economy."
We previously reported how a shortage of inventory in the starter and trade-up home markets is driving prices up and causing bidding wars, creating a true seller's market. At the same time, in the premium home market, an over-abundance of inventory has started to see prices come down and put buyers in the driver's seat, creating the beginning of a buyer's market.
In many markets across the country, the number of buyers searching for their dream homes greatly outnumbers the amount of homes for sale. This has led to a competitive marketplace where buyers often need to stand out. One way to show you are serious about buying your dream home is to get pre-qualified or pre-approved for a mortgage before starting your search.
In Realtor.com's recent article, "Home Buyers' Top Mortgage Fears: Which One Scares You?" they mention that "46% of potential home buyers fear they won't qualify for a mortgage to the point that they don't even try."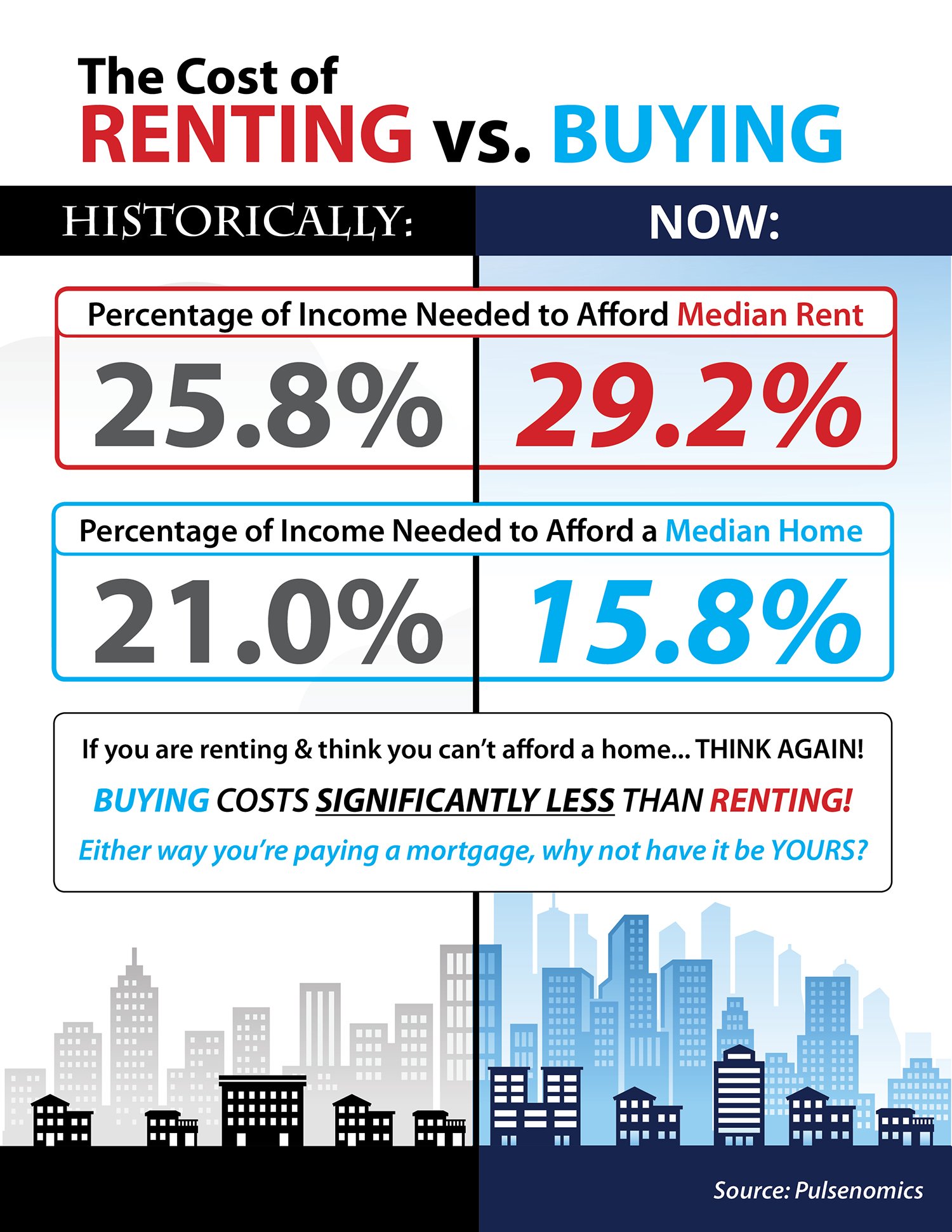 Some Highlights
Historically, the choice between renting or buying a home has been a tough decision.
Looking at the percentage of income needed to rent a median-priced home today (29.2%) vs. the percentage needed to buy a median-priced home (15.8%), the choice becomes obvious.
Every market is different. Before you renew your lease again, find out if you can put your housing costs to work by buying this year!
We often discuss the difference in family wealth between homeowner households and renter households. Much of that difference is the result of the equity buildup that homeowners experience over the time that they own their home. In a report recently released by the nonpartisan Employee Benefit Research Institute (EBRI), they reveal how valuable equity can be in retirement planning.
Many real estate economists have called on new home builders to ramp up production to help relieve the shortage of inventory of homes for sale throughout the United States. The added inventory would no doubt aid buyers in their search to secure their dream home, while also helping to ease price increases throughout the country.
CoreLogic's latest Equity Report revealed that 91,000 properties regained equity in the first quarter of 2017. This is great news for the country, as 48.2 million of all mortgaged properties are now in a positive equity situation.
The results of the latest Rent vs. Buy Report from Trulia show that homeownership remains cheaper than renting with a traditional 30-year fixed rate mortgage in the 100 largest metro areas in the United States.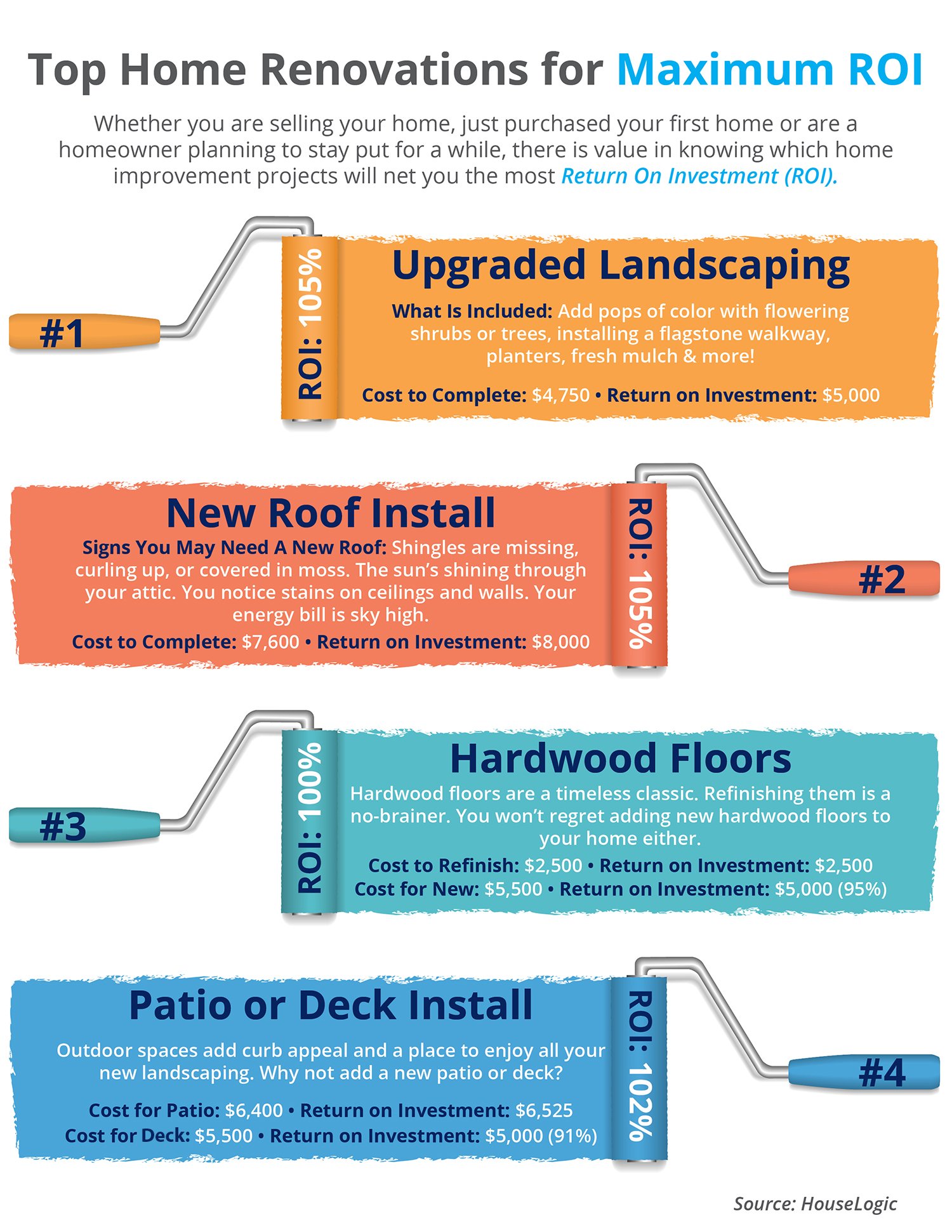 Some Highlights
Whether you are selling your home, just purchased your first home, or are a homeowner planning to stay put for a while, there is value in knowing which home improvement projects will net you the most Return On Investment (ROI).
While big projects like adding a bathroom or a complete kitchen remodel are popular ways to increase a home's value, something as simple as updating landscaping and curb appeal can have a quick impact on a home's value.
For more information about top renovation projects that net you the most ROI, you can check out the complete list here.
As home values continue to rise, some are questioning whether we are approaching another housing bubble. Zillow just reported that:
In a blog post published last Friday, CNBC's Diana Olnick reported on the latest results of the FAU Buy vs. Rent Index. The index examines the entire US housing market and then isolates 23 major markets for comparison. The researchers at FAU use a "'horse race' comparison between an individual that is buying a home and an individual that rents a similar-quality home and reinvests all monies otherwise invested in homeownership."
According to a recent report by Trulia, "buying is cheaper than renting in 100 of the largest metro areas by an average of 33.1%." The report may have some people thinking about buying a home instead of signing another lease extension, but does that make sense from a financial perspective?
Here are four great reasons to consider buying a home today, instead of waiting.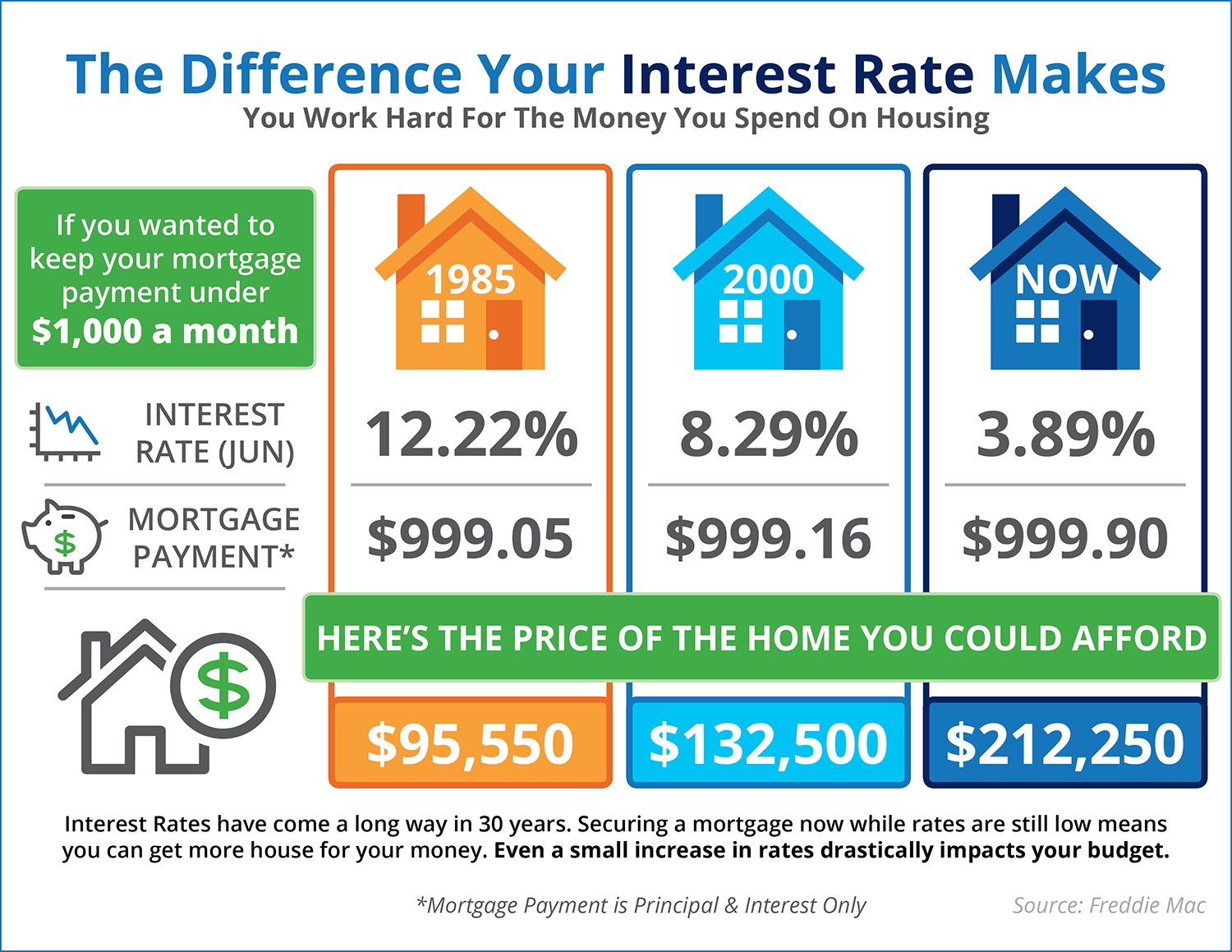 Some Highlights
Interest rates have come a long way in the last 30 years.
The interest rate you secure directly impacts your monthly payment and the amount of house that you can afford if you plan to stay within a certain budget.
Interest rates are at their lowest in years… RIGHT NOW!
If buying your first home, or moving up to the home of your dreams is in your future, now may be the time to act!
To start the year, housing experts all agreed on one thing: 2017 was going to be the year we would see mortgage interest rates begin to rise. After years of historically low rates, and an improving economy, the question wasn't if they would increase but instead how much they would increase. Some thought we could see rates hit 5-5.5% by the end of the year.
According to a recent survey conducted by Genworth Financial Inc. at the Annual Mortgage Bankers' Association Secondary Market Conference, mortgage professionals say that first-time buyers still believe a 20% down payment is necessary to buy in today's market.
The residential housing market has been hot. Home sales have bounced back solidly and are now at their fourth highest pace over the past year. Demand has remained strong ­throughout spring as many real estate professionals are reporting bidding wars with many homes selling above listing price. What about your house?
Here are five reasons listing your home for sale this summer makes sense.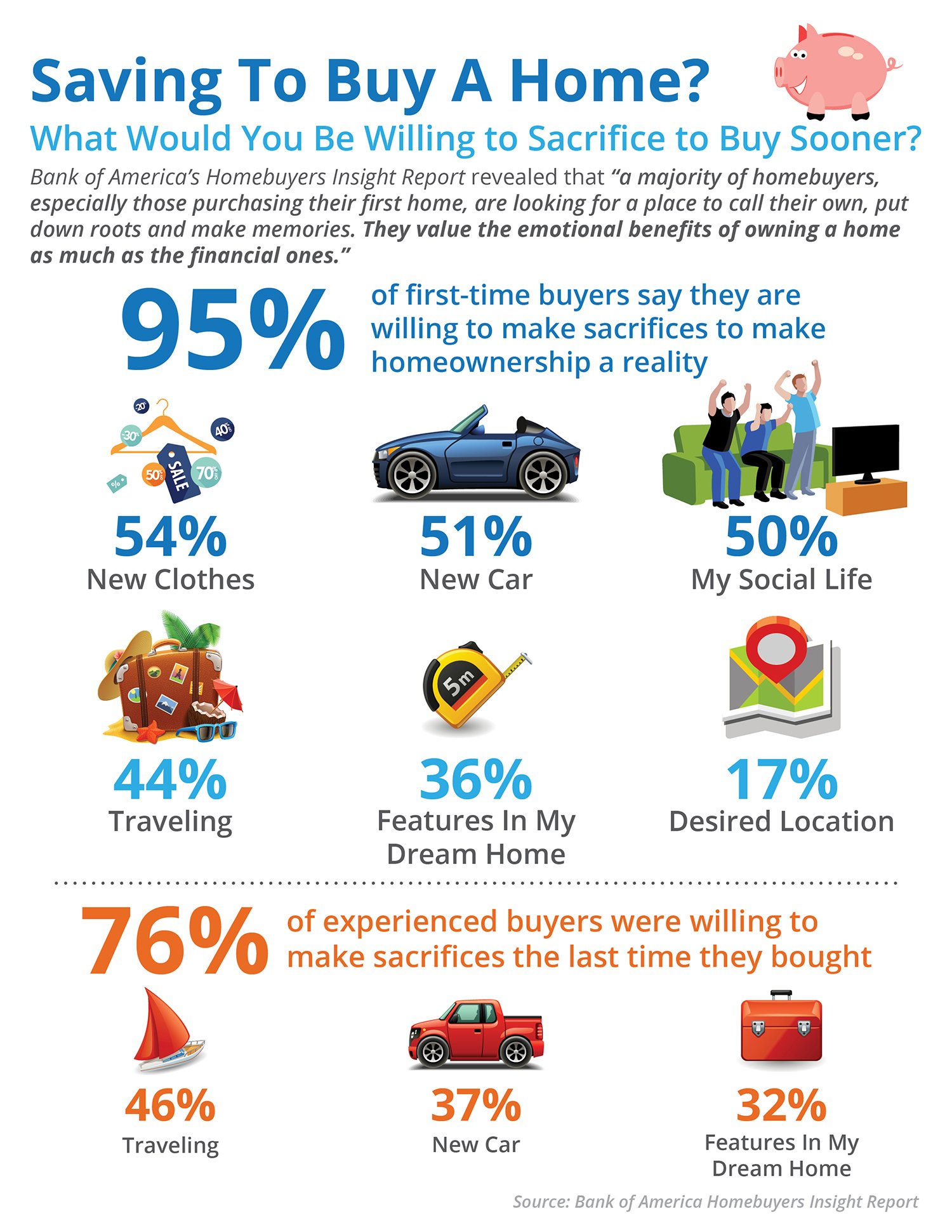 Some Highlights
95% of first-time homebuyers are willing to sacrifice to make homeownership a reality.
The top item that buyers sacrifice is new clothes, at 54%.
Even repeat or experienced buyers say they sacrificed taking a vacation or buying a new car to buy their last home.
Whether you are selling or buying a home, the real estate agent you hire is critical to guaranteeing your family makes the right decision. Most agents can walk you through the process and explain the industry 'lingo,' but you should expect so much more than that.