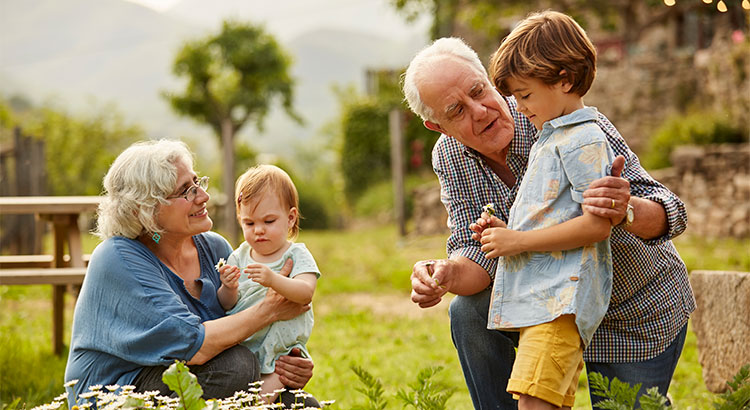 There are many reasons why a homeowner decides to sell their house and move. The latest Generational Trends Report from the National Association of Realtors asked recent home sellers to share their reason for moving.
Saving for a down payment is often the biggest hurdle for a first-time homebuyer. Depending on where you live, median income, median rents, and home prices all vary. So, we set out to find out how long it would take to save for a down payment in each state.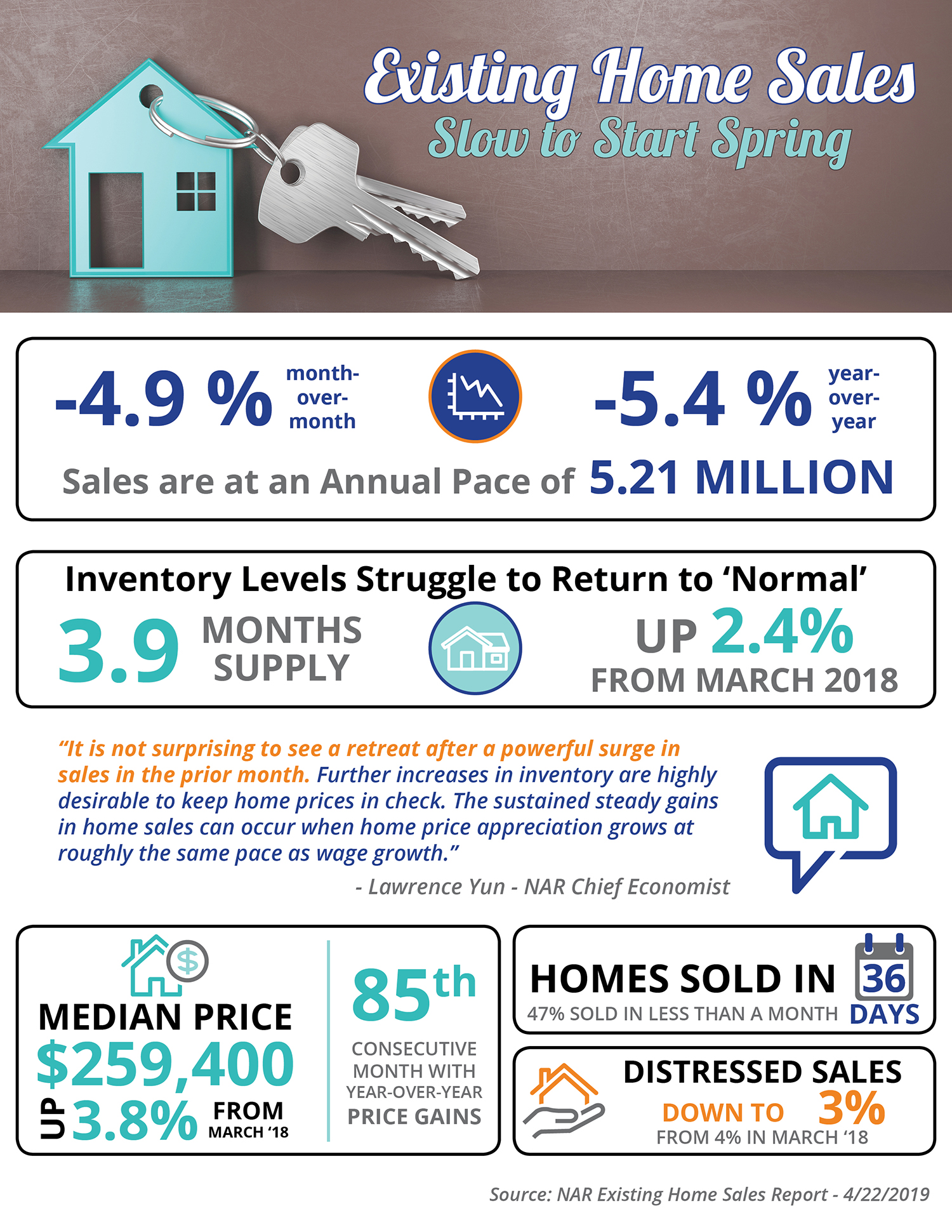 Some Highlights
Existing Home Sales slowed to an annual pace of 5.21 million home sales in March.
Low inventory levels are still impacting home sales! The current month's supply of homes for sale is 3.9-months.
Median home prices were up 3.8% over last March at $259,400. This marked the 85th consecutive month with year-over-year price gains.
In a recent Insights Blog, CoreLogic reported that rent prices have skyrocketed since 2005. Meanwhile, the typical mortgage payment has actually decreased.
There has been a great amount written on millennials and their impact on the housing market. However, the headlines often contradict each other. Some claim this generation is becoming the largest share of first-time home buyers, while others claim millennials don't want to own a home, blaming them for the dip in homeownership rate.
According to a new survey from Move.com, the wave of first-time homebuyers hitting the market this summer has resulted in an interesting statistic. Nearly 60% of buyers searching for a home this spring are willing to consider buying a fixer-upper, with 95% believing that the projects needed will increase their new home's value!
With home prices on the rise and buyer demand still strong, some sellers may be tempted to try to sell their homes on their own rather than using the services of a real estate professional.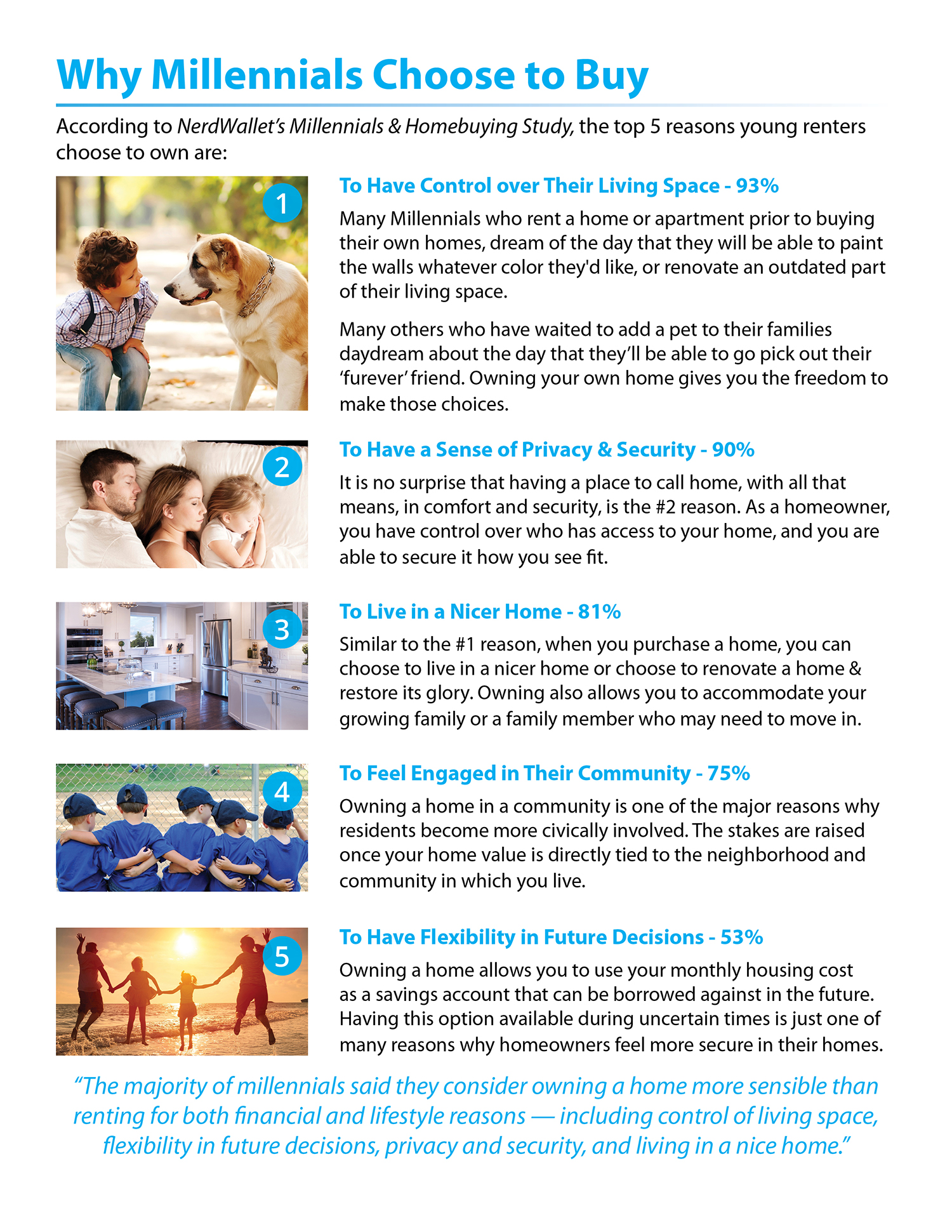 Some Highlights
"The majority of millennials said they consider owning a home more sensible than renting for both financial and lifestyle reasons — including control of living space, flexibility in future decisions, privacy and security, and living in a nice home."
The top reason millennials choose to buy is to have control over their living space, at 93%.
Many millennials who rent a home or apartment prior to buying their own homes dream of the day when they will be able to paint the walls whatever color they'd like or renovate an outdated part of their living space.
Last fall, some predicted that the 2019 residential real estate market would be a disaster. There was even belief we might experience a housing crash like the one that occurred during the last decade.
Interest rates for a 30-year fixed rate mortgage have been on the decline since November, now reaching lows last seen in January 2018. According to Freddie Mac's latest Primary Mortgage Market Survey, rates came in at 4.12% last week!
Every month, the National Association of Realtors (NAR) releases their Seller Traffic Index as a part of their Realtors Confidence Index. In the latest release, NAR reported that homeowners have been reluctant to sell their houses. This is reflected when broken down by state. Only 11 states have a stable level of seller traffic compared to the remainder of the country, which came in with a weak rating.
If you are debating purchasing a home right now, you are probably getting a lot of advice. Though your friends and family have your best interests at heart, they may not be fully aware of your needs and what is currently happening in the real estate market.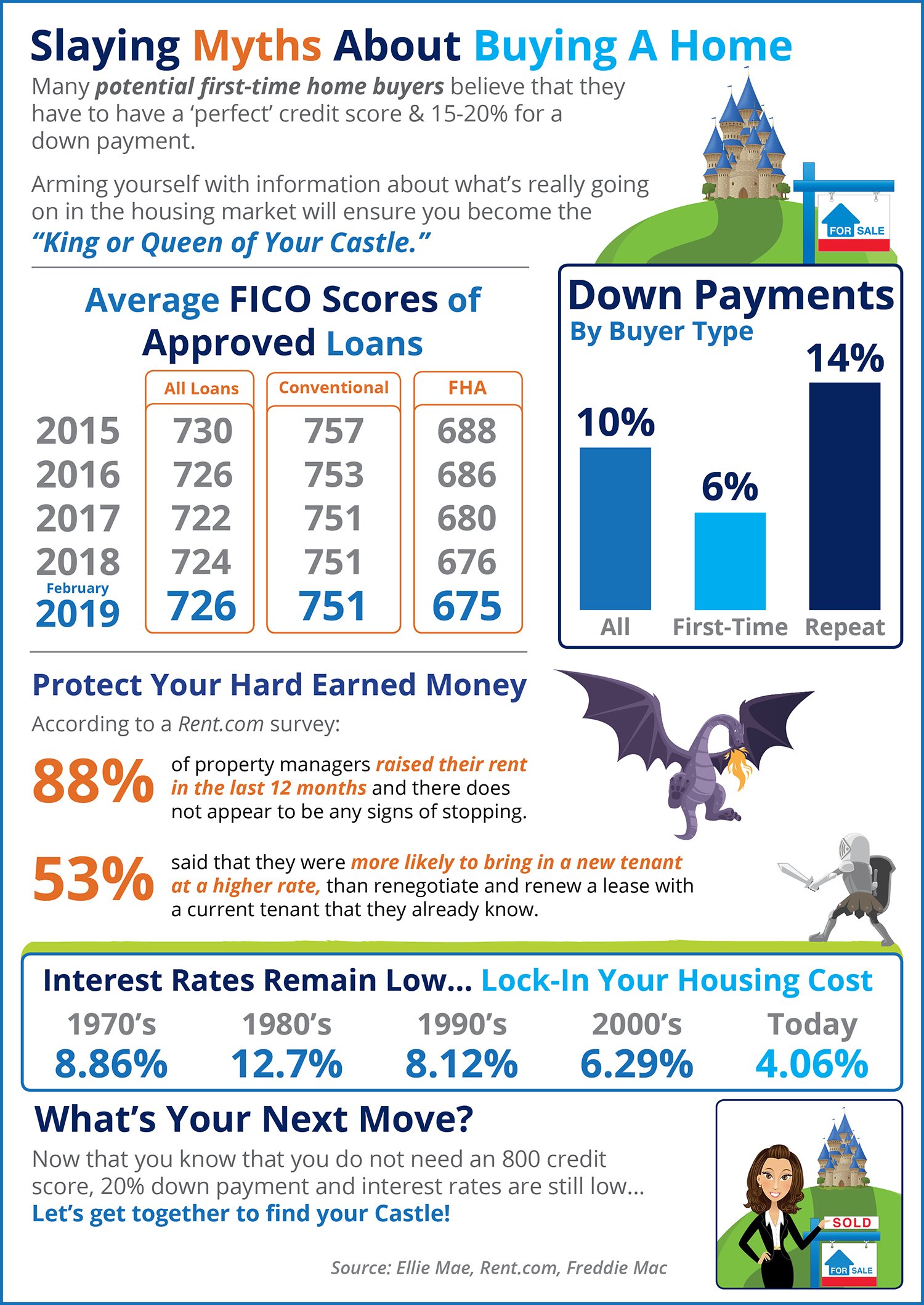 Some Highlights
The average down payment for first-time homebuyers is only 6%!
Mortgage interest rates have been on the decline since November! Hop in now to lock in a low rate!
88% of property managers raised their rents in the last 12 months!
The average credit score on approved loans continues to fall across many loan types!
The percentage of home price appreciation on a year-over-year basis has decreased each month for over a year. The question was how far annual appreciation would fall. It seems we may now have the answer.
There has been a lot written about millennials and their preference to live in city centers above their favorite pizza place. Some have even gone so far as to say that millennials are a "Renter-Generation".
One of the many benefits of owning your own home is the freedom to find your 'furever' friend. By pointing out the aspects of your home that make it 'pet-friendly' in your listing, you'll attract these buyers, rather than alienating the 68% of American households that have a pet!
As more and more baby boomers enter retirement age, the question of whether they should sell their homes and move has become a hot topic. In today's housing market climate, with low available inventory in the starter and trade-up home categories, it makes sense to evaluate your home's ability to adapt to your needs in retirement.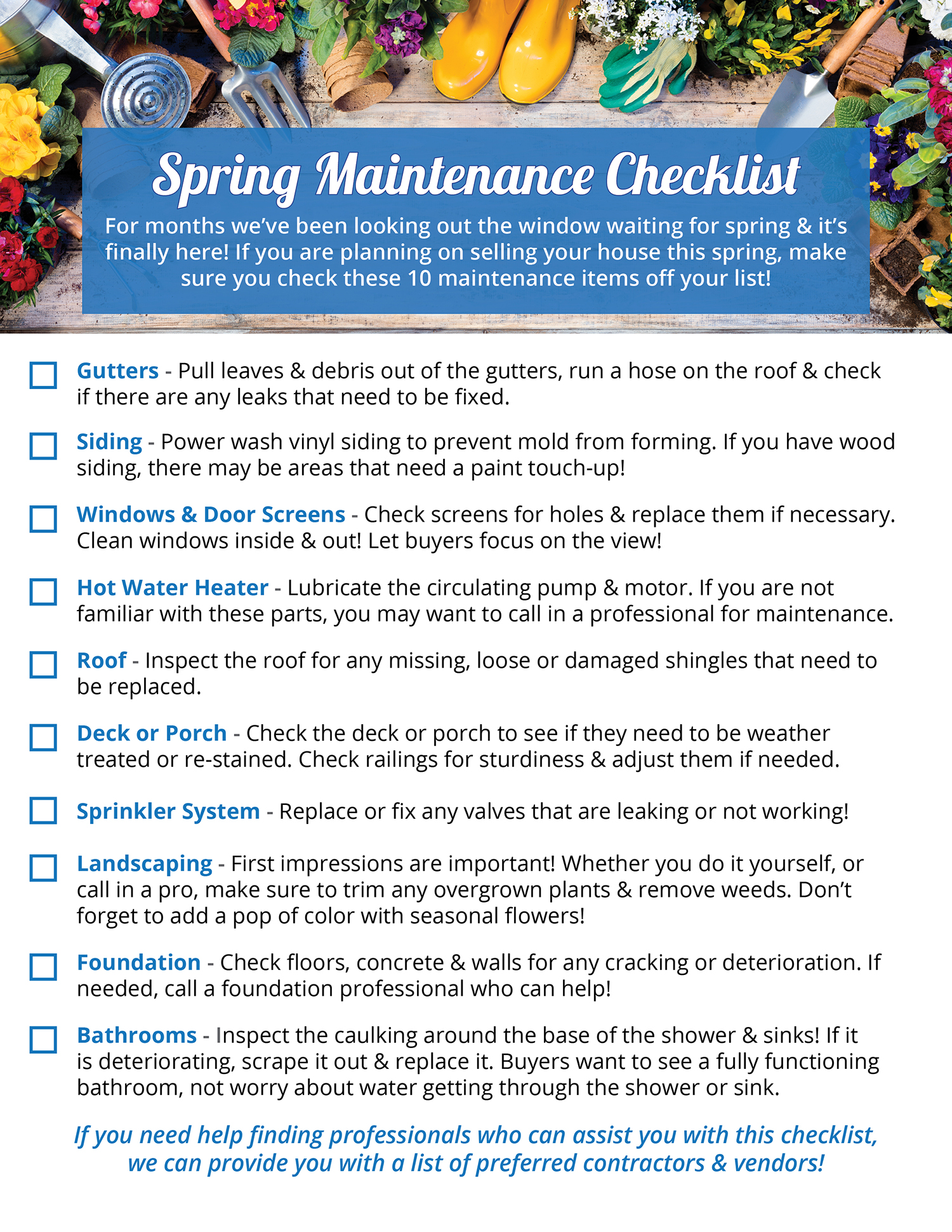 Some Highlights
Every spring, your home needs some extra TLC!
Whether you plan on selling your home this spring or not, conducting this maintenance will help ensure your home functions well for the rest of the year.
If you need help finding professionals who can assist you with this checklist, we can provide you with a list of preferred contractors & vendors!
The Housing Market has been a hot-topic in the news lately. Depending on which media outlet you watch, it can start to be a bit confusing to understand what's really going on with interest rates and home prices!
In every area of the country, homes that are priced at the top 25% of the price range for that area are considered to be Premium Homes. In today's real estate market there are deals to be had at the higher end! This is great news for homeowners who want to upgrade from their current house and move-up to a premium home.
Last week, realtor.com released a survey of active home shoppers (those who plan to purchase their next home in 1 year or less). The survey asked their opinion on an impending recession and its possible impact on the housing market.
Here are five compelling reasons listing your home for sale this spring makes sense.